A choke. In more ways than one.
Conor McGregor's professional debut at welterweight went nothing like planned in Las Vegas on Saturday night as Nate Diaz turned the mixed martial arts world on its head with a superb submission of the Notorious.
Having aggressively taken over the UFC in a stunning two-year run, the Notorious ran straight into a brick wall at the Grand Garden Arena as Diaz confounded all of the UFC 196 predictions.
It was a jarring scene for Irish and global eyes as Diaz roared in triumph. But it was of a piece with a night when the UFC was sent spinning off its axis.
In the co-main event Miesha Tate had also locked in a pivotal read naked choke to strip Holly Holm's bantamweight title from her grasp. While Diaz wasn't to claim any hardware for his similarly startling victory. This was not a night that went to plan. McGregor knew as much.
"I thought I took him the first round. I'm humble in victory or defeat," he said. "I took a chance to move up in weight and it didn't work."
OMG! @NateDiaz209 stops @TheNotoriousMMA! #UFC196 https://t.co/2zkb2yilsu

— #UFC196 (@btsportufc) March 6, 2016
Diaz had taken the fight on just 11 days notice when Rafael Dos Anjos broke his foot in training. Time, then, was never likely to be on the 30-year-old's side. He did have a height, reach and weight advantage. Experience was on his side too, he'd also racked up three times as many UFC outings, in spite of being just three years older than his opponent.
Yet as fight week wore on and McGregor looked ever more comfortable in his newly expanded skin, there was a growing consensus that as well as being understandably undercooked, Diaz looked outgunned.
That consensus looked nothing but correct as the first round went all one way. McGregor landed the first punch of the fight to send the decibel levels soaring anew. It reddened Diaz's jaw. As he looked to respond, McGregor goaded him, repeatedly asking his opponent "What's that?" as Diaz poked jabs.
The canvass was soon crimson as McGregor opened Diaz under his right eye.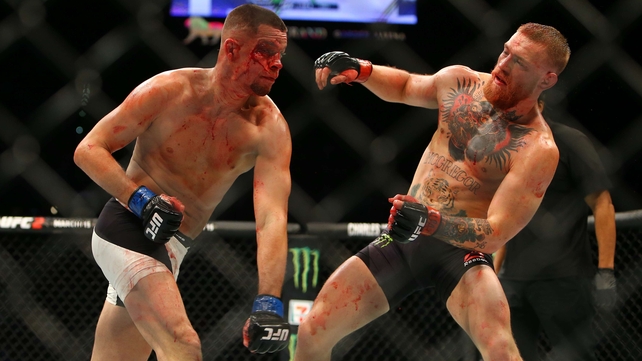 Body shots soon started to find their mark too as the second round looked like going much like the first. How wrong that was to prove.
A left-right combo knocked Diaz back as he wiped blood from his eye. Once his vision cleared however, Diaz broke through and rocked McGregor back.
After a heated build-up the two were now trading verbal blows and left and right bombs. This was now an all-out brawl and it wasn't going the McGregor's previous seven UFC outings had largely gone.
With just over a minute remaining the fight went to the ground, where Diaz had an advantage. He crucially got McGregor's back and locked in a perfect choke hold.
McGregor tapped out and this hall of fighting that has seen all kinds of nights struggled to take in the scene.
The leading man was crestfallen. UFC 196 was never supposed to go like this. For a man obsessed with bottom lines, there was no escaping that this was a disaster.
"Humble in victory, humble in defeat." @TheNotoriousMMA... #UFC196 https://t.co/lvFRyJtMZr

— #UFC196 (@btsportufc) March 6, 2016
"I'm always in good shape, I peak as I go," said the victor on his night of nights.
"I thought I landed with some good punches that got him off. I started off slow but I'm faster than anyone later on. My jiu-jitsu is always there for me."
Rafael Dos Anjos' withdrawal was supposed to have taken a shot at history off the table as McGregor's chase for a two simultaneous world titles went on hold. He did however make some history - recording the biggest ever declared purse in the UFC.
.@NateDiaz209 says fighters should "always be ready" after beating @TheNotoriousMMA on just 11 days notice. #UFC196' https://t.co/SGXW11Z4sp

— #UFC196 (@btsportufc) March 6, 2016
The $1 million base fee was double that of Diaz's $500,000 and dwarfed the $46,000 Tate, challenger in the co-main event, was to receive.
The UFC obsesses over numbers. Tate earning four hundredths of McGregor's total, however, provided another glaring example of one of the most unsettling aspects of how the organisation does business.
As it transpired, Tate was to personally ensure that bigger pay days would soon be on the way.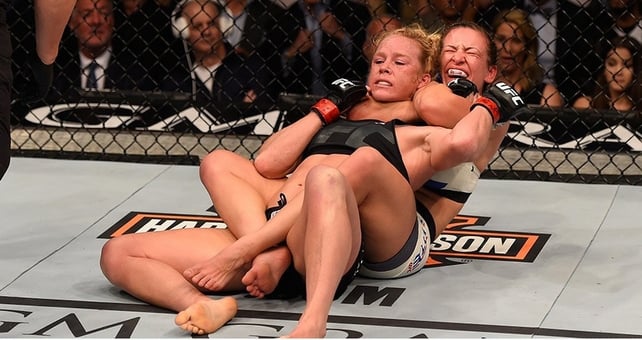 The arrival of the title fight finally got the crowd worked up. It was bantamweight champion Holm's first defence of the belt she unceremoniously stripped from Ronda Rousey last November.
She was to discover just how that felt as Tate stunned the MMA world with a staggering fifth-round submission.
Holm had earlier somehow survived a second round salvo, when the former champion Tate took her down and rocked her with elbows, twice coming within millimetres of locking in a read naked choke. But the champion recovered to take the third and fourth rounds, having earlier shaded the first.
That left Tate needing something special in the final round if another chance wasn't to pass her by. She was to find something extra special with the clock ticking down.
Just 90 seconds remained when Tate finally did lock in a rear naked choke that left Holm out cold. The Garden Arena erupted as the belt was strapped around another new waist.
WOW! @MieshaTate chokes @HollyHolm out cold to be crowned the new women's bantamweight champ. #UFC196 #AndNew https://t.co/zB8s9SSeTF

— #UFC196 (@btsportufc) March 6, 2016
Las Vegas offered more than a penny for Rousey's thoughts. The golden girl could suddenly be very tempted to make a summer return.
And what next for the Notorious? It could be viewed as no mere coincidence that on the night the UFC's current golden boy made his welterweight debut, the organisation's former leading man, Georges St-Pierre made a high-profile return to cageside.
The iconic former all-conquering champion of the division has been out of the picture for almost three years.
Ever tried. Ever failed. No matter. Try Again. Fail again. Fail better.
Congrats to Nate and his team on a great win.

— Coach Kavanagh (@John_Kavanagh) March 6, 2016
The UFC are desperate for a megafight to sit atop the bill of their summer spectacular, UFC 200, at the new T-Mobile Arena here in Las Vegas, and the prospect of St-Pierre making his long-awaited comeback inside the cage against McGregor suddenly looked a live one. First, though he had to mark his welterweight bow with victory.
After it had initially looked very much like he would, Diaz choked more than just the breath out of McGregor. He choked a whole lot of hype too.