The brief but heated war of words between Conor McGregor and Nate Diaz finally boiled over in Las Vegas on Thursday afternoon as the headline fighters of UFC 196 moved from verbal to physical and clashed on stage at the MGM Grand.
The featherweight world champion had spent much of the final press conference before Saturday's hastily arranged fight between the pair goading Diaz, painting his elder, more experienced rival as a scared junior.
Often his go-to analogy, McGregor said the pay-per-view showdown will be another night when the laws of the jungle rule, with Diaz playing the wounded gazelle.
"He's talked a lot. There's been subtle digs," said the Dubliner mere minutes before actual digs threatened to break out when the pair went face to face for the photographers.
Diaz's fist brushed McGregor's chin and the UFC's leading man responded by swinging an arm and brushing away the Californian in a scuffle that mirrored the brief skirmish between Ronda Rousey and Holly Holm in November last year.
"But now as the fight approaches he's like a little boy. He's trying to pass the limelight - to his brother, to his team-mates... That's what a man does when he's scared, he tries to pass it on. Let's see what he's got."
The pair were quickly separated by Dana White and MGM Grand security as both fighters' entourages stormed the stage at the David Copperfield Theatre.
While the bout was only put together on 11 days' notice when lightweight champion Rafael Dos Anjos pulled out of the original headline fight, the animosity between McGregor and Diaz has been building for some time.
"I'm going to toy with the young boy, I'm going to play with him," McGregor said, Having earlier asked Diaz to 'dance for him'.
"I've hunted him down, I've stalked him. And Saturday night I will eat his carcass."
"He's very very predictable. I think the speed, people gave Jose [Aldo, his most recent opponent] the speed advantage but that was a mistake. He's heavy on his right foot but now he's like an injured gazelle. He has a soft flappy body. Man up and be yourself.
"You're like a gazelle bunched up together and hoping you get spared. your little gazelle friends are going to look through the cage getting eaten alive and they're going to say 'we're never going to cross this river again'.
"People run scared all the time. I've hunted him down, I've stalked him. And Saturday night I will eat his carcass in front of all his gazelle friends."
Diaz wasn't going to keep his powder dry in the verbal battle, keeping the talk as trashy as possible as he took aim at McGregor's support staff. Ido Portal, the movement expert brought in by the 27-year-old prior to his triumph over Aldo, was the one in the crosshairs.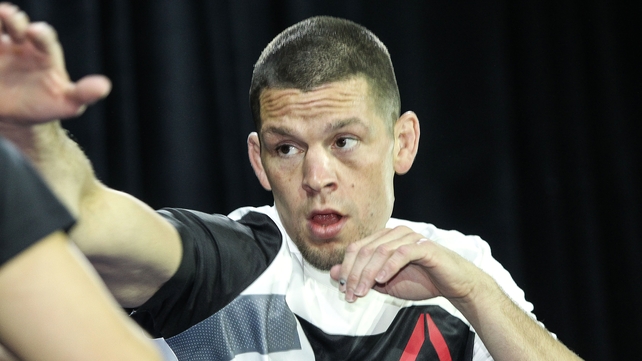 "You're playing touch-butt with that dork in the park, with the ponytail," prodded Diaz. "My whole team will beat your whole team's ass. My JV [junior varsity] team would beat your asses. Look at my last 20 fights compared to his fights."
With pay-per-view buys and tickets still to be sold, McGregor was in particularly excitable form. Floyd Mayweather was again in his sights after McGregor had again raised the possibility of an unlikely meeting with the undefeated boxing pound-for-pound champ. When asked what his dream career match-up, however, the Notorious one could settle on just one person.
"The dream fight? There isn't one really. I'd love to fight myself," he said. "Imagine the numbers that one would do, if there was two of me."
The giant Mayweather poster which adorns one side of the MGM Grand was apparently under threat.
"I might go up there and rip it down myself and what's he going to do about that?" said McGregor who has continually sparred with 'Money' over the past year.
"I'll rip that down after this press conference. I know the people in the MGM are singing, singing all the way to the bank. Maybe they should take out that lion statue and put in an Irish lion, put me standing up there.
"I like Vegas, when I come here I do really, really enjoy Vegas. I've buried three bodies clean out here. On Saturday there will be a fourth. The dirt is clean, you can scoop it up easy and bury bodies in there. I will continue to do that."
Having seen both of his two previous fights rank in the top three earners for the UFC in 2015, McGregor's eyes lit up when he was asked if he could be the man to haul the organisation over the magical mark of $1 billion in annual revenue.
"100 per cent [we can hit the mark] and I am that man," he said after a year in which the self proclaimed fastest growing sport in the world set a new record with over $600 million in annual income.
"If you look at the analytics, the evidence, the numbers are all going up. All the channels and the numbers continue to rise. You're damn right I'll hit that billion dollar mark.
"I'm not trying to bigger than nobody. I am with this company and that's it. It got me into the game so to be rising up and to be neck and neck is where we want to be. Maybe there'll be a time when I take that lion's share of the pie. But I will be with Zuffa until the day I walk away from the game."
McGregor did find time to be reflective too. When asked how he felt about comparisons with Muhammad Ali, he insisted that he couldn't agree with the observation.
"Look, this is a question we get asked all the time. I take inspiration from everything and anything. For me Muhammad Ali was probably my first combat sports star that I looked up to. I had never seen anything like him. I cannot accept a comparison like that. Muhammad Ali is a special man, he changed culture, period. I am honoured to even be put into that bracket."