In a place where the hotels are ranked by their buffets, he is hardly the only one eating well. However, Conor McGregor's delight at dietary restrictions being obliterated was more evident than most in Las Vegas on Wednesday afternoon.
The Dubliner is just over 48 hours away from making the unprecedented jump up two weight divisions in the space of three months. He takes on Nate Diaz in the main event at UFC 196 here on Saturday night in his first professional outing at welterweight. 
After fight weeks of 2015 that were dominated by talk of struggles to get under the 145lb limit of featherweight, that division's champion is enjoying this new year, new [bigger] you thing.
As he made his first appearance of this countdown week with a public workout yesterday, the effects on McGregor's physique were dramatically clear. 
In a vigorous run-through with three different members of his support staff, the 27-year-old worked up much more of a sweat than any of his three fellow bill-toppers - Diaz, Holly Holm and Miesha Tate. He then looked forward to refuelling the body for the combat to come. 
"I'm under the [170lbs] weight [limit]. I wake up under the weight, have two breakfasts and then I'm on weight," he said as the swelled crowd of supporters who'd packed out the Jabbawockeez Theatre to watch his workout continued to chant his name. 
"The thing is about making that cut to 145, people only see the build-up, the fight. People don't see after the fight, it's a process, a strain to get your body back after a cut like that.
That's a baaaad man! #UFC196 https://t.co/H17WdjYM2o

— SportsCenter (@SportsCenter) March 3, 2016
"This time, I'm waking up at 168, I'm waking up under weight. So after the fight I won't have that process to get myself back right again. I'll be just me, normally."
That he will fight as 'just me', he insisted, represents nothing but bad news for Diaz. After the pair butted heads at last week's first press conference in California, they will again come together on Thursday evening for a face-off. McGregor said he expects to see more nervous twitches from his opponent.
"How many times has he had this swagger about him [in the past]? Last week he sat there and he done nothing. He quivered. He looked at [elder brother] Nick every two seconds. 
"He shouldn't have said anything. As soon as he said something, I picked his bones off him. Now I came hunting for him. He's trying to say people are afraid to fight him. I hunted him down, stalked him, and now I have him trapped on Saturday." 
Having taken all of 13 seconds to send his star into orbit all over again here in December when he knocked out Jose Aldo Jr and claimed the featherweight belt in the time it takes most of us to tie our shoes, McGregor is hoping for a slightly lengthier outing on Saturday.
"I'd love to see it play out a little longer, so I can show the fans the improvement I didn't get to show in that last fight because it was over so quickly," he said. "But I just can't see him taking the shots.
"He's going to feel a new level of precision, a new level of power and a new level of unorthodox fighting that he's never experienced before. I hope he'll last until the end of the first but I don't see it.
"I'd love to see it play out a little longer, so I can show the fans the improvement I didn't get to show in that last fight."
"I think it's going to be really, really evident on Saturday night. I think the speed difference is going to be evident. You'll see for yourself what I mean by stuck in the mud when me and Nate fight."
Diaz wasn't originally scheduled to be anywhere near the octagon at the Garden Arena on Saturday night. The Californian stepped in on 11 days' notice when Rafael Dos Anjos pulled out of the pay-per-view headliner with a broken foot.
McGregor had more harsh words for the Brazilian but insisted the lightweight title and with it a shot of history being taken off the table didn't sting.
"No, come on. Look at this. This is always history. every damn time," he said as he nodded towards  the supporters corralled to his right.
"The gates keep rising, the pay-per-view keeps rising, the attendance. Everything keeps rising. It's always history when I step inside that octagon. 
"There's belts everywhere with me. I'm seriously considering making my own damn belt. And then I'll decide what weight the flight is at.
"Why not? Who cares about the belts. [I'm] the money fight. This is the fight everyone wants. They should be chasing for it, knocking everyone out of their way to get to it. Not crying and complaining and saying 'I'm going to wait'."
McGregor talked of all sorts of next steps in the near and distant future as Robbie Lawler, show business and Hollywood roles were all discussed. There was even room for politics.  
"I got a great laugh when someone put my name [on the vote]," he said of the spoiled ballot in the Dublin West constituency that went viral during last weekend's general election coverage.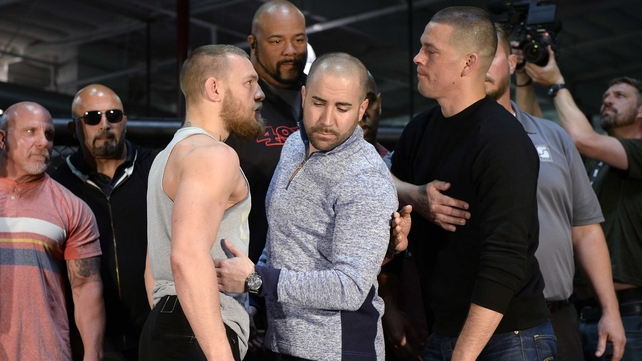 "I would love to do something to help my people but I wouldn't go into it as a publicity type thing. Some people have done that. If you can't truly help the people, then I wouldn't do it. That's down the line maybe, I don't know."
For his part Diaz was in and out of the arena in much quicker time yesterday. He was also in relatively timid form in front of the microphones, little of the fire and brimstone of last week evident. He did however accuse McGregor of copycatting his blueprint for success.  
Diaz, a veteran of 21 fights in the organisation compared to McGregor's seven, evidently finds his opponent's position, perched atop the UFC ladder, a little hard to take.
"The way that he's been saying he's the money fight, I've been saying that forever too but the [UFC] got wind of that and they tried to shut me up," said Diaz.
"They told me to keep that 'big money fight' s**t on the low, so they kind of tried to keep me on the low and then when he said it, it's his new thing. 
"As far as mixed martial arts and who the real fighter is and the big fights, I've already been talking about that since before he was in the UFC. Now he's like this new guy with all this new stuff and everybody's pushing it. It's on every article and every headline.
"The media are kicking him on, 'go ahead, keep talking', but they wanted me in the back and to keep me on the down low. That's what I mean by I've been saying the same kind of thing."