Conor McGregor is refusing to get too excited about his upcoming fight with world champion Jose Aldo in case the Brazilian pulls out of the fight.
The Irish challenger was a guest on Jimmy Kimmel Live last night and was quick to remind the host and his huge American viewership that Aldo pulled out of the fight the last time they were meant to meet.
"I'm a true great and I conquered my adversity. He did not, he went running." - McGregor
On that occasion, Aldo was forced to withdraw less than two weeks out from the fight due to a rib injury that he picked up in training, although McGregor still believes that the champion was running scared and was carrying no more than an "itty witty bruise".
"He is a man who has ran from me before," said McGregor. "The fight is a long time coming, we're almost there. I'm not going to get too excited because it was around this time the last time that he pulled and he went running.
"He had an itty witty bruise, it was nothing. The doctors cleared him, he didn't show up."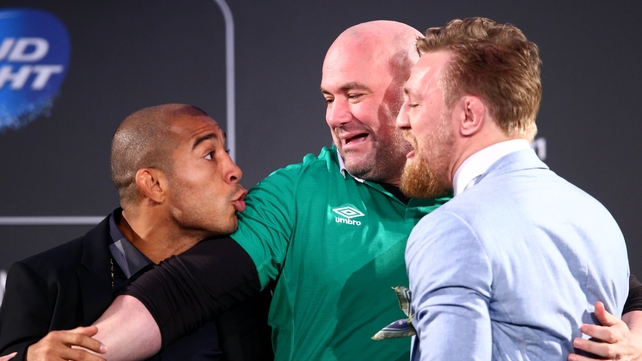 And the Dubliner believes that the true greats of the game would have battled through the set-back and conquered the adversity.
"In this game there are many set-backs and injuries; it's an intense game and I had my own adversity to conquer in that last camp but I kept saying 'the true greats, they can conquer adversity' and that was what pushed me on.
"And I'm a true great and I conquered my adversity. He did not, he went running."
McGregor was also quick to play up to the US audience when the comedian host asked him when he realised that he was a good fighter.
"I'm Irish, we're all good at fighting.
"But (growing up) I was aware; I had a self-defence mind. Where I come from and where I grew up you had to be aware, you had to be able to defend yourself, that's how I got into it."
McGregor is, however, clearly proud of his achievements and the fact that he has made the sport of mixed-martial arts popular back home in Ireland, despite his father's initial misgiving
"Irish mothers will support you no matter what you do," laughed McGregor. "(But) my father was unaware of what the game was, what the sport was. Before me there was no successful Irish man in the UFC.
"As far as my father was concerned, I was just fighting in a cage with no career path with nothing ahead of me. It was more worry, but I convinced them, and here we are.
"Now other parents have seen my path and are encouraging their kids to get involved in martial arts.
"And it allows them to go and conquer whatever they want to, whether they want to conquer the fight game, they can, or if they want to conquer the business game, training for martial arts helps them in whatever route they take.
"So I am happy I have put martial arts in the spotlight in my country and shown it for what it is – true dedication and a beautiful discipline."
And to finish, McGregor tried to explain what it is like to live in his world.
"It is a crazy, beautiful, out of body experience, beating people up for lots of money."
The UFC featherweight world title encounter takes place in Las Vegas on Saturday 12 December. Follow live updates on the RTÉ Sport website.