Holly Holm produced a massive upset by dethroning Ronda Rousey with a knock-out in the second round of the main event of UFC 193 in Melbourne, Australia.
In what was the biggest ever attendance at a UFC event, with an audience of 56,214 packed into the Etihad Stadium, Holm brought an end to Rousey's 12-fight unbeaten record in dramatic fashion.
While Rousey was far from her best, Albuquerque's Holm kept her at distance with a string of head shots while using the entirety of the octagon, although she did well to escape one attempted Rousey takedown in the first round.
However, when Holm's chance came in round two, she didn't hold back. Firstly, she sickened the Californian with a huge left to the jaw, before finishing off the flailing champion with a flush left kick to the head that put her on the canvas. The ref then stopped the fight with Rousey defenceless to three follow-up shots from Holm.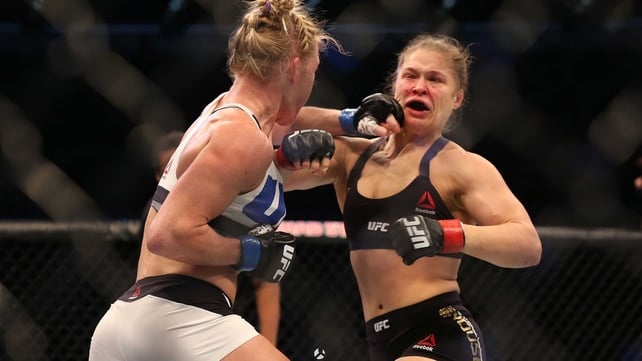 New UFC women's bantamweight champion Holm, 34, now holds an unbeaten record with 10 wins, while the fallen champ now has a 12-1 record.
"She's won a lot of fights and imposed her will on a lot of fighters," Holm said afterwards. "So I expected her to be aggressive and impose her will on me.
"She had me on the cage for a minute and obviously she was trying for a take down right there ... she had a lot of things she was trying so I'm just glad I put in the practice."
Rousey was taken to hospital afterwards but no serious injuries have been reported.