Galway captain Tracey Leonard says now is the time for the Tribeswomen to 'push on' and seek more glory beyond the parameters of the Connacht championship.
The reigning senior provincial champions are preparing to defend their crown this weekend against Mayo in the latest chapter of an ongoing rivalry between the two counties, but Leonard admits that she has looked on at the green and red opposition with a certain degree of envy over the last 12 months.
Mayo contested both the Lidl National League Division 1 final and the All-Ireland senior final across 2017 and 2018, and despite coming away as runners-up in both deciders, Leonard considers them to be a few strides ahead of the Galway team.
"I suppose Galway and Mayo has always been a big rivalry but look we won Connacht last year but I know it's not going to stand for anything come Sunday because they have proved a lot more than we have, they have been up at the league final this year and the All-Ireland final last year," she told RTÉ Sport at the launch of a new app called FitrWoman in Croke Park.
"I suppose in Galway, all we've done in the last number of years is win a Conncht title and while you're around for whatever length you're going to be, it's probably time to push on and hopefully get something more this year. All you can do is do your best, we're training away and doing what we hope is the right thing. Hopefully whatever happens on Sunday either way, hopefully the new championship structure this year is going to suit us.
"It'll mean more games for us and we're really looking forward to Sunday first off and see where we go from there."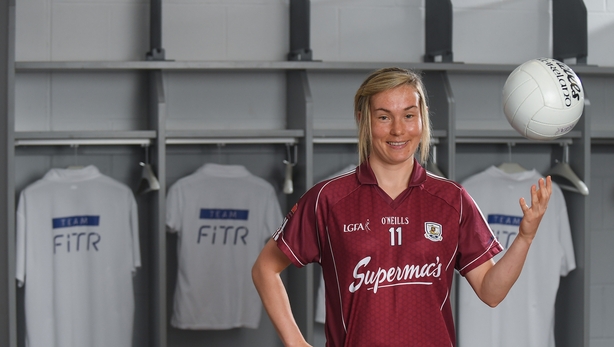 Galway have made considerable progress during the 2018 season so far, and most notably emerged as the only team to defeat All-Ireland champions Dublin during the league.
Dublin of course recovered from that setback to go on and claim their maiden Division 1 title. They even managed to exact some revenge for that Galway defeat by defeating them in the semi-final.
Galway led for most of the tie, but Dublin's experience prevailed in the end and they edged out a victory courtesy of a last-minute goal from Nicole Owens.
The Westerners are still refining their methods to get a better consistency in their performances, but having manager Stephen Glennon of the Connacht Tribune remaining on as manager for a second season has brought a settled atmosphere to the group that has been missing in recent years.
"I suppose it was frustrating. We were quite happy with the league game and beating them. We needed to win but I suppose the consistent performance is something we haven't got in Galway. We were disappointed initially with the semi-final and losing to Dublin, [we] could have been in a league final and to hear that it could have been against Mayo would have been a great opportunity to get a crack at Mayo.
"But look we didn't and I suppose we have to look at what it was. We took the positives from it and took a lot from it. I suppose we've learnt a lot and bottled that hurt for later on in the year hopefully.
"Stephen is great and it's great that he stayed on for a second year because in Galway we've had maybe 10 different managers in the last 12 years. If you're looking to go some place you need a bit of continuity. I think Stephen staying on with his backroom team and the core bunch of players has been a big improvement in us getting that consistent performance in the league.
"Hopefully now it'll further us on and push us over the line and go a bit further."
Leonard was appointed captain at the outset of this season for the second time in her senior inter-county career. Her previous stint in 2016 however, coincided with one of her biggest personal setbacks as a footballer when she was struck down with a torn cruciate from a league game against Mayo.
The star forward was sidelined for 11 months with the injury, forcing her to look on at her teammates while she rehabilitated the dreaded knee ligament problem on her own.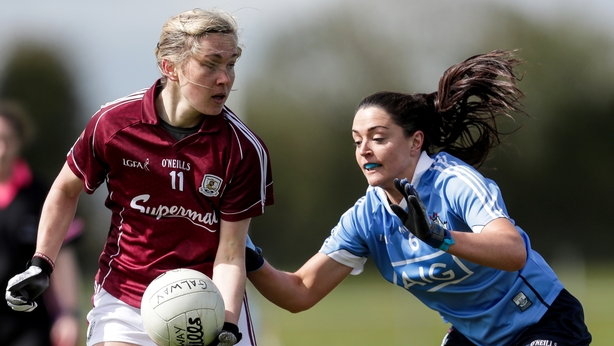 It was always her ambition to be a stronger player when she returned to the fold, but it required a lot of mental fortitude on her part to get there.
"It's definitely an injury at the time it broke me," she says, "it was a tough place to be. But looking back on it now, it was probably the best thing that ever happened to me because it has mentally made me a lot tougher.
"I think it does someone good to do an injury, not that I'd wish it on anyone but you appreciate being able to play as a team member. Being on your own is quite hard so it's great being back in with a team because when you push yourself as far as you can but you don't know how in comparison to other people how far you are or how good you are."
Assimilating back into collective training was a gradual process and it was even an adjustment to just be around players again as fears about the injury recurring swirled around in her head.
But the lenghty absence enabled Leonard to take time out and soak up some lessons about the game from both her own teams as well as the All-Ireland winning club side Corofin.
Her brother Jason was part of that team that defeated Nemo Rangers in Croke Park on St Patrick's day, and his older sibling found their games to be quite educational when she was out of action.
"They've a great set-up and you would envy them, they're just such a tight group. You look at our group then and try to bring in similar structures. Two squads are never going to be the same but they'd a great year and fair play to them.
When I was out injured as well, I learned a huge amount from their games. They're very much of my mindset and a kicking team. Our coach Frank Morris would have been a big believer in the kick-pass so all our game would have revolved around kick-passing.
"I love going to their games because it's very free-flowing football as opposed to what's kind of going nowadays. They're a great team to learn a lot from and there's some great leaders in that group."
Leonard will be hoping to utilise all those tips and tricks she picked up during that time when Galway take to the field on Sunday afternoon for a 4pm throw-in.