For the second year in a row, the Joe McDonagh Cup final delivered a truly memorable encounter that provided absolutely everything – individual heroics, drama, controversy, a momentous comeback, a last-ditch winner, bitter heartbreak, and of course delirium for Carlow player and supporters, who earned their return to the Leinster championship.
Over the course of the full 90 minutes, it was a victory that was probably just about deserved, though there weren't too many would have gambled on that outcome after 14-man Offaly reeled off four points in a row to send the tie to extra-time.
As it was over the course of the 70 minutes however, Carlow's accuracy contrasted sharply with Offaly's profligacy throughout extra-time, in no small part because their greater physical strength and ball-winning ability close to goal meant that they created a better calibre of scoring chance.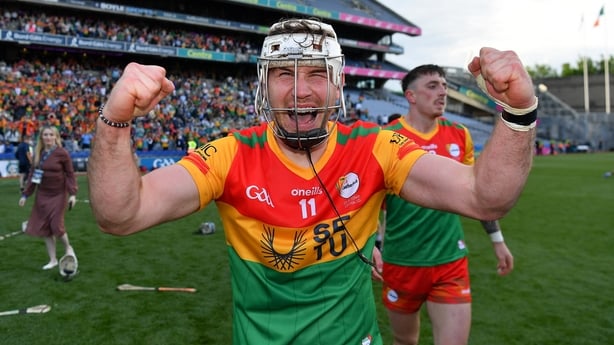 It was appropriate that when it came down to stoppage time at the end of the 90 minutes, Carlow won by way of a Chris Nolan point where the big Mount Leinster Rangers man won his own ball and knocked over a close-range score after breaking the tackle.
Offaly generated a long-ball effort from midfield that ultimately saw Adrian Cleary come close, but not close enough – recording their 24th wide of the afternoon.
Right from the start, this was a contest that caught fire.
Offaly's Charlie Mitchell won possession from the first attack and held off a robust tackle before batting the ball to the net, but it was a lead that Offaly needed, as they were taking on water.
Carlow were winning possession easier, creating good chances, and three times they forced Stephen Corcoran to make excellent saves. Martin Kavanagh picked off some majestic points and Offaly's 1-03 to 0-03 lead after 10 minutes felt surreal, given how much Carlow were controlling general play.
It didn't take long for that to show.
Five of the next six points scored went the way of the south Leinster county, and while under-20 star Sam Bourke stemmed the bleeding with a point, a simple route one goal, where Paddy Boland leapt highest to claim a dropping ball and slam it to the net, gave them huge momentum.
Boland was a real difference maker in the game and after he followed up with a point, his next contribution was even more effective. He claimed another high ball and had his faceguard impeded by Dara Maher, leading to a penalty, and a red card for the young corner-back.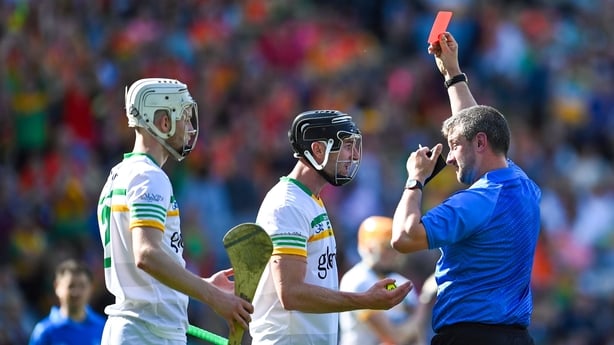 Kavanagh duly slammed home the penalty and it looked like there was no way back for Offaly, though points from Adrian Cleary and Eoghan Cahill gave a flicker of light, leaving it 2-09 to 1-07 at the interval.
Offaly continued that momentum after half-time and a run of four points in-a-row brought them back to within two points at one stage, but they continued to be haunted by wides and shots dropped short from long range, as their lack of penetration close to goal took a heavy toll.
Carlow, in contrast, were deadly and efficient.
Jon Nolan, Chris Nolan, Kavanagh and James Doyle all showed great ability to pick off points and keep Offaly at bay, and when Kavanagh pointed just on the hour mark to make it 2-21 to 1-18, no-one could have imagined that a depleted Offaly side, albeit one that was getting excellent contributions from Eimhin Kelly and Paddy Clancy off the bench, might reel them in.
Yet one by one they did, aided by some stunning blocks from Jack Clancy and Killian Sampson, and the celebrations that greeted Eoghan Cahill's point to level the game with the last puck left no doubt as to which side was the happier going into extra-time.
Cillian Kiely fired Offaly in front with the first score after full-time and it could have been even more had Eoghan Cahill not had a half-goal chance smothered, and Carlow didn't waste their reprieve, settling back into the game and getting back in front through some wonderful points from Jon Nolan, with Chris Nolan pushing the lead out to two.
Lack of depth has always haunted Carlow however and with just 17 players used by the 85th minute, it seemed like Offaly had more energy in the second half of extra-time, taking the lead through points from Jason and Killian Sampson.
At the end of an incredible 90 minutes, Diarmuid Byrne's magnificent score from 90 metres seemed destined to send the tie to penalties, but there was still time for two more chances. Carlow took theirs, and Offaly didn't, and that made all the difference.
Carlow: Brian Tracey; Paul Doyle, Conor Lawlor, Jack McCullagh; Diarmuid Byrne (0-01), Kevin McDonald (0-01, free), Jack Kavanagh (0-02); Fiachra Fitzpatrick, James Doyle (0-03); Jon Nolan (0-03), Martin Kavanagh (1-08, 1-00 pen, 0-05 frees, 0-01 65), John Michael Nolan (0-02); Conor Kehoe (0-02), Chris Nolan (0-04), Paddy Boland (1-04).
Subs: Fiach O'Toole for JM Nolan (63), Richard Coady for Kavanagh (70+2), Niall Bolger for McDonald (85), Jack Tracey for J Nolan (88), Ciaráin Kavanagh for O'Toole (90).
Offaly: Stephen Corcoran; Dara Maher, Ben Conneely, Ciarán Burke; David King, Jason Sampson (0-01), Killian Sampson (0-01); Sam Bourke (0-01), Jack Clancy; Brian Duignan, Cillian Kiely (0-06, 0-02 frees), Adrian Cleary (0-03); David Nally (0-05, 0-01 65, 0-01 sideline, 0-01 free), Eoghan Cahill (0-08, 0-03 frees), Charlie Mitchell (1-01).
Subs: Eimhin Kelly (0-02) for Bourke (47), Paddy Clancy (0-02) for Duignan (50), Shane Dooley for Kiely (58), Joey Keenaghan (0-01) for Nally (67), Paddy Delaney for Keenaghan (ft), Cillian Kiely (15th man for ET), Keenaghan for Clancy (75), John Murphy for Keenaghan (85).
Referee: Thomas Walsh (Waterford).