Henry Shefflin says the time for experimenting in the Allianz League has come to an end as the Tribesmen prepare for a crucial Leinster opener against Wexford on 22 April.
Six weeks out from that meeting with the Yellowbellies, Galway overcame Clare this afternoon at Ennis to put their losing streak behind them.
It didn't look like it was going to end that way early on as the Banner soared out of the to lead by seven points at one stage, but Shefflin's charges gradually worked their way back into things to trail by one at the break.
They upped the ante with 20 minutes to go, and Conor Whelan's goal on 59 minutes was critical.
"You get to a phase where you have to stop experimenting and you have to start thinking," Shefflin told RTÉ Sport after the game.
"That horizon is upon us now. The Championship is coming next month so I think there's a period comes where that has to stop and you've to build your team for the Championship.
"That's what you're starting to see from most teams now."
After an opening day victory over Wexford, Galway lost to Cork and Limerick in consecutive games.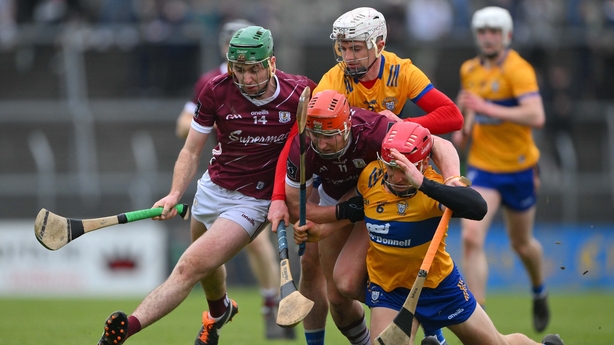 Shefflin admitted that "there was a little bit of a concern" when his team started slowly at Ennis, but praised them for they way they were able to eventually find their rhythm.
"It was a newish enough team out so it was going to take us a few minutes to find out groove," he continued.
"Clare started very well and were scoring at ease, which was the concerning thing. To be fair to the lads they started to grind into and worked themselves manly back into the match.
"There was a bit more flow to our play there in the second half, with a bit of a breeze there that helped. Overall, happy enough, lots to work on - we left a good few chances behind us - but it was good.
"It's all fine and good when you win today. Last week it wasn't good and the week before wasn't good. A lot of this is dictated by results.
"Injury wise, we've picked up a lot recently; we didn't have any more today so that's a positive. I think the lads will take a bit of confidence out of today, coming to a place like Clare and getting two points."
Clare manager Brian Lohan said their early seven-point advantage had flattered them, and acknowledged that his team weren't satisfied with their showing at home.
"We were a bit lucky to be seven up at that stage [early] on," he said.
"They had a number of possession and struck a number of poor wides. They got to grips with the game, finished an awful lot stronger in that first half, and were the better team in the second half.
"In this division it's good quality oppositions that you're playing and you have to be right at it. Maybe we weren't as at it as we could have been.
"Maybe that's not giving Galway enough credit, they were good. They played with a good bit of desire and a huge amount of hunger.
"You'd have to give credit to Galway for their performance [and] criticise us a small bit. It's a combination of both."