When people think of Dunloy, they think of speed, fancy footwork and no shortage of eye-catching scores, but ace attacker Nigel Elliott feels that Sunday's Ulster Hurling final win over Slaughtneil in Armagh demonstrated a whole new side to them.
Very few teams can stand toe-to-toe with the Derry side when it comes to physicality and bravery around the breaks, but after a difficult third quarter when the holders picked off a series of scores to level things up, it was Gregory O'Kane's men who put their bodies on the line and forced a series of morale-boosting turnovers in defence to help them get their hands on the Four Seasons Cup.
This young Dunloy side is one of the most exciting to come out of Antrim in modern times, and five titles in six seasons is a throwback to their decade of dominance between 1994 and 2003 when they won eight county titles.
Those eight titles were transferred into seven Ulster crowns with the one missing link coming in 1998 when they were banned from the provincial series following ugly scenes in the previous year's final win over Lavey.
For the current version, their four previous titles have yielded no Ulster honours. The 2020 competition was not played due to the Covid-19 pandemic, but Slaughtneil's winning margins against Dunloy in 2017, 2019 and 2021 had been seven points, eight points and seven points again.
Conal Cunning's free put O'Kane's men 2-07 to 0-07 ahead at the start of the second half. Fifteen minutes later it was 2-09 to 0-15 and Slaughtneil looked like they were going to overpower Dunloy once again heading down the stretch.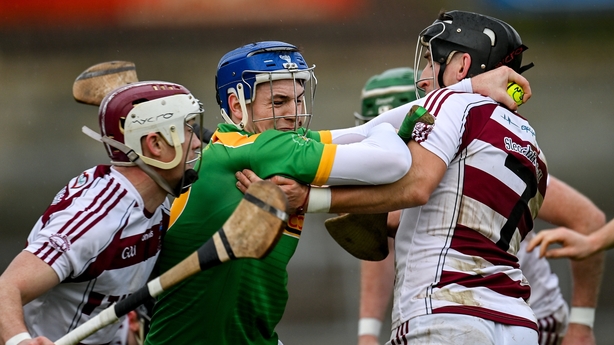 Not this time though, as the Cuchullains dug deep and found that true grit that had often abandoned them against the Derry side.
"Breaking Slaughtneil down, it was never going to be easy to get goals and you just had to work off your scraps and your loose balls," Elliott told RTÉ Sport.
"That's what it came down to at the end of the day, we worked off the breaking balls, the scraps and that's how we got our two goals."
"That's now maybe the second or third final the boys have been in, everyone has matured, everybody knows what it takes now to beat a team like Slaughtneil," he added.
"They don't panic. For example, in our county final [when Dunloy needed a late Chrissy McMahon goal to kill off Cushendall], the boys matured, the boys played, they never panicked and at the end of the day we kept our composure and got over the line."
Elliott missed the two county successes in 2020 and 2021 as he was in Australia, but his return to the green and yellow proved invaluable at the weekend as he played a major part in his side's first goal – credited as an Oisin O'Doherty own goal - before firing home the crucial second just before the interval.
"To be honest, it happened that quick I don't really know what happened," he said of that unfortunate own goal by the Slaughtneil goalkeeper.
"The ball came in and me and two other Slaughtneil fellas ran for it and it just bobbled over the line. I don't know what happened or who hit it or what. It was over the line, that's all that matters at the end of the day. You'd take them.
"We were told at training, the ball is coming in and you have to work on the breaks," he said of the second major. "I think it was 'Coby' [Conal Cunning] or Keelan [Molloy] broke the ball and it just fell nicely for me and came through.
"You have to take those chances when they're there."
For manager O'Kane, a ten-time Ulster winner with Dunloy in his playing days, his side came of age at the Athletic Grounds and they can now bring confidence into their All-Ireland semi-final with Galway outfit St Thomas.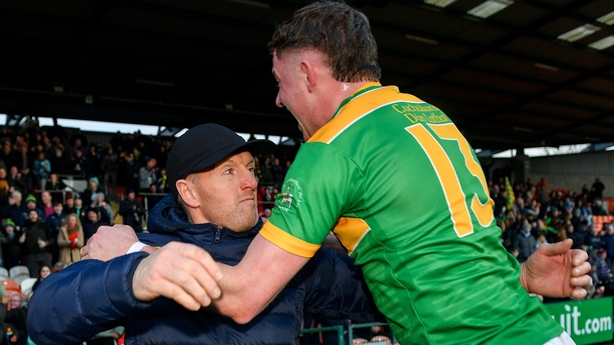 Their last All-Ireland encounter came against Tribe opposition too with Portumna pulling away in an early 2010 semi-final thanks to a late Joe Canning goal, and now Dunloy are heading back to the national stage.
"The 50-50s were where this game was going to be won, everyone knows the physicality Slaughtneil bring to the table," said O'Kane. "Today we were fit to match it.
"In 2019 Slaughtneil beat us but we finished that game with something like eight under-21s, two of them were still U21 the following year in 2020.
"That's a third of your team so you don't get that physicality in games.
"Today that 19-year-old is 24 and eh is developed and he is a better athlete and has more game experience. That was the difference.
"This team needs to learn and needs to grow and we maybe did that."