Ballyhale Shamrocks retained their AIB Leinster club SHC title on Sunday, but the club's 12th provincial title wasn't reason for maniacal celebrations according to TJ Reid.
The Kilkenny champions were leading by a whopping 14 points with 25 minutes remaining, but Kilmacud Crokes reduced the deficit to a point in the 47th minute.
"Even though it was a Leinster final and what-not, but just going around chatting to the players, we're peeved off and we're in no mood to celebrate after that second half performance," said Reid.
"That's the standards we bring you know, we just don't know what happened, and fair play to Crokes for coming back at us, but looking at ourselves we were totally off the mark in the second half."
"We spoke at half-time, we were about nine or ten points ahead, we spoke about getting 11,12 and 13 points and kicking on but then momentum goes against you and the rhythm of the game goes against you it is hard to break the cycle.
"They were scoring and then we were missing chances that we would usually pop over and then it becomes a dog-fight.
"Crokes got two goals in second half and their tails are up, they were hurling with great confidence and we are struggling to win breaking ball and struggling to win puck-outs as well.
"We have a lot to work but at the end of the day we are Leinster champions as well so we have to look at the positives as well. I know there was a strong breeze there and what-not but still our performance in the second half won't be tolerated."
Reid once again was the standout talent on the day, scoring eight points in total on the way to a Shamrocks win by just three points in the end.
Next on the horizon for Ballyhale is Munster champions Ballygunner in the All-Ireland semi-final on the weekend of 17/18 December - a mouth-watering repeat of last year's final which the Waterford side won.
"Obviously we're playing Ballygunner and they are a fantastic team. On that performance alone it's not going to be good enough, so we have two weeks now to get back, the next few days to recover and then get the minds ready then for the All-Ireland semi-final."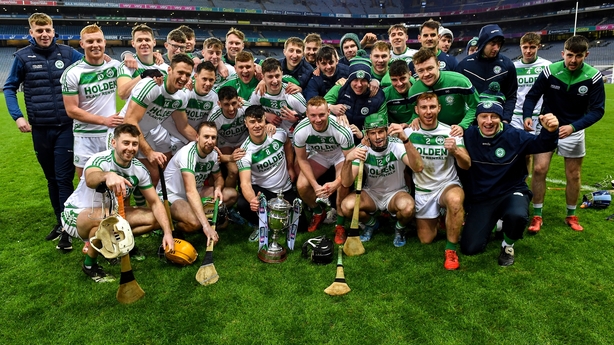 Ballyhale head coach Pat Hoban was quick to pay credit to his team despite a jittery second half performance.
"Four Leinster titles in a row has never been done before so first and foremost huge congratulations to lads on that victory," said manager Pat Hoban.
"I think the lads will realise that unless we can put our first half performance over 60 minutes. It won't be good enough to live with Ballygunner.
"We realised that we got a bit of work to do, a lot of work to do and hopefully we can stay healthy and and have everyone on the field in two weeks time."