It's been a winter of slights and sweet vengeance.
Canada manager John Herdman, in ebullient mood following his team's fine showing against Belgium, was overheard telling his charges that they were going to "f**k Croatia".
The Croatians weren't inclined to let this go, or place it in a more forgiving context, and took great delight in pummelling the Canadians next time out. Striker Andrej Kramaric indicated that Herdman had done his team a great service, thanking him for motivation, adding that Croatia had shown who "f***ed whom".
Down in Cork, perennial winners Nemo Rangers felt disrespected in the lead-up to the county final. After the Cork city outfit, in the unfamiliar role of underdogs, dispatched St Finbarr's in the decider, a host of players, Paul Kerrigan, Paul O'Donovan and Luke Connolly, emerged to tell the press and the rest of the county that they had presented them with ample motivation beforehand.
Croatia's group rivals in Qatar, Belgium, should have been fizzing with defiant energy after they had been labelled "too old" at the outset of the tournament. This is normally the sort of thing that is manna for any manager seeking out motivational material. This might have been the case were it not for the sorry fact that the individual making the charge was their own star midfielder, rendering it somewhat unusable.
What is known in this part of the world as 'dressing room wall material' - aka, 'ye wrote us off, yiz b*****ds' or 'you should hear what the other crowd have been saying about you' - has long been a staple of the pre-match team-talk, revered as an especially potent motivational tool by managers of the old school.
In recent years - whether on account of the decline of the print media or the unwillingness of the public to accept online paywalls - it has become customary for players to insist that they read none of the stuff said about them. They take no notice of the barbs flying at them, from whatever source. They shut out the noise.
But in the club season and in Qatar, are we seeing old-fashioned dressing room wall material starting to make a comeback?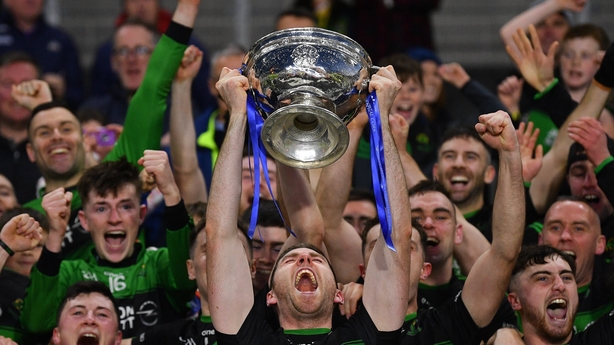 Dressing room wall material is distinct from the 'siege mentality' that Alex Ferguson used so relentlessly at Old Trafford - although they can and do overlap.
Lee Sharpe summarised the standard message thusly: 'everyone else hates us, all these f***ing p****s hate you. Let's go out and show these f*****s how it's done.'
Ferguson didn't attempt to con his team into thinking Manchester United were regarded as underdogs, rather he encouraged them to revel in their role of despised overdogs.
No, in common parlance, dressing room wall, for it to be classified as such, must involve being labelled useless, by either the media or the opposition.
Most of the time over the years, with the latter usually wary of tempting fate, it has been the former who have embraced their role as the enemy.
We got an inside look at a textbook deployment of this form of dressing room wall material for motivational purposes courtesy of Pat Comer and his camera in 'A Year til Sunday'.
After Galway's speed wobble in the Connacht final of 1998, John O'Mahony, always a methodical operator, came armed with a stack of newspapers at the next team meeting, with the sauciest bits highlighted.
"Galway fancy dans get the simple things wrong... Don't have a midfield capable of winning primary possession... Missing frees..."
There was, as Johnno noted, after reading out the most incendiary bits, "only one f***ing answer for that."
The wretches of the media have even earned a walk-on part as pantomime villains in All-Ireland victory speeches.
"There's a lot of people that motivated us over the years," announced Dinny Allen when the Cork footballers got over the line in 1989. "Some so-called reporters that kept knocking us. Some so-called people in the crow's nest up there..." He proceeded to juxtapose that disreputable shower of knockers with the glorious sea of true believers he saw standing before him.
But it's when it's other teams that are lobbing the grenades, that's when it gets properly saucy.
The Last Dance, of course, was a long litany of Michael Jordan being provoked into feats of athletic greatness by minor slights of one kind or another, some of which were invented.
The finest basketball player in the history he may have been, but at heart, Jordan was a GAA manager telling his charges that "this crowd think you're no good." The great man retained this spirit to a borderline sociopath degree, as evidenced by his 'Father-Ted-wins-the-Golden-Cleric' style oration upon his induction into the NBA Hall of Fame in 2009. These HoF speeches are typically wholesome and schmaltzy affairs but Jordan chose to mark his big moment by embarking on a name and shame campaign of the various dullard coaches and impetuous rivals who had at one stage or another cast doubt on his status as the GOAT.
In the long and anecdotally rich history of 'dressing room wall material' in the Gaelic Athletic Association, one man's name looms large.
We speak, of course, of Michael 'Babs' Keating. The Tipperary great, who in addition to winning an All-Ireland final in his bare feet and reviving his county's fortunes as manager in the late 1980s, created an incomparable legacy in the area of 'opposition incitement'.
When he wasn't plotting Tipp's route to an All-Ireland title, he was busily, for his own amusement presumably, lighting fires in the belly of his opponents. Just to spice things up.
We don't have the exact figures to hand. But approximately, 60% of all Tipperary hurling defeats since the Second World War have been attributed to Babs running his mouth before the game.
The donkeys don't win derbies comment - allegedly misinterpreted - has gone down in lore for powering an unfancied Cork side to a remarkable All-Ireland triumph in 1990.
In the wake of the 1993 Munster final massacre, when it was Nicky English's smile which would provide Ger Loughnane with a full decade's worth of fiery rant material, Babs told the media that hurling people deserved another Tipp-Kilkenny All-Ireland final. The Galway hurlers, more or less permanent residents of the 'long-grass' in those days (given that they had no game of note between March and August), took note of these comments from afar. The All-Ireland favourites were duly sucker-punched by Padraig Kelly, Joe Cooney et al in the semi-final.
The record on this is clear. In the field of performance psychology, a dismissive word from Babs in the media is worth any number of Caroline Currid group sessions.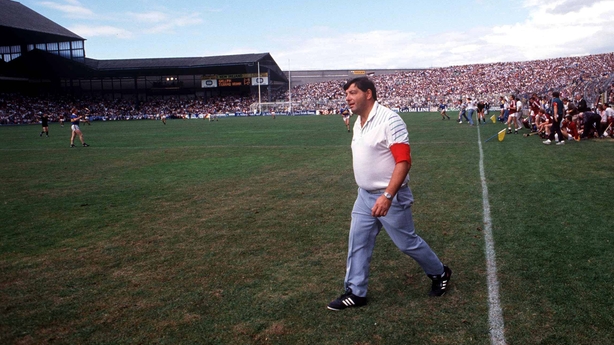 On Colm Parkinson's 'Smaller Fish' podcast recently, Christy O'Connor offered another anecdote from when Babs was manager of the Munster Railway Cup team in the early 1990s. With Tipp the dominant force in the province and Clare still under the thumb, the team was loaded with Babs' own boys, Anthony Daly and Davy Fitzgerald making up the numbers. After a sluggish first half display away to Ulster in Belfast, Babs spent the entirety of his half-time team-talk dressing down the Tipp fellas, at one stage throwing his eyes towards the couple of Clare boys.
"There's a couple of Clare lads here," Babs reminded the apathetic Tipp contingent. "And sure they'd love an auld Railway Cup medal."
Clare, as Denis Walsh detailed in The Revolution Years, were especially relentless in their mining of past slights for motivational purposes. So much so that one Clare supporter reared on such talk, was surprised later to discover that the 'Nicky smiling incident' was as innocuous as it was in reality.
This tendency revealed itself on the steps of the Hogan. "They told us to stick to our traditional music," Dalo cried, recalling an old bout of on-field verbals with a Waterford player - of all things - in an otherwise forgotten Munster championship match some years earlier. Whatever about Babs and Tipp, the Waterford hurlers were probably not in a strong position to be dispensing trash-talk in the early 90s.
In latter years, as Babs' once considerable managerial powers waned, he turned his attention to inciting teams he was either managing or had recently managed.
Offaly were infamously dismissed as "sheep running around in a heap" in the 1998 Leinster final, comments which provoked Johnny Pilkington into firing back at his own bainisteoir in the pages of the Irish Independent, the upshot being that Babs was discarded mid-season. Under hastily installed secret agent Michael Bond, this headless band of sheep proceeded to win their fourth and last All-Ireland that September.
These sort of pre-match provocations are not regarded as best practice nowadays - or even probably in them days. Modern day GAA managers are loath to offer such hostages to fortune, wary of sticking more petrol in the tank of the opposition. But in the post-Jim Gavin 'Carlow-are-always-a-stiff-challenge' era, one yearns for Babs and his casual indiscretions.
Hurling's current overlords appear to have moved beyond the point of needing external slights. We've had enough glimpses of Limerick's dressing room wall material from the many tweeted images of their post-All-Ireland celebrations.
In the imagined glory days that probably never were, it might have been adorned with press clippings of journalists and rivals calling them useless (such material is probably thin on the ground concerning Limerick, nowadays, even if they were looking for it). But no, these days, the posters are simply reminders of their 'performance targets' with regards to puckouts and turnovers and whatnot.
An All-Ireland winning dressing room pic.twitter.com/leMx99ETYM

— Matt O'Callaghan (@MattOCall) August 19, 2018
Those at the cutting edge of sports psychology probably feel there are more sustainable paths to excellence than consistently telling a bunch of players what the other lot are supposedly saying about them.
But the universality of the platitudinous pre-match interview is proof enough of the power of barbs and slights to improve an opponent's performance. In their brutal dismissal of Canada, Andrej Kramaric and the Croatian players provided further evidence of that.
By the way, anyone who gets to the end of this column and brands it tired and poorly constructed should know that they're only providing me with fuel for the next one.