Derry star Chrissy McKaigue has said that he is determined to squeeze every last morsel out of his body to represent the Oak Leaf County for as long as possible given the future that he sees in store.
The dual player, who will hope to help Slaughtneil to a fifth Ulster Hurling title in six sittings when they meet Dunloy in Armagh on Sunday, became Derry's first All-Star since 2007 after a series of brilliant performances as Rory Gallagher's side won Ulster and reached the All-Ireland semi-final. Minutes later at the GAA event, midfielder Conor Glass replaced McKaigue as the county's most recent All-Star recipient.
Never has the future of Derry football appeared as bright as it is right now in McKaigue's time involved with the squad.
"I'm still trucking along rightly so I want to keep it going for as long as I can," said the defender, who was speaking at a AIB GAA provincial club championship media day ahead of Sunday's Ulster final against the Cuchullainns.
"I was getting a wee bit emotional seeing all the different lads the same age as me retiring and question marks over different ones. We'll just stay away from those retirement questions just yet.
"I'm telling myself I'm younger more than ever because I'm so desperate to hang onto that Derry football set-up," the 33-year-old added.
"I see the structures in the county, I see the current management team that we have, I see Stephen Barker as CEO, I see Owenbeg's facilities developing every single day I go up the road.
"I see just the whole feel-good factor of Derry football as massive right now, and that goes from grassroots right up to the top."
McKaigue made his Derry debut in 2008 and despite racking up medals constantly at club level in both football and hurling, and also with the Oak Leaf hurlers in the Nickey Rackard Cup in 2017, inter-county success before last season had been limited to minor honours in football.
An obvious contrast between his club and county career seemed to exist, but it's not a view the player totally subscribes to.
"Yes, it [the Ulster title] does put a different spin on it but the one thing I'm always conscious of portraying is that the career that I've had with county up to you last year hasn't been as much doom and gloom as some people might like to point out.
"At the end of the day, being able to play league finals in Croke Park, two Division 1, one Division 2, won at 3, won at 4, it's still a lot better than a lot of county players.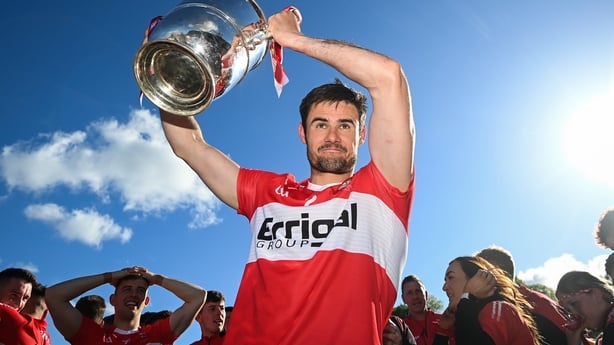 "Within my county career I've been allowed to play on Railway Cup teams, able to play for my country in the compromise rules.
"Things like that, you just can't take it for granted. To be able to play at that level against the best teams, the best players is always a platform that I wouldn't get if it wasn't my own county.
"Ultimately, I understand the question and it's about trying to win the collective accolades like the provincial championship and things like that.
"I'm grateful for what I had prior to this year but after this year you get a flavour of what it's like to be at the top table. Once you get a flavour of that you don't want to let it go."
For now though, club matters are to the forefront as Michael McShane's team aim to extend their domination of the Ulster series.
McKaigue, so often the face of Slaughtneil, has rarely been happier pulling on the Robert Emmet's jersey.
His club has always been his obsession, and that connection has only increased in recent months having been appointed as their games promotion officer. His job now revolves around Slaughtneil, and he is, put simply, in his element.
"It's been a breath of fresh air for me," he said of his new role.
"My remit is to try and create a pathway for the players in the club and to improve the overall coaching structures in the club and look at ways that we can increase performances and standards.
"I'm so fortunate to come into a club that has been doing so, so much right and my learning from other people has been massive. It's just something that I'm so passionate about and it's something in many ways will improve my own playing career.
"When you're having daily conversations about sporting performance and sporting structures you actually realise that you're talking about this, encouraging people to do this, but am I doing this in my own sporting life? Am I doing this regarding my own performance? Sometimes the answer is no.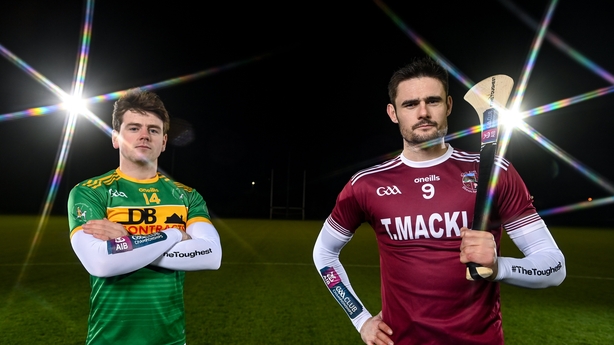 "It's given me a bounce working with my club every day, going around the schools and talking to the coaches."
Bounces have been common in the club. Slaughtneil have won 10 titles in a row in Derry, but Dunloy are starting to become Ulster regulars too having lifted the Volunteer Cup four times in a row in Antrim.
They are a young team with plenty of speed and a ridiculous scoring spread at their disposal, but McKaigue dismisses the idea that they are fighting Father Time to maintain their own high standards.
"They are absolutely a fine young team," he said of Sunday's opponents at the Athletic Grounds.
"There is this perception that Slaughtneil are not a young team. If you look at the age profile bar myself that affects it a fair bit, we have a lot of young talent that has come through. We have a conveyor belt below that and I'd be very hopeful of also.
"You've the likes of Ruairí Ó Mianáin who is just turned 18 in the last couple of weeks, you've Peter McCullagh at 19 who started against Portaferry, Shea Cassidy in corner-forward as well at just about 20.
"There's three of our starting 15 at the minute who are all about the age of 20.
"Dunloy have a brilliant age profile but so have we and that's why we put such an emphasis on our youth structures."