Seven years on from beating Ballyhale Shamrocks in the Kilkenny U-16 Division 1 Shield final, the Naas senior hurlers take a huge step up against the same opposition at Croke Park on Sunday.
This time it's at the highest possible level as the sides will meet in the AIB Leinster SHC semi-final.
The game comes just a season after Ballyhale were beaten by Ballygunner, following a dramatic Harry Ruddle goal at the death in the 2021 All-Ireland senior final.
A week before that Naas broke new ground by becoming the first Kildare club to win an All-Ireland hurling championship when they beat Kilmoyley to land the intermediate title.
Out of the squad that won last season's intermediate series, 11 played against Ballyhale in that U-16 shield decider back in 2015.
And while Ballyhale youngsters are scarcely out of nappies before a hurley is thrust into their hands, the culture of the small ball game is now deeply embedded in Naas too.
Each player that represented the club in last season's historic provincial win started out in the underage nursery, run by John Holmes, the godfather of Naas hurling, who continues to spread the gospel of the game in the Kildare town along with a committed cohort of diehards.
"No one would have believed it would happen."
"We appreciate there is a huge challenge ahead this weekend," says another Naas hurling stalwart, club official and former Naas senior hurler, David Delahunty.
"But once guys hurl to their full potential that's what we want. To be here in November playing against Ballyhale in a Leinster senior semi-final - that is what dreams are made of.
"That was a scenario that was unthinkable to the club six years ago. No one would have believed it would happen.
"So, there is also a realisation here that we must enjoy the times we are in and appreciate the players we have. Hopefully they will do themselves justice on Sunday."
They certainly did that against Shinrone in the recent AIB Leinster quarter-final, winning 4-21 to 0-18 in the club's first provincial senior outing in over 20 years.
They threw the shackles off and expressed themselves.
"We knew what Shinrone would bring and last year the Offaly champions ran Ballyhale close so we knew what the challenge would be," Delahunty adds.
"We had plenty of time to prepare and the management team Tom Mulally and Christy Kealy had all their homework done.
"All that work will be put in again for Sunday and hopefully the lads will represent themselves really well."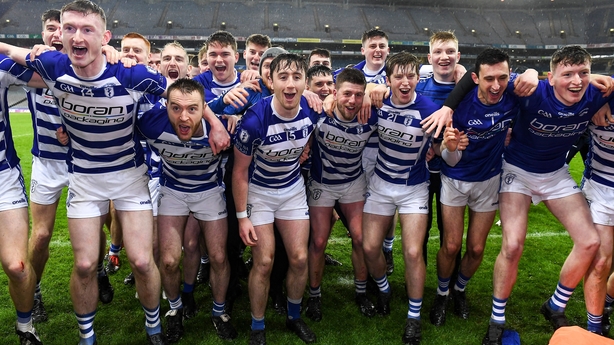 Ballyhale, kings of the club game with eight All-Ireland senior titles, are imperious in the air and devastating on the ground, but Delahunty is hopeful that no matter the outcome at the weekend, the development and progressive work will continue in Naas, a club that has also won two county football titles on the trot in tandem with the senior hurlers four in a row.
Allied to this is the work ongoing in both codes at Naas CBS, where a number of surrounding clubs contribute to landmarks such as a Hogan Cup title in 2021 and a Leinster Colleges 'B' hurling title in 2017.
Gaelic games in the town is enjoying rare old times. There may have been a population explosion over the past decade but the hard work that goes into hurling and football from ground level upwards can be seen on a daily basis.
Underage teams seek out as many blitzes and tournaments as they can manage and the club's policy of exposing young hurlers to leagues in Kildare, Dublin and Kilkenny has also worked out and paid dividends.
From the age of eight to 12 their underage hurlers play in Kildare but also play in the Dublin leagues. At ages 13, 15 and 17 they play in Kildare and Kilkenny.
"The challenge is to keep it all going," continues Delahunty.
"Potentially this is a golden era with a lot of once-in-a-generation hurlers there so we must enjoy it while we can.
"Just four to five years ago we were struggling to get over the line in the county but now we are where we wanted to be and Tom Mulally, Christy Kealy and the lads will embrace it now and go at it, they will not hide away from the big occasion on Sunday.
"It is just unreal to be there but the work will go on.
"Since Austin Bergin moved from juvenile to senior chairman a firm pathway has developed now and both sections working together closely with buses organised for juveniles to go to all these matches.
"We have our lotto joker lotto fund to help both adult and senior hurling and the overall development of the club. The hard work put in by the likes of Denis Hanly, John Holmes and Morgan Lawlor has to be kept going. We cannot slacken off, rest on our laurels or become complacent. Too much has gone into it to get us this far."