New York's assimilation into the All-Ireland Senior Hurling Championship structures took a step forward last week when it was confirmed that the American side would be competing in the 2023 Connacht Hurling League.
That means a visit to the University of Galway's Connacht GAA Air Dome in January for Richie Harnett's side, but crucially it will be a soft launch for what he hopes will be an entry pass to the Lory Meagher Cup in the very near future.
Hartnett will lead the side in January's competition, one that will also feature Leitrim, Mayo, Roscommon, Sligo, a Galway development side and Longford.
It will be the Leinster side who they face in the preliminary round on 2 January and Hartnett hopes that they'll get to meet some of the other sides involved in a more competitive environment down the line.
"The Lory Meagher is the competition we want to get into," he told RTÉ Sport.
"We've put committees together and we tried to get the ball rolling on it [in the past]. It was a Derry man Micky Quigg who was the hurling development officer at that stage, we submitted plans to Croke Park and obviously Covid hit and delayed the whole process.
"We sat and met with Galway hurling development officials this year, Damian Coleman and Cathal Cregg were over and we met with them and we got the ball rolling on it again.
"They had mentioned that the Connacht League would be a great way to dip our toes back into the action in Ireland. We jumped at the chance.
"There have been an awful lot of guys pushing for New York to be involved in these competitions. The footballers have been involved in the Connacht Championship for a long time, from 2002 a team has started coming out every year to play New York. Last year New York got back to Ireland to play in the Tailteann Cup.
"We're entering this to compete not to take part and we hope this will get us into the Lory Meagher competition."
"Big strides are being made with the county board and sponsorship. It takes a big effort and it's a big cost to take a squad home to Ireland but luckily visas aren't as restrictive, it's a lot easier to get teams to travel.
"We're entering this to compete, not to take part, and we hope this will get us into the Lory Meagher competition."
A native of Ballyheigue in Kerry, Hartnett played underage hurling for the Kingdom before linking up with the Kerry football side and the Offaly hurling team when he first landed in the Big Apple 14 years ago. Since then he has been a visible face on the GAA scene there.
After managing Waterford New York for the last three seasons, guiding them to the 2022 SHC title with an extra-time win over Hoboken Guards, Hartnett will now turn his attention to the inter-county scene.
Six weeks ago New York got word that they were set to be invited to Galway so a coaching team needed sorting. Hartnett will be assisted by Toby Kavanagh, Alan Gleeson, Eamonn Fitzgerald and trainer Sean Kelly, who played with Cesc Fabregas and trained with the likes of Thierry Henry, Robert Pires and Dennis Bergkamp whilst with the Arsenal academy as a youngster.
It's all go for Hartnett, but a hurling-mad partner in Aine Dempsey, daughter of former Galway coach Gerry and niece of Gerry McInerney, helps in that regard, but it's still a very busy schedule that's starting to form ahead of him.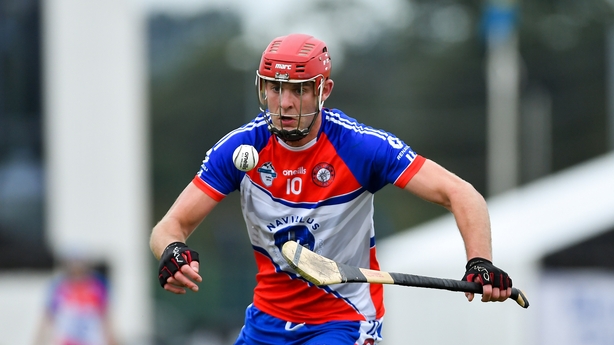 "There's a lot of hurling in the house. I've a six-year-old son Dáithí and a one-year-old daughter Aoife, so it's a busy time.
"I took on the role of the [New York] hurling chairman as a couple of years ago as well."
New York's last hurling championship game at senior level came back in 2006 when they participated in the Ulster Championship.
After a win over Derry in the Bronx – Michael Kennedy with their goal in a 1-18 to 1-12 success – they were penciled in to face Antrim in the final. New York were not prepared to travel to Belfast, mainly due to visa fears, nor were the Saffrons up for an expensive jaunt to Gaelic Park.
Four months later than originally scheduled, the sides would meet in Boston with Antrim prevailing.
"We did have a team that travelled home in 2013 for the Aer Lingus gathering," Hartnett continued.
"That was held in Galway and was more of a sort of club competition, you had clubs from London and France and Australia, from all over the world really.
"That was the last time we put a group of hurlers on a plane and flew them to Ireland and we actually got to the final against Australia in Pearse Stadium in Galway.
"We also had a team that won the Renault GAA World Games in 2019 and got to play the final in Croke Park. Covid obviously put a stop to that but we're hopeful that gets going again this summer."
Hartnett hopes that January's trip across the water is followed up quickly by another few, and he adds that the benefits could be more long-term than people realise.
"All the underage football teams here, they have something to look up to. The New York junior team [managed by Johnny McGeeney] play in the All-Ireland Junior Championship and are all American born. The senior football team have a game in Gaelic Park and it's the biggest day out in the park all year.
"Leading up to the game the kids can come in and get their jerseys signed and their footballs signed, and that is great. It's unbelievable for the promotion of football.
"We're trying to get to that level with the hurling. We have made massive strides at underage over the last 10 years. We have four strong clubs at underage level, we had three growing at minor level and we're trying to grow that all the time.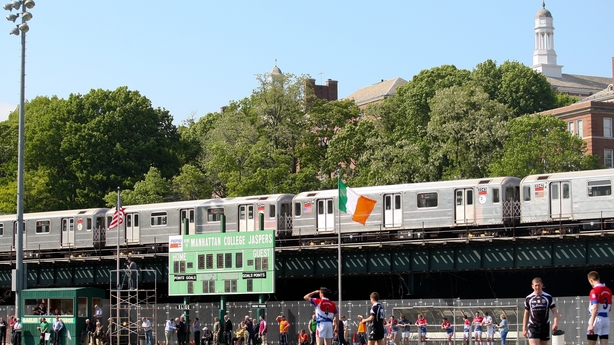 "We're trying to get a pathway from U-17 to senior. A lot of these underage American guys get to 17 and join a junior hurling team and the standard is just that bit higher because a lot of Irish guys are involved coming over from Ireland.
"We're trying to set up a novice division at senior level that will be for American born players only. It'll give them more game-time at senior level and they could also draft up and play for that junior team or be a sub for them.
"It'll hopefully mean that they're not coming to a standstill where they have no hurling and they're sitting on a bench with no game-time. That's when they'll lose interest.
"Being able to have a senior hurling team is something big to aspire too. You'd hope these games are shown live and they'll be able to see the guys they see around Woodlawn or Queens or wherever on the TV."
One man will not be pulling on the New York jersey in the Connacht League will be former Galway star Johnny Glynn who is ruled out with injury, although he is lending a hand with the coaching.
Still though, according to Hartnett, there will be plenty of talent on display from his side – and he hopes that becomes apparent not just in this January competition but in years to come in the various All-Ireland tiers.