After being involved in the Dublin football set-up for part of the 2022 season, Eoghan O'Donnell's focus is now firmly back on hurling, where he aims to "thrive in the system and the culture" that new county boss Micheál Donoghue is hoping to establish.
O'Donnell, born in Zimbabwe to Irish parents, featured at full-back in each of Dublin's five Leinster championship games last summer. After a notable win away to Wexford, the side looked well set to make it out of the round-robin phase, but defeats to Galway and Kilkenny saw them eventually lose out to the Slaneysiders on scoring difference.
A few weeks later, O'Donnell, from the Whitehall Colmcille club, got the call to join up with Dessie Farrell's football squad. He would make his championship debut as a sub in the All-Ireland quarter-final win over Cork and was an unused sub in the subsequent loss to Kerry.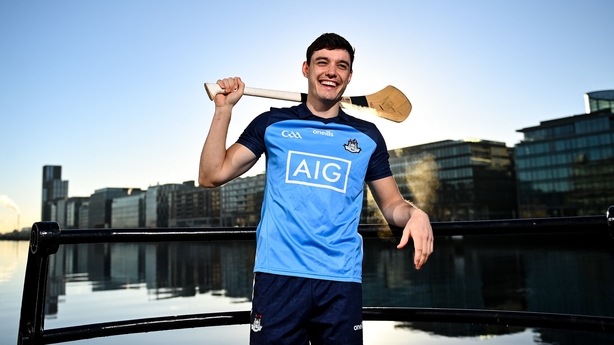 There was talk that the 27-year-old might give all his attention to the big ball game. When asked about that prospect, O'Donnell, while not emphatically ruling out a return to the football scene at some point, was in no doubt as to where his attention will be for 2023.
"We believe massively in what we're doing in Dublin hurling and that's where a lot of my loyalties lie," he told RTÉ Sport at the launch of Dublin GAA's new AIG sponsored jersey.
"It was a big surprise to me to get the call from Dessie; he reached out and I took the opportunity with both hands. It was a new environment, different people, with different approaches, so the challenge was there.
"Micheál now has a fresh panel of 40 plus people and I have to earn my stripe again. As of now I'm looking forward to the whole hurling side of things again. I have put a lot of time and effort over the last nine, ten years into it.
"I'm not ruling out a return [to the footballers]. I have quite a busy job, your personal life. People are trying to get way travelling these days, so I can't comment as a 27-year-old on what I'll be doing in a couple of years' time."
This year's championship exit saw Mattie Kenny step down as manager, a coach that O'Donnell had "massive respect for". In came another Galway native, O'Donoghue, the man who masterminded the Tribes' All-Ireland success in 2017.
Both O'Donnell and Donoghue have met briefly, with the former impressed by what the latter can bring to the job.
"He's been there and done it, knows what it takes at the highest level to win and that's what we need in Dublin hurling," he said.
"It's hugely positive.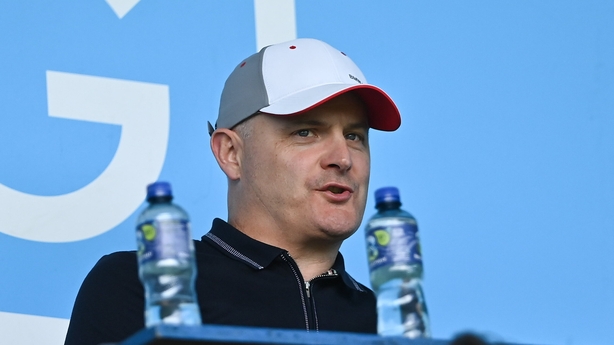 "He has a great backroom team coming in (Francis Forde and Noel Larkin from Galway; Shane O'Brien from the Cuala club). We will hopefully learn from him and then thrive in the system and the culture that he sets up in Dublin. Individual programmes have been handed out, Micheál is setting out his stall early.
"He's quite a well-structured guy and has a good plan in place. We are working on our gym programmes at the moment to take advantage of this time period and then join as a group later in the month to work on the fitness and the hurling side of things."
"I've just finished with the club and I'm mad to get back training again. Everyone now has to prove themselves to the management; there is no resting on your past achievements because you were on the team last year. Micheál is coming in with a fresh perspective.
"I'm sure he would have watched the Dublin games as any fan would but now he's coming in with a microscope. He wouldn't know me from the person beside me so everyone has that motivation to prove themselves."
The round-robin series in Leinster and Munster is fiercely competitive, with O'Donnell hoping that the new management can give them the extra little push that could make all the difference.
"You have eight or nine teams on any day that can come out with a win.
"It's an extremely competitive environment. We are at that stage now in the pack that we have to perform at 100% to beat teams. That's the reality; we'll have to keep striving to add on the one percent and the small margins that add up to make the difference on the day."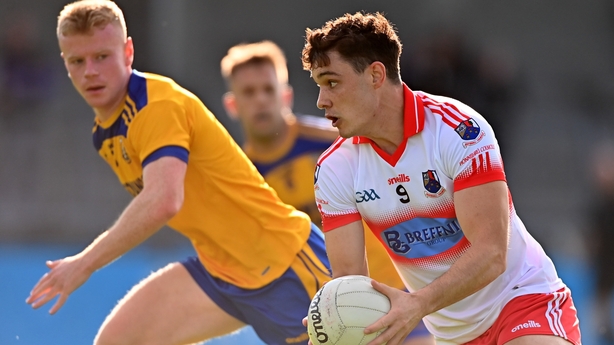 And while O'Donnell's time with Dessie Farrell's squad last summer was short, he was "quite surprised" at how different football and hurling were at inter-county level in Dublin.
"I play with the club every year so I'd have a bit of football in me. From a structural and tactics point of view it was completely different. From a dressing room point of view they [the footballers] are on the road a long time and have had a huge amount of success. They know what they're about.
"If you went into any dressing room in the country, everyone is trying to monitor the same performance indicators, they are trying to measure tackles, looking at video analysis and the mental side of things, so it wasn't a massive amount of difference to what we have in the hurling, it's just the footballers are a long way on the road and are further ahead of it than other teams."
Watch Ratoath v The Downs and Kilmacud Crokes v Portarlington in the Leinster SFC semi-finals on RTÉ2 and RTÉ Player from 5pm Saturday