Limerick star Diarmaid Byrnes says being named Hurler of the Year will take some time to sink in after he was honoured by his peers at the PwC GAA/GPA All-Star awards.
The wing-back also scooped his third All-Star in Dublin tonight, following a season in which he scored 0-36 and played a key role in the Treaty's march to a fourth All-Ireland SHC title in five seasons.
"It's hard to digest, really," he said. "Even to be nominated, it took me a while to process that to be honest. Hand on heart, it's something I've never been striving for. When I was nominated I thought, yeah, it would actually be lovely to win. I'm here now and it's like, 'woah', you nearly have to take a step back.
"In the coming weeks and months when I'm meeting people I'm sure I'll be meeting people that are delighted for me and I can sense that already in Patrickswell. I'm really honoured. It's a fantastic occasion for me as an individual, for my partner, and my family. Because they're the ones closest to me and see my sacrifice. They know when I'm training and the hours I'm gone every week."
Limerick's Diarmaid Byrnes is the 2022 Hurler of the Year. #rtegaa #allstars
Watch live: https://t.co/dAAjgT6ucB…
Updates: https://t.co/sLnacI0Eo5… pic.twitter.com/IidgAe3dpe

— RTÉ GAA (@RTEgaa) October 28, 2022
Byrnes is the first defender to be named Hurler of the Year since Kilkenny's Tommy Walsh in 2009 and joins some other heralded backs such as JJ Delaney, Sean Óg Ó hAilpín, Brian Corcoran, and Brian Whelahan.
"They're all people I would have admired growing up," he said. "I wouldn't be mad into looking back on stuff, but Tommy Walsh is someone I would have looked at clips of. So, it really is special to be in that category now. It's nice for the backs I suppose that we have one again.
"Barry Nash was nominated too and he had a phenomenal year with Limerick. If he was sitting here today talking to you I'd be equally as happy for him. And he'd be deserving of it also because he was so good all year.
"It [scoring] is something I've worked hard at, especially the frees. Against Clare I scored eight from eight and I got one from play. It's something I have put an emphasis on because they're so important.
"The scores from play, I'm very fortunate that the lads around me know my game very well and I know their game be it Gearoid (Hegarty) outside me or Darragh (O'Donovan) inside me, they know my runs and my ins and outs. I suppose there's an understanding there as well. A lot of those scores came from other individuals, it's just my responsibility to take the free."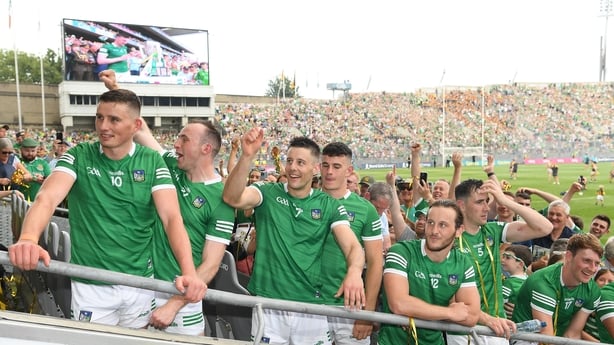 Can Limerick continue their incredible run of success with four in a row next year?
"The last couple of years have been just incredible. You always hear lads talking about how they were there in '94 and '96. And even now as I get older and having won one, I would have been so happy for those lads to win it back in the nineties. I look at men like Ciaran Carey, Gary Kirby, Barry Foley in our club. To see the success we've had and the enjoyment that we have gotten out of it, I would be so happy to be able to give them just one of mine. They were so close in their time.
"Because of situations like that, we have learned to be so grateful for what we have. It's nothing we'll be taking for granted going into next season. Three-in-a-row, fantastic. But, come January, it's time to knuckle down and it'll be every man for himself and just tear into the season and be the best you can for the team.
"At the end of the day you want to achieve as much as you can with your team if you're making the sacrifices that we are making.
"It's grand saying those Limerick lads work fierce hard. But the Clare, Galway, Kilkenny lads, they all work equally as hard. We're just fortunate to have an exceptional bunch of individuals that have come together at this time. We have a panel of them, which is crucial.
"2023 will bring its own challenges now and we'll learn from the season gone and hopefully we'll be the best we can be."
Also on Friday night, Kilkenny corner-back Mikey Butler was rewarded for his breakthrough season with the Young Hurler of the Year award.
Mikey Butler from Kilkenny has been named the Young Hurler of the Year in 2022. #rtegaa #allstars
Watch live: https://t.co/dAAjgT6ucB…
Updates: https://t.co/sLnacI0Eo5… pic.twitter.com/B2v1qUSJzq

— RTÉ GAA (@RTEgaa) October 28, 2022