Davy Fitzgerald believes it might be time for the GAA to make examples of those who physically abuse officials, if the phenomenon is to be stamped out.
An alleged assault on a referee in a club game in Wexford last weekend came just weeks after an incident in Roscommon that left a ref in hospital and games postponed in protest.
While new Waterford manager Fitzgerald accepts that he has had his own disagreements in the past with officials, he says the GAA has to be above physical abuse of referees.
"We can't tolerate hitting anybody, any official in the GAA," he told RTÉ Sport at the launch of Londis' sponsorship of RTÉ show Ireland's Fittest Family.
"We should be above that, and we're going to have to deal with that, end of story.
"Whether they get something really wrong, really right, there is no room for it. And I'd be a fella that would have given out to referees and would have found it hard to understand decisions. But it's a tough job. For anyone to do that job is incredibly tough.
"I think it has always been there. If you look back at the last number of years, there always have been incidents. It has been highlighted, it's happened a small bit more frequent lately.
"My feeling is, the GAA are going to have to be very hard-handed in how they deal with it. They have to make one or two examples. If they have to, they have to. End of story."
It shouldn't be 'Us versus Them'
Fitzgerald believes that the chance for team managements to meet with officials to discuss rules and decisions after games would improve relations.
"What I'd really like to see, even from a county point of view, is more communication with the referees," he said.
"If you look at rugby, there's communication before and after, probably. And it's nice to have a bit of communication so you can understand their side. It shouldn't be 'Us versus Them', because let's be honest, refereeing is a tough, tough job. No matter what, whether we like decisions they make or don't make, we have to make sure we protect them and mind them.
"The referees themselves know they're not always right. And once a referee can put his hand up and say 'I deliberately did not go at any team to do them', we as managers have to accept totally that they're going to make mistakes. We have to accept that, and we have to get on with it.
"I would love to explore the idea of being able to communicate in a proper manner with the referee."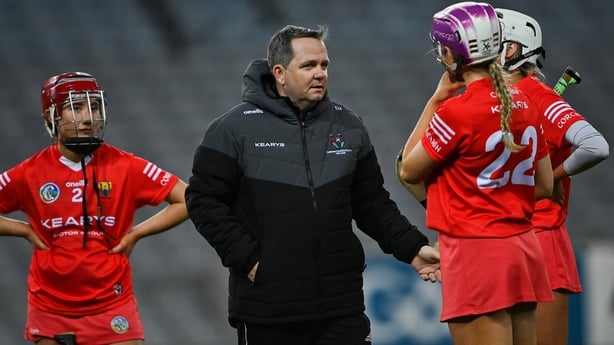 Fitzgerald is back in the saddle with the Déise for a second spell, having taken a first year away from the inter-county scene in 32 years in 2022.
Though he was far from idle, combining a role with the Cork camogie team and punditry on The Sunday Game with some personal development as a manager.
"I definitely wanted to talk to more people and understand more bits around team environments and how you handle people," he said of his year 'off'.
"Then I wanted to look at the way other teams trained and see if I could make any comparison. I have done a bit, for definite. Whether it will make a difference or not, I'm not sure. But in my own head, getting to do what I did in the last year was actually really important. I really enjoyed it.
"I'm back in the firing line now! It was nice and easy when I was in the studio in RTÉ and I could talk about everyone. My one thing was, I wanted to show stuff [on TV] that people didn't see at home. Be it a formation, a move or be it running into spaces or playing two or three extra players back. People are fooling themselves if they think certain teams out there play a straight 15.
"I used to get in trouble, people talking about playing a sweeper, or a plus one, as we call it. When we did play that, we wouldn't play it for 70 minutes. You might have five, six, seven sometimes defending. Whereas you look at some of the teams now, you could have nine or ten defending at different times. So I wanted to show people different avenues of how it actually worked.
"I loved my time in Cork. The effort and the commitment, it was getting right back to the coal face and working with very little [resources]. But my God, we had some great laughs. But I'd like to see them really come in under the [GAA] umbrella and get more if they can. I really think they really deserve more than what they get."
Fitzgerald said that the pandemic had made him view management with a different perspective but that he hadn't lost his enthusiasm for the inter-county rollercoaster.
"I probably spent more time over Covid with my family and even last year I spent a bit more time than I had. That does come into your head but since a young age I have loved being involved at the top level. I'm excited about it and I got the support of family, which is the most important thing for me to do it. If I didn't have their support 100%, I don't know would I have gone back in but I did.
"I'm back on the sideline but I love that, I love being out on the field coaching and coming up with different stuff and seeing can you make a difference.
"I don't know if I can make a difference but I can't wait to get going. I can't wait to be back out there. I have new ideas I'd like to try out and see how we can get on. Let's see how we can get on."