Words are easy. Until they're not.
How often do we hear the stock phrases of shock after yet another tragedy? How people never expect "something like that" to happen here – long after Ireland has taught us that things like that happen everywhere.
On Saturday Sport on RTÉ Radio 1, three Tipperary people grappled with the scale of the tragedy which had, just over 12 hours earlier, fallen on a small hurling club, a hurling county and the hurling country.
Liam Sheedy and Shane McGrath are hurling analysts and experienced broadcasters. They spoke eloquently about Dillon Quirke, the county hurler who had died after collapsing while playing for his home club, Clonoulty-Rossmore, just the night before.
For Sheedy, the GAA community has lost not only a great hurler, but a great person.
"Lockdown was tough for everyone but Dillon had set up his own gym in the back of the house and was doing wonderful training on his own. He really was meticulous about his preparation.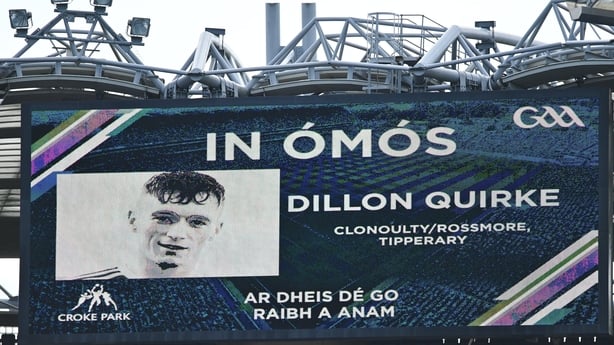 "Even in 2020, to give you the other side outside of hurling, we organised a day where we might go and visit people [during the pandemic]. Dick Martin, he's everything that the community in Clonoulty is all about. Myself and Dillon went in and the way he chatted to Dillon, the conversation they had over the 20 minutes or half hour he was there and Dillon gave him the signed Tipperary jersey.
"He was dear, he was on my leadership group. He was just a really, really good player and a joy to be around."
Shane McGrath saw a young player with the world at his feet.
"Anytime I met him he just had that feeling of leadership, that devilment that I love seeing in lads.
"I think he was always a glass half full person from the times I met him and hearing stories about him.
"The team player that he was. To ask someone to go out and maybe sacrifice their game for the greater good of the team, there's not many lads who are willing to do it."
"What a loss this guy is going to be to his family, his club, his community and to Tipperary," he added.
The Tipperary GAA community is in mourning following the death of senior hurler Dillon Quirke after he collapsed whilst playing for his club Clonoulty/Rossmore on Friday evening. Our correspondent Marty Morrissey is at Semple Stadium | Read more: https://t.co/QhU9RXUAJw pic.twitter.com/wyVRGEuu4E

— RTÉ News (@rtenews) August 6, 2022
The third speaker was Andrew Fryday, chairman of Clonoulty-Rossmore, and as is often the way in rural Ireland, also Dillon Quirke's uncle. Andrew spoke movingly of his nephew and the loss to his family as well as to the club. As the radio item was being wrapped up he politely asked if he could be given another minute to speak.
Despite the personal loss, as chairman of the club, duty called. He thanked the referee, the County Board and the opposition, Kilruane McDonagh's for their compassion on the night. Then, voice breaking, he said they would take a few days to do what they had to do, to say goodbye to their man, their leader.
"Craig Morgan, one of their players and a personal friend of Dillon on the county team, actually knelt down beside him in his hour of need," he said.
"It's tough times on us here and we find it very hard. Dillon was our man."
Dillon Quirke was just 24. He grew up in the heartland of what they like to call the home of hurling. From a hurling family - when Clonoulty won their first county title in 1888 the Quirke name was on the panel. In more than 130 years since they have amassed just three more. At 20 years of age Dillon Quirke played his part in the last of them. That was 2018.
Already a Harty Cup winner and a minor All-Ireland winner that year, he also added an All-Ireland under-21 medal to his collection. This year, he had nailed down his place at wing-back on the county team. The expectation in Tipperary would be that sooner or later he would complete the set.
We need your consent to load this rte-player contentWe use rte-player to manage extra content that can set cookies on your device and collect data about your activity. Please review their details and accept them to load the content.Manage Preferences
It takes a village to rear a child and it takes a club to rear a county-man. The pride in that achievement is immense – validation of years of work by everyone involved.
But deeper than any individual achievement, the pride that the community has maintained the tradition of previous generations. Another ring on the tree, their culture still growing strong on their watch.
On Friday night, as Dillon Quirke was still fighting for his life in hospital, the community gathered in the local church in Clonoulty. They knew him from a child and they knew it was grave.
Today, before noon they will walk him from their clubhouse back to that church one last time. A community, and a club laying their county man, their leader, to rest.
Of course, first and foremost, there's personal grief. The tragic loss of a son, a brother, a friend.
But deep too is the loss of what might have been. Dillon Quirke will never get the full set. But in his short life he did keep the tradition alive. A flame has gone out but he has kept the fire burning strong.