Lee Chin thinks finding consistency is key for the Wexford hurlers after a promising but ultimately unsuccessful first season under Darragh Egan.
"It was disappointing to walk away from another year with no silverware," the Model captain told 2fm's Game On.
"We didn't feature in any major outings in terms of a league, Leinster or All-Ireland final. These are the goals you set out for yourself.
"We had a decent league campaign, we were unbeaten until the semi-final, but in the championship there was a lot of inconsistency throughout our games and performances.
"I think that's just part of the bedding-in period with new management and stuff, and trying to find our feet. But when we needed to show up and perform on particular days we did.
"So it was kind of a bittersweet feeling but we did get a lot of game time into some new guys. It's great knowing that there is fresh blood in the ranks."
Wexford drew with Westmeath in the penultimate round of the Leinster round-robin but then beat Kilkenny to reach the All-Ireland knockout stages, where they were eventually reeled in by Clare.
Was it hard watching the Cats contest the big day?
"It's not always as straight-forward as looking at teams that you might have beaten along the way and seeing where they ended up," he reflected.
"Seeing Kilkenny in the final did not surprise me at all. They bring a great level of consistency every day.
"And that's what Limerick have mainly been bringing for the last number of years.
"For ourselves, it's something we need to work on. Anybody can beat anybody on any given day but it's about turning up every day.
"Limerick answered everything that was thrown at them throughout the year and they're the team that everyone needs to try and catch at the moment."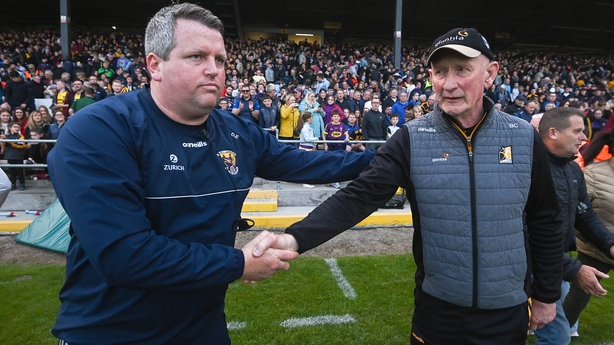 One thing that will be certainly be different next year is the owner of the Kilkenny bainisteoir bib. But Chin doesn't expect that to diminish the effectiveness of a team that has won three Leinsters in a row since Wexford's triumph i 2019.
"We know the magnitude of Brian Cody and his influence over Kilkenny. But that's not something that's just going to walk away when he walks away.
"Kilkenny have a huge tradition in the hurling world and thye have massive history.
"It'll be strange not to see him on the sideline. But what he has done for the GAA and Kilkenny is remarkable."
Chin, who missed all but 20 minutes of this year's Allianz Hurling League through injury, is in favour of the new GAA calendar, believing it gives players time to recover and pursue other interest.
His club Faythe Harriers were knocked out of the Wexford hurling championship at the weekend and he is considering sitting out the football equivalent to give a long-standing knee problem a rest.
"I did enjoy the split season," he said. "I like focusing on one thing at a time, whether it be county or club.
"This year being the first running of it [the split-season], I didn't have a straightforward year regarding injuries and stuff.
"My playing this year would have only really been championship, between county and club, and I have found it enjoyable.
"There are a couple of months now at the end of the year that players can maybe avail of to get themselves right for the following year.
"I think that's important that that time is allocated for guys to do what they want to do in other aspects of their life."