There was 70 minutes, nearly 71 minutes on the clock. Three points in it and three minutes to go. Tommy Walsh comes storming out of defence with loads of time remaining. As he looks up, there are two Kilkenny lads screaming for the ball, unmarked in the middle of the field.
This means Limerick must have sat back. A spray ball to them, a crisp 15-yard pass and a real scoring opportunity. That goes over, and it's two points behind, two minutes left.
All bets are off.
Instead, he just keeps the head down and launches the ball down upon the middle of the Limerick defence. Limerick have bodies back, it falls to Declan Hannon, who doesn't do what Walsh did, he played the short pass to Gearóid Hegarty, who fires David Blanchfield off him, and scores a screamer from god knows what distance.
I saw that moment happening in real time, and I just said to myself 'that is what separates Limerick from everybody else'. When it matters most, Limerick actually don't care. It could be a challenge match, or an All-Ireland final, but with the game in the mixer, they just repeat, repeat, repeat.
And the reason they repeat is because what happens out there is what happens behind closed doors. Teams might think they are doing the same, might tell you they are doing the same but they are obviously not.
There was a lot of talk about how Brian Cody turned around to his selectors in Pearse Stadium in disgust and told them to give up the short ball. True or not, it hints at a distrust in the tactic in Kilkenny that has long been discussed. You either believe in it or you don't. You either do it or you don't.
Of course, there is always room for the long ball, and Limerick do it a lot as well, don't be fooled and think otherwise. But it's knowing when to play which ball. It's knowing where you are on the pitch, what options you have, who is the target man, and whether they are outnumbered or not.
You have to make four or five different decisions in a second or a second and a half. That comes from intense pressure at home, it comes from working harder at home then you will work in games, it comes from belief in the system and belief as a group - 90/95% of all that will not bring success.
You need 100% from everybody, and all of the above, all of the time.
I can't speak for any other county, and I cant speak for Limerick these days either, but I know from recent experience that every single person in that group - players, management, logistics, academy, county board, sponsors - are all on the same page, with the same belief, and the same vision.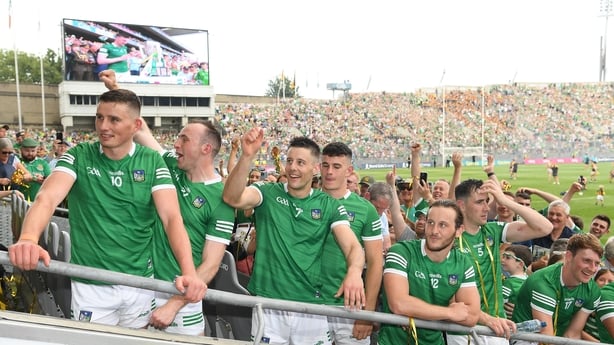 And while it doesn't guarantee you any success, it gives you a goddamn good chance. Think of your own county, can you honestly say that everybody is facing one way?
If the answer is yes, then the controllables are controlled. And Limerick has been like that now for maybe seven or eight years. And success does not come overnight, it takes years of work before it comes, and it will vary at all different levels.
I could talk about how many shots teams had, the efficiency rate, how my heroes growing up waved to an empty stand, but all that has been well covered at this stage.
I think what a lot of people want to know is what are Limerick doing and how are they so successful. And while it might look like rocket science, the answers are a lot more straightforward then some people think.
Limerick would beat the Kilkenny team of the noughties playing this style, but Kilkenny would beat Limerick playing the brand back in the 2000s
Looking at Limerick on the field and copying what they do and copying what you perceive to be their tactics and trying to beat them that way will be a very hard thing to do. Before all that takes place, you have to get a management team in place that are capable of doing a lot of things first.
Before success comes hard work, and hard decisions. And a motto that Limerick stand by, is it's always about the group. Decisions were made over the years that weren't easy and weren't popular, but it was in the best interests of the group.
You look at Limerick just 12 years ago, and it was a county in complete disarray. Nobody could trust anybody, the culture was different, and a lot of people needed to be removed.
It happens in the majority of counties at some point in time, but it goes to show how quickly things can be turned around. Because in the greater scheme of things, 12 years, or eight years even to 2018, is not that long.
On top of all that you need the players. Of course the comparison is being made about the great Kilkenny team and this Limerick team, and while it causes great debate, it's not one I would partake in.
The game of hurling in the mid 00's to the game of hurling now is chalk and cheese. Tommy Walsh catching one out of the sky and launching it back down where it came from, or Declan Hannon clawing one and giving a pop pass before another two are made, is a different game.
Limerick would beat the Kilkenny team of the noughties playing this style, but Kilkenny would beat Limerick playing the brand back in the 2000s. But what they have in common is two class teams maximising every bit of potential that they have, and I can't see Limerick stopping yet.
So while they celebrate into the winter, other teams will be planning their downfall. And isn't that what sport is all about.
Listen to the RTÉ GAA Podcast at Apple Podcasts, Soundcloud, Spotify, or wherever you get your podcasts.
We need your consent to load this rte-player contentWe use rte-player to manage extra content that can set cookies on your device and collect data about your activity. Please review their details and accept them to load the content.Manage Preferences