Just a few hours previously, Declan Hannon was lifting Liam McCarthy for the fourth time, an unprecedented feat.
"It was probably the most emotional I had been after any of the All-Irelands. I saw Caroline running towards me I said to myself 'pull yourself together' and get going again," said Hannon to Joanne Cantwell at the winner's hotel on Sunday night.
Caroline Currid has played a key role not only in Limerick's recent success but also for teams of four All-Ireland winners – Tyrone Footballers (2008), Tipperary Hurlers (2010), Dublin Footballers (2011) and now the four-time All-Ireland winners – the Limerick Hurlers (2018, 2020, 2021 and 2022).
Brendan Maher, three-time All-Ireland winner with Tipp was part of the young crop of players that came under Currid's wing in the late noughties.
"She's not in it to get her name in the paper. What she's really good at is having those open conversations," Maher said on the RTÉ GAA podcast.
"She was massive in terms of my own individual development. I would have met Caroline first in 2009. It was my first year in the panel.
"And you're trying to break onto a team. There's a lot of doubts that would creep in when you're facing the standard that is senior inter-county hurling. A bad game can have a huge impact on you at that age.
"But she was really good for the younger lads. And I think she was really good for the older lads too, who might have had the scars from the years before.
"And being able to bring that together, where the freedom of expression of the younger lads being embraced and then the older lads feeding off that and realising that 'the past is the past, it's all about now'.
Listen to the RTÉ GAA Podcast at Apple Podcasts, Soundcloud, Spotify, or wherever you get your podcasts.
We need your consent to load this YouTube contentWe use YouTube to manage extra content that can set cookies on your device and collect data about your activity. Please review their details and accept them to load the content.Manage Preferences
Sitting in between the All-Ireland winning captain Hannon and the All-Ireland winning manager John Kiely demonstrated just how important performance psychologist Currid was to their success.
An integral part of the backroom team alongside Paul Kinnerk, Currid sometimes has to step in to keep emotions on an even keel.
"Basically, they have do what they're told," said Currid jokingly. "When they're told to calm down, they have to calm down."
The round of applause in the Burlington Hotel followed as the assembled appreciated just how important Currid is to the Limerick juggernaut.
"These guys embrace psychology massively. I do a massive amount of one-to-one work with these players."
"Every time you engage with them to meet, they want to do it, they embrace it. We do a huge amount of group work where we are always challenging each other mentally and saying 'What more can we learn? What more can we do? Is there anything that we can learn week on week from each game?'
"Everything you throw at them, every challenge you throw at them, they go after it.
"We set targets for ourselves and goals for ourselves and we keep going after them, we keep chasing them."
The quest for 4-in-a-row started on Monday, and who would bet against it?
In addition to the All-Ireland titles she's had a hand in as part of a pivotal backroom member, she won a junior All-Ireland with her native Sligo on the field too.
Currid has roamed well beyond GAA circles. She worked with Paul O'Connell and was shocked by his mental preparation and his over-reliance on emotion to extract the best out of himself come matchday.
Kenyan David Rudisha, a double Olympic 800m champion also worked with Currid to maximise his performance when it came to race day.
Sports psychologist Caroline Currid discusses her role within the relentless Limerick winning machine #RTEgaa pic.twitter.com/kEiZKNtpKY

— The Sunday Game (@TheSundayGame) July 17, 2022
Hannon paid tribute to Currid in his victory speech in 2018, declaring: "She has just been phenomenal with us for the last two years. She has always been there for us, always there to keep us up and pick us up when we are down. She's after inheriting 36 new babies!"
The strength of their character has also been questioned, but the work done by Currid was shown in the last period of the All-Ireland final on Sunday.
For Maher, he's most impressed by their disinclination to look back and, in particular, the bond that exists within the group, which comes to the fore at clutch moments in big games.
"It's very cold the way they (the Limerick players) talk about the previous games. It always seems to be about next game, next training session. They have these messages that they hammer home.
"I was surprised to see her sit up and speak (on The Sunday Game). I'd say she was dragged up! I think Paul Kinnerk refused to go up and they managed to get Caroline up.
"She's an advocate of what John Kiely wants to bring and is bringing. It's a simple message but it's consistent. Caroline is consistent in the message that she gives you. That creates that belief, creates trust amongst the group.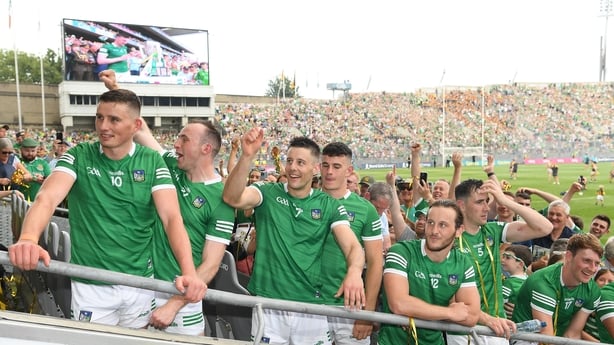 "How many times did we hear them talk about the bond that they have and they're all brothers and they trust each other?
"That's something special to have. If we're all being honest - looking at the teams we were on - you might have it with a group of lads, but it's very rare that you're able to go into the throes of All-Irelands like that and have absolute belief in every teammate on the pitch. And we've seen the evidence of it.
"It's very simple the messages that they seem to be giving each other but they go out then and they act on it."
John Donnelly brought Kilkenny level for the first time in the 48th minute. Limerick scored the next three points.
Richie Hogan lifted the roof of Croke Park in the 63rd minute with his equalising point. Limerick responded with the next five points.
Once it was Kilkenny who set the bar, now Limerick are the standard that the rest aspire to, thanks in large part to Caroline Currid.