Eight-time All-Ireland winner Eoin Larkin branded Tipperary's handling of Colm Bonnar's dismissal as "tasteless", saying the departed boss deserved at least one more season in charge after a trouble-filled year.
Tipperary county board released a statement this morning saying its management committee had last night voted to "relieve Colm Bonnar from his duties" as manager after serving just one of his three-year term in the role.
Bonnar, an All-Ireland winner with Tipperary as a player in 1989 and 1991, told Tipperarylive.ie this afternoon that he was "extremely disappointed" with the decision, noting that when he took the job, it was made clear that the county were entering a "transition and rebuilding period."
Tipperary endured a difficult 2022, losing all four of their games in the Munster hurling championship, finishing bottom of the table. Before the season began, they were hit with a raft of retirements and effective season-ending injuries, feted stalwarts like Brendan Maher and Padraic Maher stepping away, the latter unexpectedly with a career-ending neck injury.
Larkin, the 2008 Hurler of the Year, told RTÉ 2fm's Game On that while Bonnar had endured a tough season in charge, there were significant mitigating factors, and he was especially critical of the curt county board statement announcing his departure.
"My reaction first and foremost would be surprise," Larkin said.
"There's no debating that they had a tough season, with injuries, and Padraic Maher retiring at the start of the year due to a longstanding neck issue.
"I suppose Tipperary people in general would be disappointed with the year they had. But I don't think anyone expected that Colm Bonnar would be, as the Tipperary county board said 'relieved of his duties'.
"I think it's a bit tasteless and it doesn't look good from a Tipperary county board point of view and I think Colm Bonnar deserved a lot better than they gave him.
"I don't know Colm Bonnar personally but I've met him on a couple of occasions. He seems like a really, really nice man. Hurling to the core. Proud Tipperary man. And I know he was very proud to get the job in the first place.
"As I said, they had a difficult season. They had more downs than ups. But he had brought through a number of young players which previous managements had only thrown in in bits and pieces. And he had to bring it all together.
"He had the retirement of Padraic Maher to deal with. Seamus Callanan was out for most of the year. Two hugely experienced lads. So I think Colm Bonnar deserved a lot more than one season. He deserved to get at least another year at it and I'm sure he'll be very disappointed."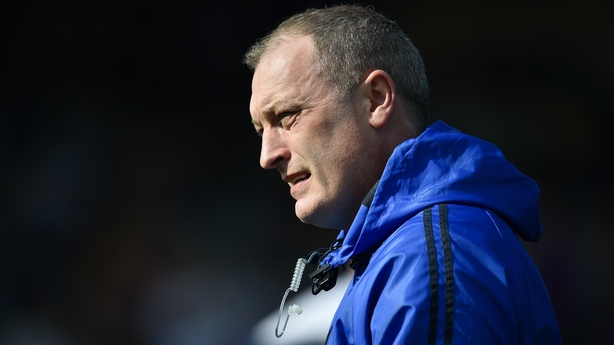 As for the race to succeed Bonnar, speculation has naturally settled on current Waterford manager - and former Tipp All-Ireland winner - Liam Cahill.
Cahill, having guided the Tipperary U21s to an All-Ireland title in 2018 (and then again in 2019), was widely expected to take the senior role in late 2018 until Liam Sheedy's dramatic re-entry into the race.
When Sheedy departed in 2021, there was considerable speculation that Cahill, his stock having risen after managing Waterford to an All-Ireland final in 2020, was about to jump ship and return to his native county but he ultimately decided to remain in the south-east, Tipperary subsequently turning to Bonnar.
Larkin acknowledges that Cahill and Tipp goalkeeping Brendan Cummins will be among the leading candidates but wonders whether candidates might be wary of taking on the role, given the manner in which Tipp's 2022 manager had been discarded.
"Those two names will be dished about. I'm not sure which way Liam Cahill is fixed, I heard an interview with him a couple of weeks ago. He sounded like he was mad to get back into the Waterford set-up. It was 'let's dust ourselves down and go again' were the words he used.
"I'm not sure he would want to go back in under these circumstances to the Tipperary camp. Brendan Cummins is another obvious choice, having been down in Kerry for a number of years. He has a bit of work done on his CV. It'll be interesting to see how it pans out.
"But I'm not sure the Tipperary county board have done themselves any favours with the wording of that statement and only giving Colm Bonnar one year. I'm not sure they'll have too many lads banging the door down to get in there."
We need your consent to load this YouTube contentWe use YouTube to manage extra content that can set cookies on your device and collect data about your activity. Please review their details and accept them to load the content.Manage Preferences
Listen to the RTÉ GAA Podcast at Apple Podcasts, Soundcloud, Spotify, or wherever you get your podcasts.