The disciplinary hearings are concluded, the Clare Two are freed. And Brian Lohan's side are set to re-acquaint themselves with Wexford for the third year running.
The hurling championship was in existence for 115 years before it threw up a meeting between Clare and Wexford and now they can't stop bumping into one another.
The persecuted duo of Rory Hayes and Peter Duggan will be available to play, courtesy of the most sympathetic appeals body in the whole history of arbitration - the Central Hearings Committee.
The GAA disciplinary process is currently as convoluted and forgiving as the Italian justice system.
There were storms of protest in Clare following the latest installment of CSI Sunday Game but little of it surrounded the incidents highlighted and whether they actually warranted red cards.
In any event, Clare piggy-backed on the legal opportunism of the Galway officials - seeking to liberate Cianan Fahy - who had noticed that the CCCC meeting at which the suspensions were proposed had been conducted online.
Yes, the field of technicality offers rich pickings to any aspiring Perry Masons on county boards seeking to quash suspensions.
Wexford are, according to numerous pundits, coming in "under the radar" this week, something which wasn't possible during Davy Fitzgerald's era. Davy Fitz and his teams were always visible to radar.
Many observers had mentally consigned Wexford's 2022 campaign to oblivion after their seemingly disastrous draw away to Westmeath in Round 4 of the round robin. Their vibrant form in the spring was written off as a mirage. Indeed, Wexford were at that time Exhibit A in why the league didn't matter - a mantle which has since been claimed by Waterford.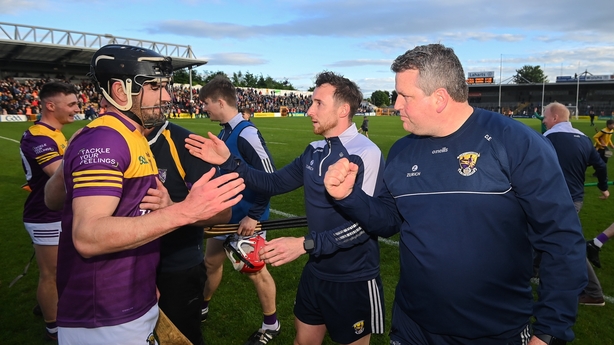 During the league, all the talk was that Darragh Egan had found the perfect blend between his predecessor's short-ball game and a more traditional approach. In the early stages of the round-robin, it was alleged that they were caught between two stools, were confused and weren't sure how they wanted to play.
But a spiky refusal to bend the knee against Kilkenny is the most blessed legacy of Davy Fitz's stint in Wexford and they won a cathartic victory in Nowlan Park, decorated by Mikie Dwyer's Nathan Collins-style score at the death and Damien Reck's roll and lift in the square. Whether it was merely an inspired backs-to-the-wall last stand or a hint of things to come, we will find out more on Saturday.
There's not much point in delving into antiquity to get a handle on the Clare-Wexford 'rivalry'. In so far as it exists, it is an entirely modern construct.
It wasn't until the early years of the 21st century that they first collided in championship - since then it's been a regular occurrence.
It probably shouldn't be a cause of wonderment that two teams in a 10/11 team competition should meet quite often. Back when hurling was less democratic and the championship format more staid and primitive, they never strayed across each other's path.
They bonded as fellow insurgents in the 90s, both throwing off the yoke of their respective oppressors. In Clare's case, it was Tipperary and Cork; in Wexford's, it was Kilkenny and, ahem, Offaly.
Liam Griffin, son of a Clare man, won a couple of county championships with Newmarket-on-Fergus and played for the county at U21 grade. After Clare won the All-Ireland in '95, he descended on the town to sample the homecoming, partly due to familial ties and partly, it seemed, to derive some inspiration by osmosis.
"When it (the function) was all over, Loughnane turned to me and said 'It could be you next year,'" Griffin told Denis Walsh in The Revolution Years
Like most things that came out of Ger Loughnane's mouth during that period in the mid-1990s, this turned out to be true as well.
Almost as disappointed as the Wexford supporters (in 97) were the marketeers, who'd made hay during the revolution years and were giddily brainstorming ideas for a novelty-laden final.
When Wexford won the All-Ireland in 1996, Clare weren't around to halt them, having fallen victim to Ciaran Carey's charge of the light brigade in the sweltering heat of the Gaelic Grounds. That famous game was, according to Loughnane in an interview with Joe Molloy, the first time Munster hurling people had encountered the phenomenon of bottled water, which was perceived as pure sand to the Arabs stuff at time. "People couldn't believe it, that you would actually BUY water in a bottle!" Ger observed.
An All-Ireland final involving the pair looked likely in 1997 - a battle for supremacy between the two previous champions - but Wexford fell short against Tipperary in the semi-final, not for the last time, alas.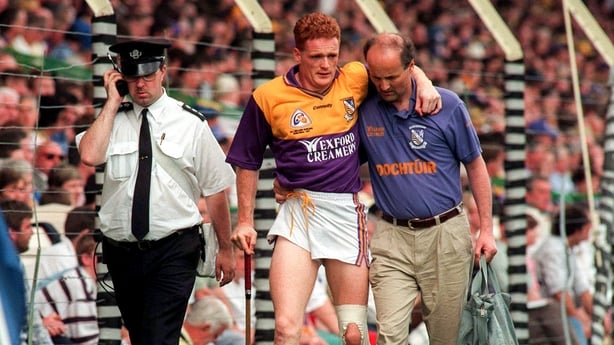 Almost as disappointed as the Wexford supporters were the marketeers, who'd made hay during the revolution years and were giddily brainstorming ideas for a novelty-laden final.
"I just feel it's a shame it never happened that time," Griffin told the Irish Independent ahead of their rather more drab inaugural encounter five years later. "Of the last 30 or 40 years, it would have been the glamour tie, a great atmosphere."
Given they avoided each other during the period, one would have thought enmity would be thin on the ground. But Loughnane's tongue, as ever, intervened to help generate some rancour.
The fellow feeling in the aftermath of the '95 final had drifted away by 97, Wexford taking umbrage at the Clare manager's reference to their supposed "roughhouse tactics" and how they wouldn't work in the semi-final against Tipperary (again, we must tip the cap to Loughnane's unrivalled punting ability in the mid-to-late 90s).
It's 20 years this summer since their eventual first championship meeting, which, not uncoincidentally, also happened to be the first season of the All-Ireland qualifiers in the hurling championship.
The head-to-head would make a Wexford fan weep.
Nine championship meetings (10 if you include a replay) thus far and Clare have won eight of them.
Wexford's only triumph in the fixture came back in 2014, in the midst of Clare's Tyrone-like defence of their All-Ireland crown, which ended before that hurling summer had even cleared its throat.
---
HEAD TO HEAD
2002 Clare 3-15 Wexford 3-07
2005 Clare 1-20 Wexford 0-12
2006 Clare 1-27 Wexford 1-15
2009 Clare 2-24 Wexford 2-18
2013 Clare 3-24 Wexford 1-20 (aet)
2014 Clare 2-25 Wexford 2-25
2014 replay: Wexford 2-25 Clare 2-22 (aet)
2018 Clare 0-27 Wexford 1-17
2020 Clare 1-21 Wexford 0-17
2021 Clare 2-25 Wexford 2-22
---
Otherwise it's been a parade of misery for Wexford, with a few heavy losses in early round qualifiers in the 2000s, an extra-time defeat in a Thurles sweat-box in 2013 near the beginning of Clare's unlikely gallop to the All-Ireland, and then the abject losses of recent years.
Three of Davy Fitzgerald's five campaigns in charge of Wexford ended at the hands of his native county. In the first two, in 2018 and 2020, they were soundly beaten, barely a puff of wind in their sails. Last year, they did recover to give the match a decent rattle after a horrible first quarter.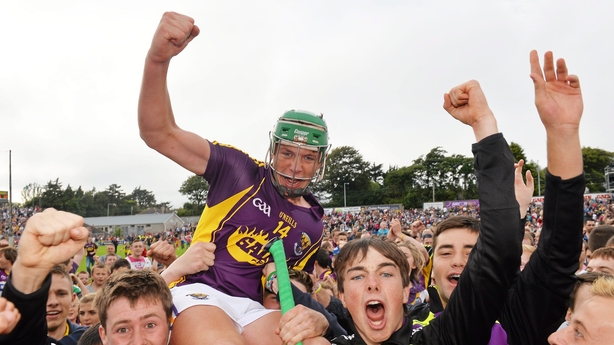 It was in the past two years that the Clare-Wexford rivalry was at its keenest, except it wasn't really a Clare-Wexford rivalry at all.
Before the frosty handshakes of Cody and Shefflin, we had no handshakes at all between Brian Lohan and Davy Fitzgerald. That ground has been well gone over at this point.
Perhaps the most perplexing incident in that dispute, and the moment where it threatened to extend beyond the two managers, was the 'close contacts' saga in the 2021 league.
It seemed to end with the Wexford county chairman demanding an apology from Lohan for his "outrageous" claims that Covid-positive Wexford players had nominated Clare opponents as close contacts. No public apology was forthcoming at any rate. The incident remains shrouded in some mystery.
Lohan doesn't have to worry about any of that sideshow this week against Darragh Egan, a manager with whom he has no back-story to speak of - it's escaped us at any rate.
All available evidence suggests Clare should be favourites though, with little to lose, the psychological conditions may be to Wexford's liking this weekend.
In an interview ahead of last year's game, Liam Dunne was eager to point out that Wexford haven't beaten a Munster side in championship since 2016 - he modestly passed up the opportunity to remark that this was also the last year he managed the team. Improving their lamentable record against Clare would be a real and tangible sign of progress and really light a fire under Egan's reign.
Thurles on Saturday presents a Clare-Wexford match-up shorn of any psychodrama but the fire and fury will hopefully remain.