Gearóid Hegarty says he doesn't like the fact that footage from games is being "pored over" afterwards and the Limerick forward says that he would like to see incidents dealt with on the day.
Hegarty has been sent off twice this season playing for the All-Ireland champions, first in the Allianz League defeat against Galway, and then in the Munster round-robin draw with Clare.
While the St Patrick's clubman accepts that the first red was justified he says the latter was "silly."
"I don't think I deserved to sent off that day," he said on RTÉ's Game On.
"Earlier in the year I was sent off in the Galway league game, and I was rightly sent off; what I did that day deserved a sending off.
"The one against Clare below in Ennis was a silly sending off.
Shane Dowling and Davy Fitzgerald felt Gearóid Hegarty received two harsh yellow cards during Limerick's draw against Clare. #RTEGAA #SundayGame pic.twitter.com/OqGu3nymu4

— The Sunday Game (@TheSundayGame) May 15, 2022
"That's the way it goes. You've got to go out on the field and trust that just as much as your team-mates are going to do their job, the referee is going to their job.
"I honestly don't spend too much time worrying about it, you've got to go out and get on with it. I was very frustrated after getting sent off in Cusack Park.
"It was a tough lead-in for me [to the Munster final] to be honest because I was getting asked so many questions about it.
"It was an unfortunate thing to happen but half an hour after the game I'd forgotten about, I'd moved on, and I was looking forward to the Munster final."
Hegarty is quick to defend the men in the middle though, adding that some of the analysis of the games can add extra pressure on to them
"Referees have a seriously hard job," he says.
"The speed of the game of hurling. John Keenan did an unreal job [in the Munster final]. I know there was a bit of analysis after the with certain aspects that went on on the field.
"If you overanalyse and pore back through the footage of every hurling game, and you look for incidents going on off the ball, you'll have 20 people banned.
"Hurling is such a fast game and it's hard enough to ref as it is."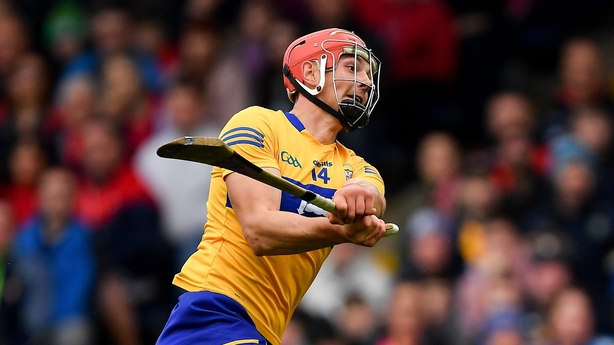 Hegarty is asked about the Clare duo of Rory Hayes and Peter Duggan, who are both set to miss the Banner's All-Ireland quarter final against Wexford on Saturday if their appeals are unsuccessful.
"I do [have sympathy]," he says.
"What they did was stupid and it should have been pulled up on in the game. I'm not a fan of going back over footage looking for incidents.
"John Keenan did an unreal job... I'm not a fan of poring over footage looking for incidents because you'll have counties that won't be able to field a team" - Gearóid Hegarty told @mariecrowe on @gameon2fm that he has sympathy for the suspended Clare players pic.twitter.com/cvjzkW92p8

— RTÉ GAA (@RTEgaa) June 15, 2022
"You'll have counties who won't be able to field a team. So much goes on off the ball, whether it's right or wrong, or people are acting up or not.
"I haven't thought about it too much, because it hasn't impacted us, but I'm not a fan of this retrospective action. If it's not dealt with on the day I don't see too much benefit of going back and banning people after the game."
Limerick have this weekend off after they beat Clare in the Munster SHC final, and they will play either Galway, Cork or Wexford in the last four, depending on how this weekend's quarter-finals play out.
Listen to the RTÉ GAA Podcast at Apple Podcasts, Soundcloud, Spotify, or wherever you get your podcasts.
We need your consent to load this rte-player contentWe use rte-player to manage extra content that can set cookies on your device and collect data about your activity. Please review their details and accept them to load the content.Manage Preferences