It was probably the most dramatic moment of what had been a fairly underwhelming Saturday evening at Croke Park.
The build-up, aka the Leinster hurling final, was over and The Handshake Part 2 was upon us.
All eyes were on Kilkenny Brian Cody and his former-player-turned-Galway-manager Henry Shefflin following their tense post-match grip in Salthill last month.
This time, the final whistle blew, Kilkenny secured a third provincial title in a row and... nothing.
Cody wandered onto the pitch to congratulate this players, looking particularly delighted, while Shefflin stayed standing in the same spot on the sideline.
Several minutes passed before Henry eventually made a move towards Cody in the centre of the field and there was a brief handshake and few words. In the immediate aftermath, the Ballyhale man didn't appear too impressed at having to seek out his long-time bainisteoir.
We need your consent to load this YouTube contentWe use YouTube to manage extra content that can set cookies on your device and collect data about your activity. Please review their details and accept them to load the content.Manage Preferences
Eddie Brennan, who won eight All-Ireland titles alongside both men, felt it was a chance lost to direct the focus elsewhere.
"It was a glorious opportunity there to kill the whole story and my only view on it is that it's just a disappointing thing to see," he told RTÉ Sport, at the launch of Guinness 0.0's new GAA campaign.
"I'm not privy to all the information to make an informed assessment of it, because I don't know what's gone on, but I just think, from a Kilkenny perspective, if there's a hand-shake there, straight after the final whistle, I think it puts it to bed, kills the whole episode. Whereas now, it's probably just a thing unfortunately and that's just sad to see.
"It's just part of the game, the players do it and everyone else does it and it's not something I'd ever put too much thought into. There were occasions I'd worry when I was playing did I shake hands with this lad or did I forget. But yeah, it's just disappointing to see that and Saturday night just wasn't good. I think there was an opportunity there to bury it for once and for all."
Following the controversial, late round-robin defeat, it was sweet revenge for Cody and his players on the bigger day.
"He has done it a few times with Galway over the years," noted Brennan. "They've had a couple of [championship] draws. 2012 and '14. Any time he has come up short against an opposition he gets to re-assess them.
"There wasn't going to be any tactical genius when Kilkenny played Galway. It's going to be a little bit more the psychological side of it and Brian is often good at that at how he turns it around. He maybe picks a little nugget, 'This is where we lost it', and in Salthill you would have said the second half of that match, we stopped fighting around the midfield and half-forward line. Our forwards weren't fighting hard enough and I think on Saturday you saw that. You saw them engage Galway a little more around that area and try not to allow them fire that good ball inside."
"Galway, to me, just didn't really come to that match as good as they can come. I thought they were just a little bit off the pace. Henry looked frustrated with that and I think he acknowledged it afterwards. For whatever reason, they didn't seem to be drive enough for that. You'd imagine, coming into it, Kilkenny were going for a third Leinster title in a row. If that didn't get the Galway lads up for it nothing would have.
"I think Kilkenny are hurling well. Their back division… Mikey Butler is probably the standout guy at the moment. But equally, Huw Lawlor is such an important player. When you're able to go toe to toe with someone like Conor Whelan and edge that battle… Kilkenny would have looked at that and said 'We have to stop the supply into him'.
"What I think they're doing now probably a little better than other days, they're communicating quite well with each other. On Saturday night they protected the goal quite well, they working well as a unit and weren't getting caught following lads and being pulled all over the place. Kilkenny were able to hold their shape and hand off runners as they were coming across the pitch. So their organisation and communication is good in the backs. It's up the field then where I think they can be better.
"Brian always looks at trying to win their own ball but that is a very difficult thing to do now. When you look at what Kilkenny did well in Salthill, they got ball into Eoin Cody in space. If they're going to crowd the inside line like they did, then we have to work our shooters out the field and that's where maybe, an Eoin Cody out to wing forward - play him out there like they did against Cork in the league semi-final.
"We can't have him scoreless now for two matches in a row and if we're going to have any ambitions to win an All-Ireland, we need to isolate him and get him in a bit of space or closer to goal or wherever. I think it's how we get him into the match that's the key."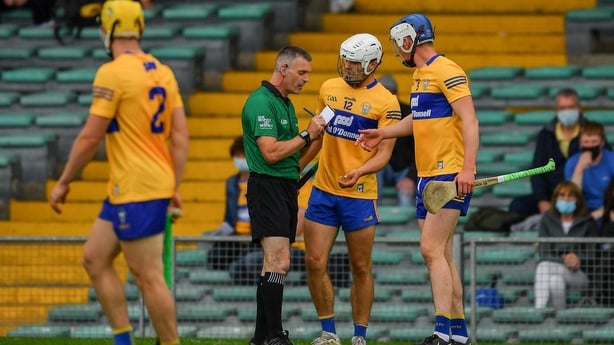 Brennan queried whether the sin-bin and penalty rule for denying a goal-scoring opportunity had been unofficially dropped after another big weekend miraculously passed without the regulation apparently needed to be enforced.
"Has the black card disappeared into oblivion?" he asked. "Because Eoin Cody picked up possession Saturday night inside the 21, his opponent grabbed hold of both his legs, 20 or 20 yards for goal and it was just a free?
"This is the frustrating thing. If you bring in a rule, you have to implement it consistently. It is hard with the speed, I get that, but now the black card seems to have disappeared because there was such a storm last year. Now, what is the instruction for referees or are they afraid to give it now? In a match like Sunday [the Munster final], if you award it there it is a huge decision in a match that is in the melting pot.
"As players, you bring it to the max, to the line. If that line is you can get away with that, grand. That is what players will do. You can't blame them for that. Ultimately, when players make decisions, a decision to drag a fella down they have to be willing to accept the consequences of it.
"Different referees have different styles. Certain frees being pinged. In the midst of an epic Munster final, there was a reluctance to give out cards. The balance is what we are looking for there and sometimes that is impossible. Players being players, they will push the boat. That is the danger, could a match descend into chaos if it is not checked straight away?"
Brennan thought Munster final ref John Keenan did a good job overall in the circumstances, but he wasn't happy with The Sunday Game highlighting several incidents of foul play by Clare men.
"For me, if you're going to do an analysis piece on one team striking, you have to look at other things and see if they are being missed. With that stuff, you either go after everything or you say nothing. It is simple as that.
"Limerick, to be fair, have been a talking point in that regard. I don't know if I ever recall a team going through a league campaign where they got red cards almost every day they played.
"David Reidy, the very first foul, He got belted down across the top of the helmet. He got a second one into the faceguard. I am not trying to dilute it, someone strikes wrong it should be dealt with. We had a stamp Saturday night in the Leinster final. These are the things the powers that be have to say we are very consistent with that or what do we do?
"I don't think you could be overly critical of John Keenan in that regard – it's happening at such a pace and there is so much going on. It can sometimes be very hard to see these things.
"We got a great occasion and that was down to the players and the referee as much as anything. There was no cribbing, lying down or rolling around. They got on with it. Limerick are a very very tough outfit. They don't go down too easy or look for protection off referees."