We have a hurling bonanza to look forward to this weekend, so I've broken down a few key talking points ahead of three very significant games.
Game of the weekend
While the Leinster final has the potential to be a cracker, the clash between long-time provincial rivals, Limerick and Clare, in a Munster final could be a humdinger.
Based on the fact that Clare topped Munster, drew with the Treaty twice this year and that Limerick are going for a record four in a row, tempers could be at an all-time high. It is no secret to say that Limerick's success in recent years has Clare frothing at the mouth to take them down a peg or two.
When the Clare boys open their eyes on Sunday morning, they won't need any motivation, it will be there in front of them. The green machine. That's what Limerick have been in the last number of years, and until somebody comes and takes them down, it will remain that way.
When this match comes down the home stretch, Limerick's experience might just get them there - but only after being pushed to the limit for 65 minutes or so.
Match-up of the weekend
So, you're in John Kiely's shoes and you throw out the question - what will we do with Tony Kelly? Many people will have ideas, but I know what I would do.
People will think I'm mad, but I wouldn't change much from the last day. My logic being, if you put a man marker on Kelly and he drifts out around midfield, now you are left with a load of space.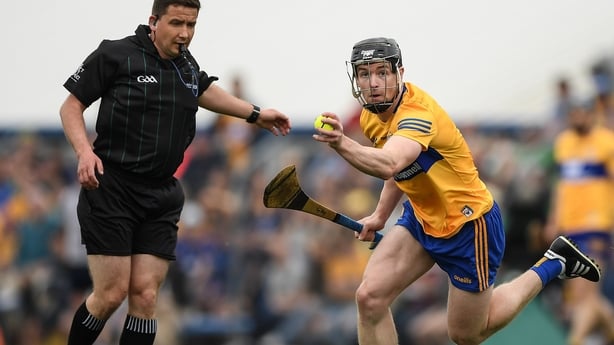 Unless you withdraw a forward, keep dropping back and also play with a sweeper, but Limerick have never done that under Kiely and I don't see them starting now. I have no doubt Kelly has been spoken about, and they will want to ensure he will be tackled harder and quicker than he was in Ennis.
They will accept he will get four or five points from play, but they will also want to ensure they keep their shape rather than change their game because of one player. I don't see a man marker, I just see a greater and quicker emphasis on shutting Tony Kelly down.
Game plan of the weekend
Are Kilkenny playing a long game, a short game, a mix of both - or do they really know?
The last day against Wexford, it looked like they were caught between both, and when they came under pressure they just seemed to grip it and whip it. In this day and age, it rarely works.
Unless you have a target man at the edge of the square, you are basically giving away possession. So, what game will they play?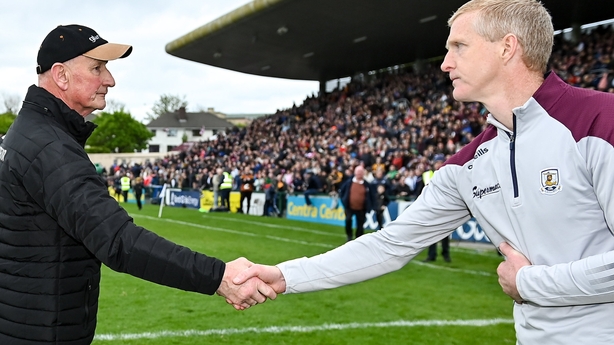 Watch of the weekend
For me, there's only one thing. What will forever be known as 'the handshake'. I'm heading for Croke Park on Saturday evening to watch the Joe McDonagh and Leinster finals, but how will Cody and Shefflin react pre- and post-game?
If nothing else, it's added even more spice to the encounter.
Anxious watch of the weekend
I have no idea how you would even go about approaching the last two weeks if you were Colm Bonnar.
Trying to get lads to train, and then trying to get an intense session would be very hard, not knowing if you have another game or not.
Either way, the county of Tipperary will be roaring on the Saffrons because, if Kerry win, Tipp meet the Kingdom in a playoff to see who plays in Munster next year!
Battle of the weekend
If we rewind to the league clash in Ennis, the battle between Conor Cleary and Aaron Gillane was something else. Gillane got sent off - but from a Limerick point of view, better then than now.
Yes, Cleary is well able to frustrate an attacker, and it will be no different this weekend. It's the referee and umpires' job to keep and eye on what's going on everywhere and, like all defenders, they will get away with whatever they can.
Gillane has been Limerick's main point of attack and, if he fires, they should win. But if Cleary gets the better of him, it will be huge for the Banner. One way or another, the two boys know what's coming.
Hope of the weekend
I hope for two things - no controversial decision having an outcome on any results, and that we get three good, hard-hitting battles with all players remaining on the pitch.
Kerry and Antrim have got to know each other well over the last few years, as have Galway and Kilkenny, and Limerick and Clare never need any introduction.
As 'Effin Eddie' says, 'there's a small bit of a needle' and I expect to see that in the three big games the weekend, as should the referees. So let's hope for plenty of needle, and three cracking games.
Listen to the RTÉ GAA Podcast at Apple Podcasts, Soundcloud, Spotify, or wherever you get your podcasts.
We need your consent to load this rte-player contentWe use rte-player to manage extra content that can set cookies on your device and collect data about your activity. Please review their details and accept them to load the content.Manage Preferences