In the 13 or so years since Galway were invited into the Leinster championship - we say invited, GAA HQ mandated their arrival - they have met Kilkenny in numerous provincial deciders, though few with such a humming back-story as this.
Needless to say, the game has already been billed as 'The Handshake part 2' and there have been calls for the sideline feed to be included permanently in a mini-box in the bottom corner of the screen. A few suckers for melodrama have requested that RTÉ 2 show the sideline instead and that the game itself should be shunted over to the News channel.
In the aftermath of the clash in Salthill, many stout hurling men, a disproportionate amount from Kilkenny, were of the view that we were all making too much of this handshake business. That all the super slo-mo's were a bit unbecoming.
By international standards, of course, there's a strong case that we didn't make enough of it. The Yanks would already have commissioned a feature length documentary called 'The Handshake', tracing over the entirety of their relationship from Shefflin's teenage years to the present day, complete with breathless talking heads interjecting every five seconds.
Skip Bayliss and Stephen A. Smith would have spent two weeks shouting at each other about it, having taken diametrically opposing views on the subject (My money would be on Skip backing up the old stager Cody).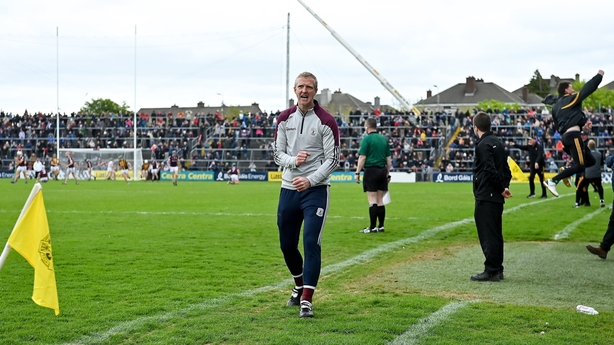 Over on Sky Sports, after Kilkenny were beaten at home by Wexford, poor Anthony Nash was lumbered with the wretched task of asking Cody how he felt about taking on Galway with Shefflin on the line... after all that's gone on, if you know what I mean, etc, etc...
"We're playing Galway, that's the way we look at it," was Cody's response - which is a reasonable way to look at it, all things considered.
Even before Shefflin shocked several of his county-folk by heading west, the Galway-Kilkenny rivalry has been a tasty one.
Back in the day, things were simpler for Kilkenny when they held the whip hand in the rivalry. As they did in every rivalry.
Scanning the various autobiographies and interviews with Kilkenny players of the golden era, it becomes apparent that they regarded Galway back then in the way the Manchester United team of the 90s thought of Liverpool's Spice Boys ("F**k off Scales with your England B cap!").
There was a hint of moralistic disdain for a team who, in their eyes, failed to get the most out of their abundant talents. This was particularly anathema to Cody's Kilkenny, with their devotion to workmanlike humility.
In his book 'The Warrior Code', Jackie Tyrrell wrote with particular contempt about Galway's "fist-pumping" antics.
"That fist-pumping s**t has always driven me crazy. We hate it. We hate teams and players who showboat like that…Our attitude to Galway has always been consistent. We believe we can get at them. We always felt if we were right, we'd do them…we never felt they could back up two or three good performances in a row."
Speaking on Game On a couple of years ago, Eoin Larkin was even more damning of Galway's moral fibre: "As a group they're not really together. They come out with all the right things in the media, that they are together now more than ever, but when it really comes down to it they're not really willing to put their bodies on the line for each other."
It isn't just confined to the golden era. In their dual Laochra Gael tribute programme, the O'Connor brothers got round to speaking about the 1993 All-Ireland final, the last hurling decider played in front of the rickety old Cusack Stand and the one where Eddie, as captain, used his speech to browbeat the association into forking out for a team holiday (an intervention which was not appreciated by the suits standing behind him).
Kilkenny had beaten a youthful Galway side narrowly and the consensus was the underdogs had done well but Willie wasn't minded to dole out too much credit.
"Galway could have won that match," he said, before adding, "but some things never change with that Galway crowd..." Laochra Gael isn't typically a forum for such withering remarks. Crucially, the programme was broadcast before 2017.
However, the hostility is borne of wariness, in acknowledgement of the fact that Galway have stung Kilkenny so often down the decades, often when they least expect it.
No team has beaten Kilkenny in championship more in the Brian Cody era, although this is partially a consequence of the fact that no team has played them more. Since the peaked-cap one arrived in late 1998, the head-to-head is 12-7, with 3 draws. Tipp are losing 6-3 to Kilkenny in the same time-frame. Cork have the best ratio of all against Cody - only behind 5-4.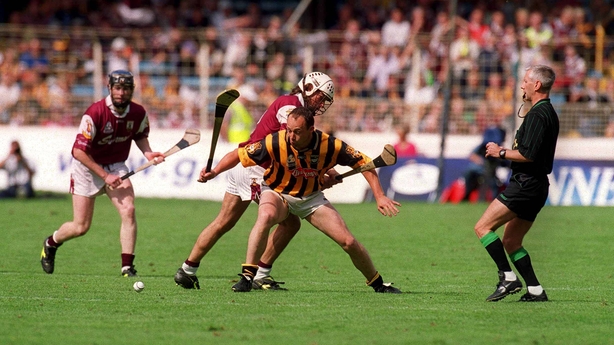 When Kilkenny were in their extremely long pomp, Galway's victories in the fixture were infrequent but typically highly memorable.
The 2001 semi-final one was a particularly sore one for Cody. Galway, whose only previous game was in a quarter-final against Derry, were wound up to the max by Noel Lane and Mike McNamara, coming out of the traps with a startling, almost malevolent, physicality.
Richie Murray famously knocked Brian McEvoy on his backside while both were awaiting the throw-in, sparking a brawl before the start. Henry Shefflin, as he's often recounted since, had the ears chewed off him for 35 minutes by Greg Kennedy - as long as Kennedy was on the pitch. (Kennedy will be known to younger followers as the man who stuck the final nail in the coffin of the Maor Feirne a few years ago). Galway, with several touches of Kevin Broderick brilliance, won by five points and dumped out the champions.
Alas, the rest of the hurling world would be paying for that one for a while. Cody evolved a new hard-edged philosophy almost entirely off the back of that game. The 'playing on the edge' era had its roots in that humiliation.
After Galway joined Leinster, the balance of power failed to shift markedly in the early years, the 2012 provincial decider a stunning outlier in a sea of Kilkenny wins, which included the All-Ireland final two months later.
However, as the Kilkenny era of dominance waned, Galway have gradually grabbed the upper hand in the relationship. As it stands, the westerners have won four of the last five games between the pair.
The resentment at Galway's lurch to the east was thought to be confined to the Offalys and the Wexfords - the humble blue-collar counties denied silverware opportunities by this arrival of skilled labour from the west.
But we've learned recently that even some of the overdogs were put out.
Aidan 'Taggy' Fogarty suggested on Newstalk recently - while adding the obligatory proviso that "it's very hard to read what's in Cody's head" - that his former manager may take a dim view of Galway's presence in Leinster, and even if he can just about tolerate that, he can't abide the notion of them taking Bob O'Keeffe back off to Connacht.
While Cody, one suspects, is hostile to the idea of Bob O'Keeffe residing anywhere but Kilkenny, he could just about live with Wexford or Dublin winning it. But not Galway, definitely not Galway.
"The Bob O'Keeffe Cup, Brian Cody wants that Cup staying in Leinster, I feel," said Fogarty.
"He wants a Kilkenny to win it or a Wexford to win it. He'd be a traditionalist, he'd be old school, he'd feel that cup should be staying in Leinster and not going to Connacht."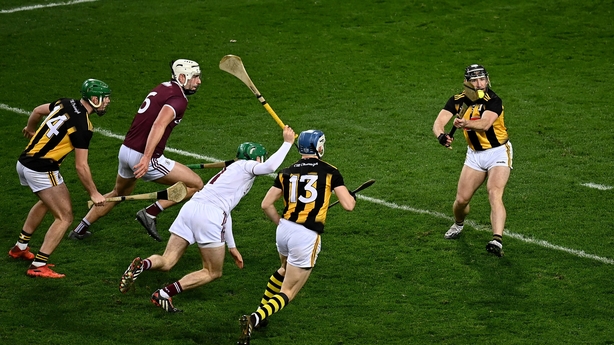 While the evidence of the round-robin is that Galway clearly boast the greater firepower, this motivation gap could yet be a factor at the weekend.
On the one hand, you have Cody screaming holy hell and whipping up tribal resentment at the idea of the Galway captain toddling off across the Shannon with the Bob O'Keeffe in tow.
On the other, you have Joe Canning blithely admitting in his Irish Times column that his three Leinster medals don't mean a whole pile to him.
Galway's stint in Leinster has gone rather better than their miserable sojourn in Munster back in the dog days of the 1960s - but three provincial titles in 13 years could be regarded as a relatively meagre haul, all the same, given the talent which is invariably at their disposal.
In the Covid Leinster final of November 2020, Galway were patently the better team, to the tune of roughly six points, and yet somehow wound up losing due to some inspired Richie Hogan brilliance.
For Brian Cody, there's plenty at stake this weekend. Losing a third game in the one championship would be sickening enough - but watching his one-time protége taking the Bob O'Keeffe out west would really stick in the craw. Shefflin and Galway should be braced for fury this weekend.
Watch Antrim v Kerry, Galway v Kilkenny (both Saturday) and Clare v Limerick (Sunday) live on RTÉ2, listen live on RTÉ Radio 1 and follow live updates on RTÉ Sport Online or the RTÉ News app
Listen to the RTÉ GAA Podcast at Apple Podcasts, Soundcloud, Spotify, or wherever you get your podcasts.
We need your consent to load this YouTube contentWe use YouTube to manage extra content that can set cookies on your device and collect data about your activity. Please review their details and accept them to load the content.Manage Preferences