Tenacious defending, ravenous foraging in the middle third, clever use of the ball and a spread of nine different scorers all across the field were the key ingredients as Offaly defeated Laois at MW Hire O'Moore Park to end a 22-year wait for an Electric Ireland Leinster minor hurling title.
A remarkable crowd of 12,500 supporters made their way to Portlaoise for this unique and historic decider, the first ever provincial minor decided contested by these two midlands neighbours.
Having disposed of both Wexford and Kilkenny on the way here, Laois were also in ferociously high spirits, and confident of turning over the three-point defeat they suffered when these two sides met in the first round of the competition.
However their tactics seemed to misfire tonight as they failed to use the wind in the first half, and arguably lost the game in that opening 30 minutes, even though they trailed by just two points – 0-09 to 0-07 – at the end of it.
Inaccurate shooting was part of the problem for the home side, as they shot nine first-half wides, but a huge amount of credit must also go to Offaly's remarkable defensive work, in particular their half-back line of Donal Shirley, Ter Guinan and Brecon Kavanagh, who cleared a world of ball and made life incredibly difficult for their direct opponents.
The majority of scores in the opening half came from frees from Adam Screeney and Ben Deegan, but there was still an incredibly high level of quality to the play as superb scores from play from Guinan, Screeney and Cillian Martin helped Offaly move into an early lead.
Ciarán Flynn and Tom Cuddy held their ground incredibly well along the spine of the Laois defence and that protected Brochan O'Reilly's goal, but far too many of the Laois shots on goal were struck from distance, leading to their mounting wide count.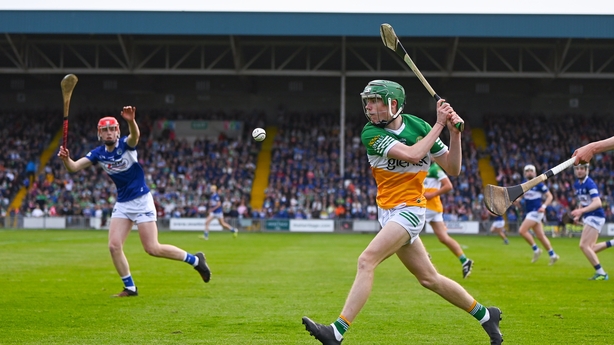 Offaly's second-half wide tally may have matched that of their opponents in the opening 30 minutes, but once the sides turned around, the flow of the play was almost entirely towards the town end goal.
Team captain Dan Ravenhill got through a mountain of work in the middle third of the field, raining a host of shots on the Laois goal from distance. The Durrow player struck 0-03, albeit adding four wides, but Offaly also succeeded in mixing in some excellent short range passing, to create good chances close to goal.
A deft handpass from Adam Screeney set up a good score for Shane Rigney, Donal Shirley joined the attack to pop over a great score from the left wing, and when Ter Guinan's hard work opened the door for Cathal Robinson to dummy his marker and split the posts from 55 metres, Offaly were in control and realistically just needed to keep out the goals to prevail.
Laois hit a short spell of form in the middle of the half when consecutive scores from Deegan and Cormac Byrne brought them back to within three points, but they were quickly reduced to hopeful deliveries into a fiercely crowded goalmouth, and even when they did create half-chances for goals, Caelum Larkin stepped up for the Offaly men with two brave and vital blocks.
As the game moved into the closing minutes, Screeney won a free which he popped over for his tenth point, and then the away supporters could really relax after Rigney, making light of the fact that he suffered a tough defeat to Dublin with the county minor footballers just five days ago, sprinted out of defence and then fired the ball over the crossbar from midfield to crown the victory.
The win means the Faithful get the chance to recharge in advance of the All-Ireland semi-finals, while Laois will join Clare and Galway in the round robin series, hoping to get back alongside their two neighbours, Offaly and Tipperary, in the last four of the championship.
Offaly: Liam Hoare; Caelum Larkin, James Mahon, Rúairí Kelly; Ter Guinan (0-01), Brecon Kavanagh, Donal Shirley (0-01); Cillian Martin (0-01), Niall Furlong; Leigh Kavanagh (0-01), Dan Ravenhill (0-03), Conor Doyle (0-01); Cathal Robinson (0-01), Shane Rigney (0-02), Adam Screeney (0-10, 0-08 frees).
Subs: Paddy Dooley for Guinan (29 - HT, temp), Shane Connolly for Martin (60), James Liffey for Doyle (60+1)
Laois: Brochan O'Reilly; Bobby Murphy, Ciarán Flynn, Joseph Pearson; Thomas Brennan, Tom Cuddy, Cormac Hogan; Andrew McDonagh, Kevin Byrne; Ben Deegan (0-10, 0-07 frees, 0-01 sideline), Liam Kirby, Jack Breen (0-01); Eoghan Cuddy, Jer Quinlan (0-01), Cormac Byrne (0-01).
Subs: Eoghan Murphy for McDonagh (37), Aaron Carroll for Kirby (37), Rory Kelly for E Cuddy (51), Justin Duggan for Breen (59).
Referee: Caymon Flynn (Westmeath).