Henry Shefflin said Galway's dramatic late win over his native Kilkenny was an emotional moment, but also one that put sport in perspective given his recent family bereavement.
Shefflin's brother Paul (41) passed away at the beginning of March having taken ill while out running.
Today, Galway beat Kilkenny in the Leinster SHC thanks to a Conor Cooney free deep into injury-time, which had followed an apparently conclusive equalising goal from John Donnelly.
"I was probably thinking about my brother to be honest," Shefflin told RTÉ Radio's Martin Kiely when asked what was on his mind in the closing seconds. "It's been a very trying time for my family.
"It was such an emotional moment in the game that that's what came to mind. My parents and [Paul's widow] Aoife and the children back home.
"It was a titanic tussle. We knew there wasn't going to be very much between the teams. Little did we think it was going to be the last puck of the ball but that's the way it worked out.
"This is a sport, this is a game. We absolutely love it and we play it for moments like this when you get a big win.
"It's highs and lows but we realise it's a game. TJ Brennan in the dressing-room lost his girlfriend [camogie player Kate] in the Moran family tragedy.
"Lads will enjoy tonight and we'll go from there."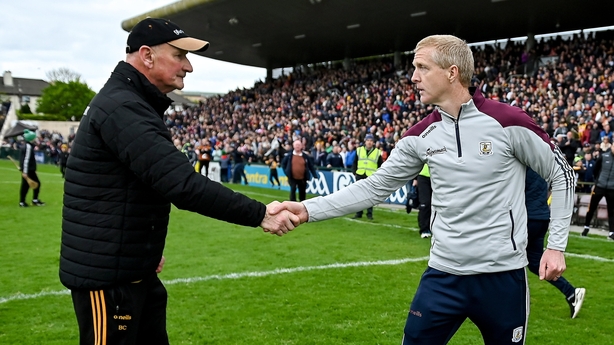 Some of today's opponents included his nephew Eoin Cody, who scored 1-02, and former Ballyhale team-mates/players TJ Reid and Adrian Mullen.
"It probably was [strange]," admitted Shefflin. "I went for a spin yesterday and passed Eoin Cody's house, Adrian Mullen's house and TJ Reid's house. That was a bit unique."
The Tribesmen were six up at half-time but, with the wind at their backs, Kilkenny had drawn level by the 57th minute. Galway showed steel to regain the lead however.
"I thought the players worked extremely hard but the shooting let us down a little bit," said Shefflin.
"We ended up just over 55% [accuracy] and created a couple of goal chances when we could have given it to the man in a better position.
"There's a lot to work on but that work-rate and desire was very good. From both sides, it was a real battle out there .
"After half-time they really got on top. With no Maor Foirne now it's difficult to get messages out so you need your leaders on the field to realise what's going on.
"I think they got a bit of a grip on it and that's the experience of David Burke, Padraic Mannion, Daithi Burke, Gearoid McInerney in trying to stem the tide.
"We did and looked like we were going to win it but then the John Donnelly goal just brought it back in."