When you are All-Ireland champions and team discipline has been under the microscope, the last thing Limerick would have wanted during the league was to give that particular narrative more airtime.
John Kiely's men swept all before them in 2021 as Liam MacCarthy's stay in the Treaty County was extended for another year, but as dominant as they were throughout, a talking point became the red cards received, and others narrowly avoided over the course of the championship.
Seamus Flanagan and Peter Casey both saw red – Casey's was later rescinded and cleared to play in the All-Ireland decider – while Flanagan and Aaron Gillane were fortunate to avoid dismissals in the Munster final victory over Tipperary, with Jackie Tyrrell on the Sunday Game saying "It is not up for debate".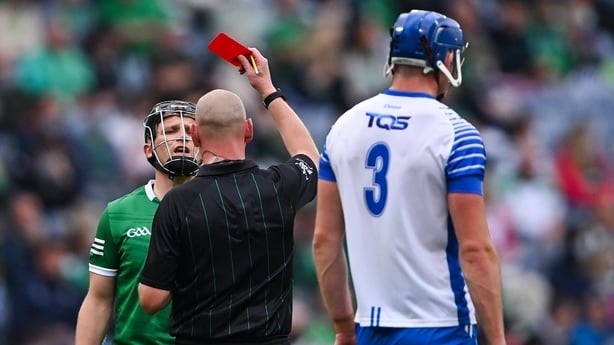 Even within the camp, there was a feeling that they had to be mindful of their tackling.
"We certainly won't be getting away with them in future so we have acknowledged that we are very lucky to get away with it and it's very important that no player puts himself in a position where a referee has to make a decision whether they stay on the field or not," corner-back Sean Finn said in the aftermath of the provincial decider.
"It's just not acceptable."
Given the physical stature of their players and the 'on the edge' approach, coming out the wrong side of a referee's call is almost unavoidable, but the fear for Limerick is that they could be making a rod for their own backs.
With a late return to collective training and a heavy training load in the mix, few observers are dwelling on Limerick's record of just one win in five league outings ahead of their championship opener against Cork on Sunday.
What has overshadowed that is the return to the issue of discipline.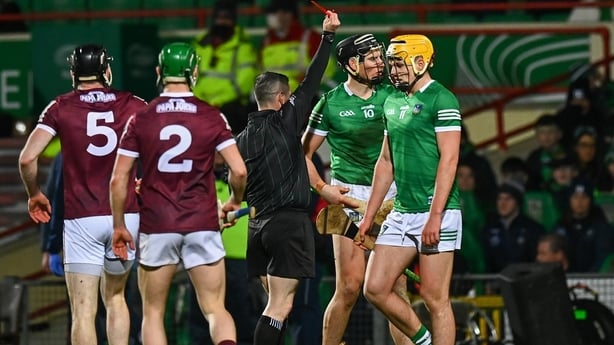 The opening three games of the league saw Limerick fail to finish with a full complement of players, with Gearóid Hegarty and Seamus Flanagan seeing red against Galway and Cork respectively, Gillane getting his marching orders after two bookings against Clare.
Speaking at the launch of Bord Gáis Energy's The Gift of the GAAB campaign, Hegarty admitted his was "embarrassed" by his red card for retaliating against Joseph Cooney in February, describing his actions as stupid.
The old phrase that nice guys win nothing is relevant
Former Cork goalkeeper Dónal Óg Cusack said at the time: "it's coming to him for a while. It wouldn't take you that long to find five other instances," but the 2020 Hurler of the Year says he pays little heed to opinions outside the Limerick camp and any outside criticism washes right off.
"What he said is what he said. But I suppose the old phrase that nice guys win nothing is relevant," he said.
"Like, we do play on the edge as a team, we all play on the edge, but I think you have to play on the edge. It's either kill or be killed out there, in my opinion.
"I honestly couldn't care less what anybody says about me bar the people inside in our little circle. He's entitled to his opinion, off he goes, I couldn't care less."
The St Patrick's clubman says Limerick's physical approach means they don't always straddle the line of what is acceptable in terms of challenging for possession, but it is what has served them so well in recent seasons.
At times we play on the edge, and at times you maybe go a little bit over the edge
"I think there's a big difference between dirty and physical. There's a bit of a grey area between the two, you know, but we do play a very physical brand of hurling. It's as simple as that.
"At times we play on the edge, and at times you maybe go a little bit over the edge. That's just the way it is and that's why the referee is there to control it.
"I made a mistake in the Galway game, I went too far over the line and I got punished and I should have got punished. I got rightly sent off and that's the way it is. It's not going to stop me from keep playing on the edge. That's just the way I play.
"I suppose it's worked for me very well over the last couple of years. It's just trying to strike the balance."
The go-to approach for All-Ireland champions over the years is to espouse the view that as the team dining at the top table, there is greater scrutiny coming their way, the 'x' marked firmly on their backs.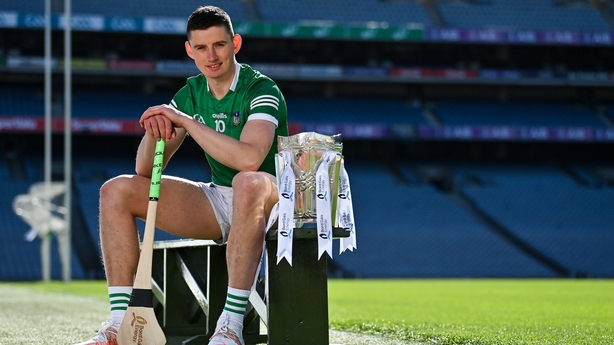 The 27-year-old however isn't getting bogged down in that siege mentality, preferring to draw positives from opposition.
"I know if the shoe was on the other foot and we were going in to play the All-Ireland champions, we would be targeting their key men.
"You've got to rephrase it and look at it as a positive, that people are coming out and trying to get at you, trying to expose whatever weaknesses they see that you have or whatever it is but it is a compliment, when you think about it deep down, it is a compliment that they are going after you targeting certain players or whatever it is so you've just got to deal with it and get on with it and do your best."
The league final between Cork and Waterford strengthened the argument that Limerick's biggest challengers for ultimate glory will be the two teams they have swept aside in the last two All-Ireland deciders.
A quirk of the round-robin fixtures means the men in green face both sides in the first week of the Munster championship, with Waterford waiting in round two after Sunday's trip to Leeside.
Hegarty feels the Rebels will not be short of motivation given the nature of the All-Ireland final defeat, adding that Kieran Kingston's side "ran riot" at times during their league clash.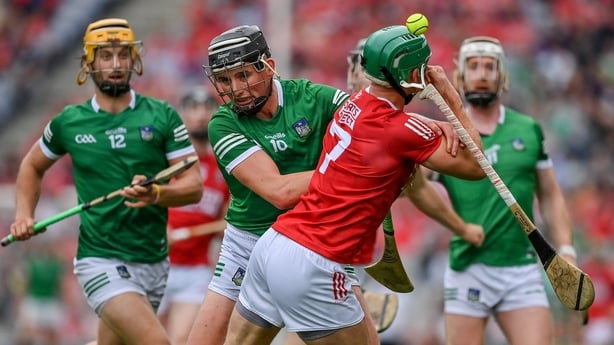 "It'll be interesting to see how Sunday goes because it throws up a lot of different themes with last year's All-Ireland and how the league went for them this year, how the league went for us this year.
"They're an extremely fast team and love carrying the ball. That's probably their main strength. They bring so much energy. You've to be constantly on edge and concentrating against them because they're so dangerous."
As uncompromising off the pitch as he is on it, the rangy forward is happy to talk about matters off the pitch, from the GPA conflict with the GAA over expenses - "players need to be looked after, it's as simple as that" - to the prospect of Colin Coughlan, Cathal O'Neill, and Adam English - who saw extensive game-time for Limerick during this year's Allianz League - facing the possibility of playing one Under-20 championship match before being ineligible if involved in the Munster SHC.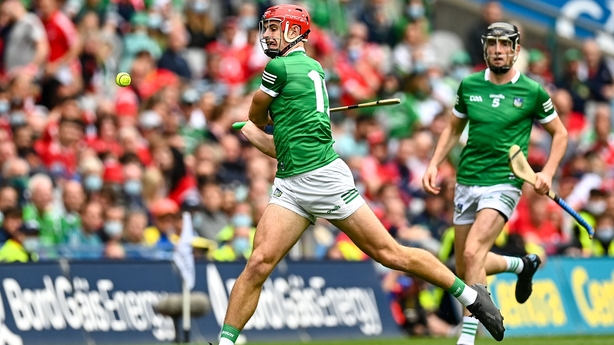 "Honestly, I think it's a disgrace. It's extremely unfair that they're put in that situation, that if they're good enough to be on a senior county panel at a young age, that they get punished, that they can't play their own age."
Limerick's return to collective training on 3 January put them behind the eight ball for the league, but Hegarty insists the training put in means they are as hungry as ever.
The three-in-a-row hasn't been spoken about specifically, it's about the immediate task at hand, but comparisons to the great Kilkenny team in their pomp under Brian Cody are unavoidable.
"We see it as a compliment that you are being talked about in that manner. I think the great Kilkenny team is kind of an interesting comparison because I don't necessarily agree with it.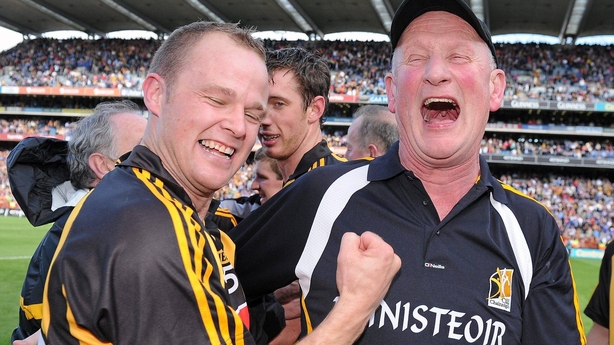 "If I was one of those Kilkenny hurlers, Tommy Walsh, whoever it is with eight and nine All-Irelands, I'd be disappointed if I was them getting compared to our Limerick team because they have a lot more Celtic Crosses than we do, put it that way.
"So I think that comparison isn't really one that stands at the moment."
The towering wing-forward is also about to step into championship action in the physical shape of his life.
Last year he missed a chunk of the league and not all the kinks were ironed out when they took to the field against Clare in the Munster championship.
"I've never been in a better position," he says.
"Physically, mentally, just constant years of training hard, and I know people hate the word but sticking to the process of going to the gym and training hard, it puts you in this position. So you've got to reap the benefits when you get there because unfortunately injuries do happen and they will happen again over the following couple of months.
"Training is tough in January, February and March when you have games on the weekend but you're still training really hard during the week in the worst conditions.
"It's a very positive couple of months coming up and I can't wait to get going."
Follow Waterford v Tipperary and Cork v Limerick via our live blog on RTÉ.ie/sport and RTÉ News app, watch live on RTÉ 2 and RTÉ Player or listen to national radio commentary on RTÉ Radio 1's Sunday Sport.