Ballyhale Shamrocks manager James O'Connor was thankful to have TJ Reid standing over the last-gasp free that kept the Kilkenny club on course for a third successive All-Ireland club hurling title.
The men in green and white appeared to be bowing out at the penultimate stage with St Thomas' holding a two-point lead deep into injury-time, but were awarded a 22-metre free from a relatively acute angle, where only a goal would suffice.
The five-time All-Star and 2015 Hurler of the Year found the necessary gap in the mass of bodies to drill the ball to the back of the net and keep the show on the road. It also extends their unbeaten streak in knockout championship hurling that dates back to October 2017.
"I was hoping and praying to God he wouldn't miss it, but I knew I had the right man standing over it," manager O'Connor reflected afterwards.
"At the angle he was, there was a good crowd of defenders in and around there. Sometimes guys can crowd each other out inside. I knew it was the last chance.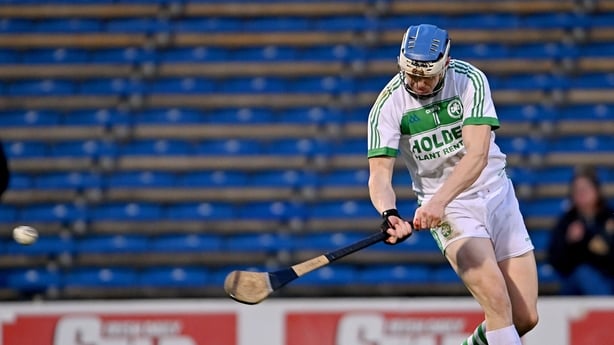 "Some things are meant to be and I do think this team are meant to get to an All-Ireland final. What we do on the day is another thing.
"We didn't bring our 'A' game here today, and I was disappointed in that, but to win by a point or 20, we're in an All-Ireland and that's all that matters."
O'Connor told RTÉ Sport that the lack of work-rate at times was most uncharacteristic of his team, who now will meet Waterford champions Ballygunner in the All-Ireland decider after they saw off Slaughtneil at the weekend.
Given the nature of the win against St Thomas', and the provincial semi-final win over St Rynagh's, where extra-time was required in order to prevail, O'Connor is hopeful that the gritty victories will stand his team in good stead.
"It's great to get over these types of games," he said.
"It gives you unbelievable character going forward. I would hope the team would learn from that game, got that scare from the Leinster semi-final and this semi-final and hopefully we will bring a much better game to the final.
"They [Ballygunner] are a fantastic team, the up and coming team in the country, without a shadow of a doubt. They are going to bring a huge, huge challenge to us."