While there was always going to be one big casualty last weekend, there are going to be two more massive ones tomorrow.
Wexford's year is over at the earliest stage possible, while two of Cork, Clare, Galway and Waterford are going to be joining them on the sideline after Saturday.
What's funny also is Cork were fancied after their first two league games to win the All-Ireland, Clare were said to have no chance, Galway were joint favourites with Limerick and Waterford were last year's All-Ireland finalists.
Now, Cork may go further, but they have a big task against them this weekend. Of course the one advantage that they do have is an extra couple of weeks' break, whereas Clare played a tough game last week, in the scorching heat.
When you strip it all back, and move on from the Antrim encounter, the Banner boys have played really well this year. This whole 'constant noise' from the outside has given the perception that they are going to be off it, but looking in from the outside that doesn't seem to be the case.
They are playing a lovely brand of hurling and more importantly, their hunger to work is as high as I have ever seen from a Clare team.
One thing that does annoy me though - and if it annoys me you can only imagine how the players feel - is when some say, "if Tony Kelly doesn't perform they won't win".
I think that is extremely unfair and disrespectful to all the other players.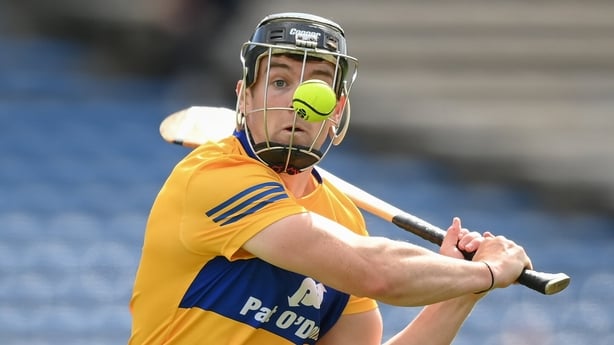 The last day, bar a couple of points, Kelly was relatively out of the game, and they still put a huge distance between themselves and Wexford. I don't think they get the credit they deserve sometimes, and I have witnessed over the years where people zone in on an individual and make it seem as if the rest are non existent.
Credit must go to Brian Lohan and his management team. Clare are probably the most talked about county in the media at the moment, and all for the wrong reasons, but Lohan and his troops obviously have the blinkers on and are focusing on nothing else, only what matters!
I mentioned earlier that their workrate is at a very high level, well it will need to be against the Cork boys. The dog on the street know how they are going to play the game.
From restarts they will go short the majority of the time, and in open play they will build the ball and work it through the lines.
Cork looked razor sharp against Limerick early doors, up until the penalty incident. The start of their league campaign was quite impressive, but if Cork were to get turned over on Saturday, would anybody remember the league? You can be damn sure the answer to that is no.
Cork are set to lose a lot more then Clare in terms of a defeat. Kingston made a lot of big calls at the start of the year. Was it the right or the wrong thing to do? Well really only he and his management team see everything that goes on, but of course if things don't go to plan on Saturday all these things will be brought into question.
And the thing is, for the first time in a number of years, there is something starting to stir in the Rebel County.
Pat Ryan has done fantastic work and their recent success was badly needed. If they can get over the line on Saturday and head for a quarter-final and get a bit of momentum, Cork hurling will be on a high later in the summer, and we all know how dangerous that can be.
I always felt this was a dangerous year for Waterford. On the very first Sunday Game show this year, I outlined over the last 15 years how teams that have done well and got to finals without winning, that there is nearly an automatic expectation the following year and that 'natural improvement' will just happen.
We need your consent to load this comcast-player contentWe use comcast-player to manage extra content that can set cookies on your device and collect data about your activity. Please review their details and accept them to load the content.Manage Preferences
Well it doesn't.
Yes, they have been hit with injuries, and yes they were missing a fair amount against Clare. But the players that were there knew the system, knew the game-plan but deviated from it totally.
With all respect to Laois, if Waterford are to be All Ireland contenders they should have disposed of them with a bit more ease. If you rewind back to Waterford's game against Cork in 2020, Munster quarter-final, Liam Cahill was wired to the moon.
This year against Clare I thought even he was flat. Now maybe that's overthinking or a change in his style, but he is a passionate guy and I was surprised to see that missing against Clare. You would love to think the Waterford of last year will turn up the weekend, but it is hard to see from their championship games this year.
Galway come into the game the same way they did against Dublin, expected to win. And they got caught there.
That would have been a big learning curve for that group, and i would expect to see a response this week. They will not be happy with their performance against Dublin, they won't be happy that they were outworked on the day, and that married with Waterford not firing, I would see a Galway win, but then again, Dublin weren't firing either going into that Leinster semi-final.
One way or another, two more counties will be scratching their heads come Sunday evening, and the famous hurlers on the ditch will be telling them where it all went wrong, but for the other two, it could give them the kick start, which may be all they need.
We need your consent to load this YouTube contentWe use YouTube to manage extra content that can set cookies on your device and collect data about your activity. Please review their details and accept them to load the content.Manage Preferences
Listen to the RTÉ GAA Podcast at Apple Podcasts, Soundcloud, Spotify, or wherever you get your podcasts.
We need your consent to load this SoundCloud contentWe use SoundCloud to manage extra content that can set cookies on your device and collect data about your activity. Please review their details and accept them to load the content.Manage Preferences