Antrim are on a roll.
Back in Division 1 of the Allianz Hurling League after a two-year absence, the Saffrons took the scalp of Clare on the opening day and secured their status with a game to spare after a hard-earned draw against Wexford last weekend.
For corner-forward Ciaran Clarke, goalscorer against the Banner and PwC GAA/GPA Hurler of the Month for May, expectations have now risen to the extent that sharing the points with Wexford felt more like a loss, and survival in the top tier isn't enough.
"We beat Clare. We maybe didn't think we were going to perform as well," he tells RTÉ Sport. "At the weekend we had Wexford and that sort of felt like a defeat. It maybe felt we could have got the win.
"We think it's different this year. We believe we can compete with these teams and we believe we can go far but it's about building on our last game and the game before that.
"I wouldn't take it as a successful season at the minute. You would want to do well in championship."
Championship this year means Leinster, for the first time since 2015. What has changed?
Clarke believes former Tipperary goalkeeper Darren Gleeson has brought in a culture of professionalism and self-belief since his appointment as manager in late 2019.
"Since Darren has come in in the last couple of years it's a very professional set up. If you ever need something, it's there for you. You don't have to ask.
"You have your nutrition and psychologist side of it. I can't compare it to other counties but just comparing it to other years it's very professional.
"It's probably the first year that we had all the best players in the county playing for us. They want to commit and I think we have 36 in the panel, which is the first time we've ever had a panel that size and people wanting to go into it.
"The main thing is probably the belief. We are just the same as the so-called big teams, we just need to believe it. I think you have seen the belief there in our league campaign."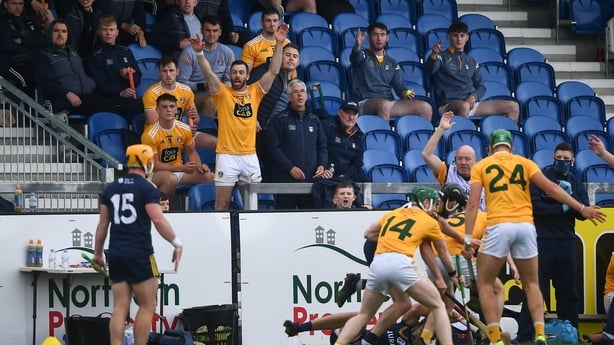 That has been particularly evident in big fightbacks against both Clare and Wexford - the latter roared on by 500 fans at Corrigan Park, which Clarke described as "a big lift". Though even in defeat to Dublin and Kilkenny there were strong second-half showings.
"In a few of the league games we were slow starters and gave ourselves a bit of a hill to claw back," he said. "It's something we need to work on.
"On the other hand, it is good that we can claw that back. It's a never-say-die attitude. We're never beaten and we're always in the game, no matter how many points we're down.
"Towards the end of the games we seem to finish strong, which maybe shows we have the fitness and the strength and conditioning it takes to compete at that level.
"Maybe we were waiting to see what these other teams could do. But then when we realised that we can compete and we can challenge, that's maybe we started clawing back the leads."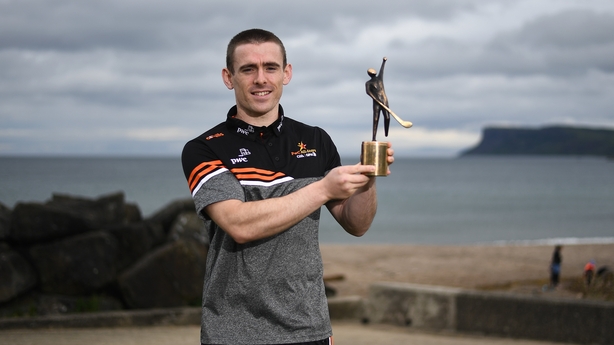 The 28-year-old Ballycastle man made his senior debut in 2013 so has seen more lean years than fruitful in an Antrim shirt.
Did he ever worry that their days at the top table were finished for good?
"We always knew we could do it if we had the right players there and the right management.
"I think this year, everything has come together nicely. You have a nice mix of players there and you have a management team that instils belief in you that you can do it. That you are as good as the other players and teams.
"We had good years before, but I suppose this year we have got a couple of results, which gives you that sort of feel-good factor. It's definitely a good feeling in the camp."
We need your consent to load this YouTube contentWe use YouTube to manage extra content that can set cookies on your device and collect data about your activity. Please review their details and accept them to load the content.Manage Preferences
Listen to the RTÉ GAA Podcast at Apple Podcasts, Soundcloud, Spotify, or wherever you get your podcasts.