Wexford manager Davy Fitzgerald will be absent from the sideline for Wexford's Leinster quarter-final against Laois after he was served with a two-match ban.
Fitzgerald clashed with his Antrim counterpart Darren Gleeson during last weekend's league encounter at Corrigan Park, and was sent to the stands by referee Patrick Murphy.
The 49-year-old was not shown a red card in the incident, but the offence, classified as "any type of physical interference with an opposing player or team official" carries a two-match ban.
It is understood that Fitzgerald will not contest the charge.
That means he will not be involved in the county's final Division 1, Group B game against Dublin in Chadwicks Wexford Park on Saturday as well as their Leinster championship opener against Laois in UPMC Nowlan Park on 26 June.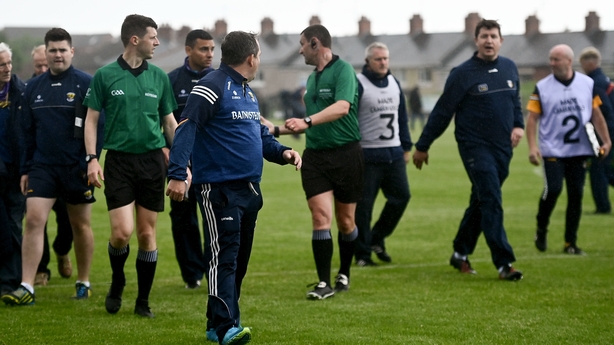 Speaking after the draw against Antrim, a game where both sides finished with 14 players, the 2013 All-Ireland winning manager admitted it was unlikely to be his last run-in with match officials.
"I've seen various managers go at it toe to toe, that's the way it goes," he said.
"I've nothing but respect for what Darren Gleeson has done and what he had done in Antrim, but if we've to say something to each other we'll have a go. And that's the way it is, that's between the two of us. I won't be talking about it anyway.
"It isn't my first time that's happening and it probably won't be my last."
Wexford will reportedly challenge the red card joint captain Matthew O'Hanlon picked up against Antrim for interfering with the helmet of Antrim's Neil McManus.