When Pádraic Maher burst onto the inter-county scene over a decade ago there was a huge amount of hype about what he could achieve in the game. And for good reason too.
In the 2006 minor final, he held Joe Canning scoreless from play and three years later, in the Allianz League final, while still a teenager he outhurled the best in the game in Henry Shefflin.
The Tipperary public knew they had a gem on their hands but delivering on potential and maintaining consistency in elite sport for a long period is no easy feat.
Back then, Maher paid little attention to what other people were doing. His focus was on his own game, his own performance and staying on the team.
"In that minor final there was a lot of talk about Joe Canning, but to be honest I wouldn't have paid much heed or took much notice of what other people were doing at that stage," explained Maher, speaking on We Become Heroes, an RTÉ Sport podcast.
"I was barely doing my best to hold on and make the team and make the panel.
"When I marked Henry early in my career, I was a bit more aware of what was being said what was going on around me and who he was and what he had done.
"I found it was easier when I was younger, you can have a bit more of a carefree attitude. If things go well, you are on a winner and if things didn't go well people would say that they are the best players in their respective teams.
"It wasn't something that bogged me down, but I certainly became more aware of it as I got older."
Marking the big names has become second nature to the Thurles man, but his approach to it has changed over the years.
The advancements in technology, particularly video analysis, along with ease of access to televised games have brought the opposition into sharp focus. This has led to much more time spent on how teams set up and how individuals play the game.
Indeed, the game has evolved in many ways since Maher started out. The bar for professionalism and commitment levels keep rising and at each juncture it surprises Maher.
"If you asked me 10 or 12 years ago could the game have got any more professional in terms of preparation, I would have said no way, how could it?
"But here we are 10, 12 years later and it's like this thing is getting out of hand, like how much higher can we take it? But you just move with the times and you are always learning."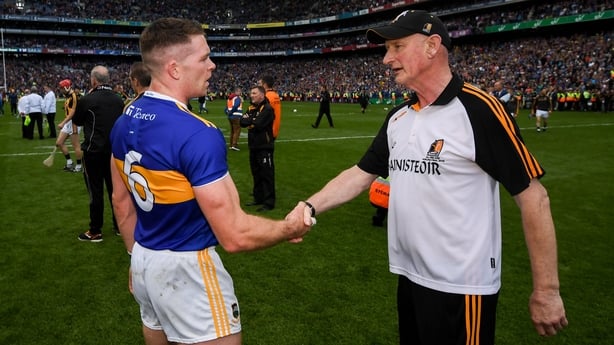 When Maher first started out, Kilkenny were a dominant force. They won four All-Ireland titles in row between 06 and 09. As well as being quality hurlers, Brian Cody's men were known for their physicality and aggressiveness, they dominated the ball and the man.
"Back when I started out playing senior for Tipperary, the gyms, strength and conditioning was getting big at that time, it was all about getting as big and strong as you can, physicality," recalled Maher.
"Kilkenny were dominating at the time and they were known as a physical team, we were all trying to get as big and strong and physical as we could."
As the years progressed and new styles and tactics came to the fore, the trends changed and so did the approach to training and preparation, with Maher happy to adapt as needed.
"It changed then to being very lean fast and agile, so you had to change again in terms of your mindset what way you want to prepare and that.
"Now you see the likes of Limerick or Galway and they are big strong teams but they are fast and agile as well, so you are doing the whole lot now, big, strong, fast and agile.
"You are trying to cover every base. That's what I mean about it getting so professional, the levels are being driven up every year. That comes with Kilkenny winning and bringing it to another level and Galway winning and bringing it to another level and so on.
"It's always being brought up a level and teams are just chasing and striving to get the better of another team and it's driving every team on. There is more and more emphasis being put on everything now, like strength and conditioning, nutrition.
"I don't know where the bar is going to stop being raised by teams. That's what elite sport is about, no matter what sport you are playing. It's very challenging but very exciting and it's great to be part of."
Maher, who has won three All-Irelands to date, is looking forward to the return of games. He works as a Garda and has been busy on the frontline during the pandemic. Although we have been experiencing very different times, the questions from the people he meets still revolve around hurling.
"The question I get at the moment is, when will we be back, we as in everyone – supporters, players.
"Everyone is mad to get back to attending games and watching games I think we are all in the one boat in that sense. We are just meeting people on the side of the street and it's 'well are ye training?' That's number one and the 'when are ye back hurling?' That's number two.
"We are all frustrated but hopefully we will all get through the next few months and we will all get back to where we want to be in our happy place, whether it's Semple Stadium or Croke Park, wherever it is we will take it."
We Become Heroes is a podcast hosted by RTÉ Sport journalist Marie Crowe, featuring some of Ireland's biggest sports stars.
You can watch the interview with Pádraic Maher above or listen on Apple Podcast, Soundcloud, Spotify or wherever you get your podcasts.