Just for a moment, it seemed like Limerick might be mortal after all.
The back-to-back Munster and Allianz Hurling League champions, unbeaten in competitive action this year, had weathered an early storm from Galway to lead by five points coming into the closing stretch in Sunday's All-Ireland semi-final.
That gap narrowed to two before Galway talisman Joe Canning was stretchered off but his young replacement, Evan Niland, and Conor Whelan stepped up to level the game halfway through ten minutes of injury time.
Limerick's response showed why they were champions in 2018 and why many expect them to be again this year, as they hit three of the last four scores to win 0-27 to 0-24.
What was of particular satisfaction to their manager John Kiely was that this was not the fluent, clinical Limerick we had seen against Clare, Tipperary or the first half against Waterford but they still found a way to win.
"I think it was just a sheer refusal to be beaten; that under no circumstances no matter what happened, they weren't going to be beaten tonight," he said afterwards.
"I think our boys showed great resilience overall on a night when maybe things weren't going completely according to plan."
"Galway were very firm in the tackle, they didn't allow us to break the tackle too often. Once we settled into it then midway through the first half, we got into a good rhythm and clawed back that lead Galway had and it was nip and tuck then for long periods of the game."
Limerick are into the final but @shefflinhenry does not believe they are flowing and the goals are not coming #rtegaa https://t.co/11LVxKXfNT pic.twitter.com/021y0tuicB

— The Sunday Game (@TheSundayGame) November 29, 2020
Galway manager Shane O'Neill insisted that there had been little between the teams but a look at the stats tells you that Limerick dominated on the puckouts (winning 79% of their own to Galway's 67%), created double the number of scoring chances from play (39 to 19) and won 10 of 12 aerial contests.
So why did they only win by three points?
Firstly, failure to convert from their many turnovers. They hit 16 wides to Galway's 11.
Kiely: "We had obviously worked on that (puckouts) and that is something we were bringing into the game. We didn't quite get the return we would have liked from it. But again, that is maybe down to somethings like misplaced hand-passes, misplaced stick-passes, handling errors, just little things. That'll come."
Secondly, failure to take three decent goal chances. Here, credit must be given to Galway goalkeeper Éanna Murphy, who stopped shots from Seamus Flanagan (twice), Kyle Hayes and David Reidy, to somewhat balance out a poor day from the puckouts.
But as Kiely noted, at least they had created them, especially as Galway had played Padraic Mannion as a sweeper.
David Reidy thought he had won it only for Eanna Murphy to make an unbelievable save
Live now on @rte2 and @rteplayer #rtegaa https://t.co/11LVxKXfNT pic.twitter.com/h1DGqVmFTc

— The Sunday Game (@TheSundayGame) November 29, 2020
Thirdly, discipline.
Limerick didn't score between the 51st and 72nd minutes (the play was stopped for eight due to Joe Canning's injury) but of Galway's five points in that time, four were frees.
Galway are also big men and didn't shirk a challenge but Limerick hit late on more than occasion and got away with a couple of careless slaps of the hurl, particularly Gearóid Hegarty's into the back of Canning before half-time.
Limerick are a powerful, dynamic team and much like the Kilkenny four-in-a-side they play on the edge. But they also need to be mindful not to let teams back into games through unnecessary fouls or losing players.
"We gave away a lot of frees tonight, we need to improve on that," admitted Kiely, adding "If we could make the pitch bigger, we might not give away so many sidelines" in reference to the staggering five cuts Galway converted.
"I know that some of the frees were definitely frees, but I wouldn't agree that all were. I think the free count was 17 to 7, that's quite a swing in one particular direction.
"I think there were occasions where we took the ball into tackles and we didn't get the same response that maybe the opposition did. It is what it is. We just move on now."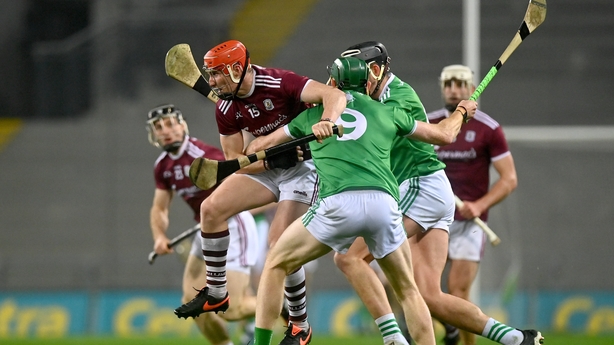 Move on they will, to the last dance of the year on 13 December.
The Limerick manager has been very vocal on the subject of wider panels and backroom staff not being allowed to attend matches this autumn and he said that to bar them from the final in the spacious surroundings of Croke Park would be "an unforgivable mistake".
"If they don't leave the players come from the final, that would be an absolute travesty," he said. "That would be a massive mistake, unforgivable.
"I hope they will. Level 5 restrictions finish on Tuesday so I hope they will, for both counties' sakes and for the players' sakes on both sides, that's really important. Weren't they only talking about bringing supporters during the week, in the name of God!"
Kiely also dismissed the notion that the Munster final result and the greater pressure of history on Waterford would be factors.
"We have a huge, huge challenge," he said. "We saw the performance of Waterford last night. It was incredible. It is going to take a massive, massive effort on our part to match that.
"All I know is we have to go home and get our ducks in a row ourselves and come back here with the best performance we can in two weeks and hope that is good enough."
Having waited 45 years for an All-Ireland title, Kiely and his green machine are now on the brink of a second in three years.
Waterford will need a performance equal to Saturday's second half to stop them.