It was the Treaty County's day in the end at Croke Park in another All-Ireland semi-final epic. Here's how we saw it.
Limerick
Nickie Quaid 7/10
In general, kept it super simple with his puck-outs and was comfortable as ever under the high ball.
Sean Finn 7/10
The Treaty full-back line as a whole will be delighted with their evening's work. Finn went about his business with minimum fuss.
Dan Morrissey 7/10
Marker Conor Cooney was hauled ashore in the second half with a clean jersey. Morrissey didn't let him see much of the ball.
Barry Nash 7/10
Shared duties in trying to shackle Galway's Conor Whelan as Limerick kept Nickie Quaid's goal intact for over 80 minutes.
Diarmuid Byrnes 8/10
Had an all-action display at wing-back and popped over three beauties from play. Got under high ball and got into the open field at pace when the play opened up.
Declan Hannon (C) 7/10
Notched a cracking point from play and marshalled the 45 with aplomb throughout. Made way for Paddy O'Loughlin's fresh legs late on. Deserved his rest.
Kyle Hayes 6/10
Spent more time than anyone would like to spend chasing Joe Canning around - along with a few others. A satisfactory day's work.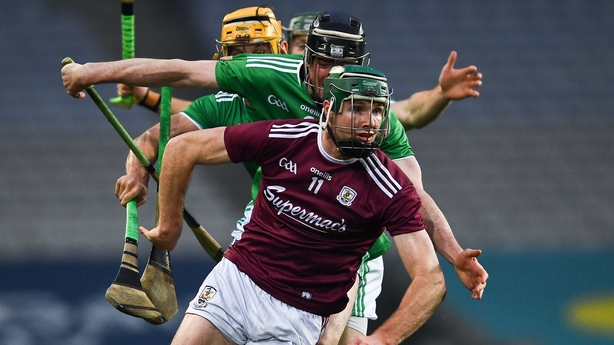 Darragh O'Donovan 6/10
On a day when both midfields more or less nullified each other, that middle third was not a space for the faint-hearted. A day for physically brave men - one of whom was O'Donovan. Replaced by David Reidy.
William O'Donoghue 6/10
Like his stablemate, grafted all day long. With Cathal Mannion initially roaming deep for the Tribesmen, space was at a premium between both 65s. Once Mannion went off injured, O'Donoghue's task became a bit more orthodox.
Gearoid Hegarty 9/10
Limerick's much lauded half-forward line eventually broke Galway down. And no one was more responsible for their superiority than Hegarty. He fired over scores, fielded high ball, stole Galway puckouts and, it must be said, escaped a possible red card for catching Joe Canning with a stray hurl in the first half. That incident aside, Hegarty's performance was the finest on show.
Cian Lynch 8/10
Helped himself to three points from play and ruined Gearoid McInerney's day from the first whistle.
Tom Morrissey 8.5/10
Limerick had to wait nine minutes for their first score of the game - a start that must have worried Treaty fans. It was Morrissey that nabbed that point, the first of five he would score in a fantastic display of wing-forward play.
Aaron Gillane 8/10
Gillane proved the marksman of the inside forward line although the closest he got to Eanna Murphy's goal saw him tip the goalkeeper in the back with his hurl in the first half. A needless act that could have brought more serious rebuke from the referee.
Seamus Flanagan 7/10
Was a lively target for Declan Hannon's long clearances. Direct when in possession and split the posts on a couple of occasions. Almost grabbed what would've been the game's only goal, but for a cracking save from Murphy.
Graeme Mulcahy 5/10
Was hauled ashore early and replaced by the instant-attack of Peter Casey. When your half-forward line is as dominant and all-consuming as Limerick's, corner-forward can be a lonely place to ply your trade.
Subs
Peter Casey 7/10: Replaced Mulcahy and contributed his usual pair of points from play. An instant source of attack off the bench.
Adrian Breen 6/10: Came on for Flanagan, who had been a thorn in the side of the Galway full-back line all afternoon. Helped close out the victory.
David Reidy 5/10: Came in at midfield for O'Donovan. Fired wide when he may have found a teammate in a better position late on.
Pat Ryan 5/10: Replaced Gillane deep in injury time.
Paddy O'Loughlin 5/10: Came in very late for Hannon as Limerick held on.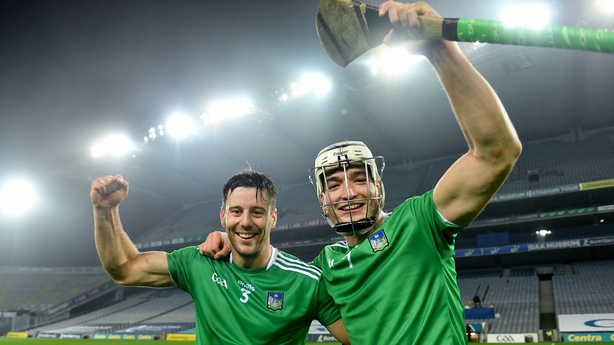 Galway
Eanna Murphy 4/10
Struggled with ball in hand all day as the Limerick half-forward line gobbled up several of his shorter puck-outs while he also turned over some possession from play. Made an excellent save from Flanagan to ensure a clean sheet.
Gearoid McInerney 6/10
Not the dominant display we expect from McInerney from his customary position at centre-back. Galway were shuffling their cards along the half-back line all afternoon - in the end, it seemed, nothing worked. Steamrolled over Aaron Gillane at one point.
Daithi Burke 7/10
Had his hands full with Seamus Flanagan throughout. Made a huge tackle late on to stop a certain Limerick goal.
Shane Cooney 5/10
Started further out the field and moved back to the corner with the half-time reshuffle. Not his happiest day at Headquarters.
Sean Loftus 6/10
A late change to the programmed team, coming in for Fintan Burke. Tidy on the ball but struggled to make a big impact.
Aidan Harte 5/10
Dropped back into the corner for the second half having tried and failed to stifle that Limerick half-forward line.
Joseph Cooney 6/10
Took some heavy hits, dished out a few of his own and found time to drill over a lovely score.
Padraic Mannion (C) 6/10
Probably didn't have the best of the midfield battle and was ran over by Seamus Flanagan for a goal chance that Murphy managed to save.
Johnny Coen 6/10
Like his running mate, didn't fully impose himself on proceedings although both midfields made about as much - or as little - headway as each other.
Joe Canning 9/10
Was in the process of putting together yet another masterpiece when disaster struck late on and he had to be carted off after a collision with his own teammate. Had, to that point, managed to find the mark with an incredible four sideline cuts out of four - an achievement that, as best anyone can tell, has never been accomplished before. A once-in-a-lifetime hurler.
Cathal Mannion 6/10
Had got off to a fine start, grabbed a point and found space just about anywhere he popped up. When his hamstring went in the 24th minute, a difficult task became even tougher for the Connacht men.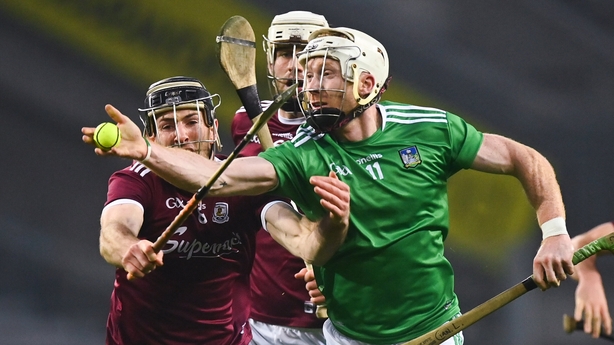 David Burke 5/10
Whipped off at half-time as Galway tried to get a grip on the ravenous Limerick middle eight. Replaced by Fintan Burke who had been named in the original 15.
Conor Whelan 8/10
Stepped up to the plate in the final quarter when the game was drifting away from his team. His trio of scores included one fantastic solo effort late on. A danger all afternoon.
Conor Cooney 5/10
Called ashore early on and was most likely happy to see the back of Dan Morrissey. Replaced by Jason Flynn. Not his finest hour.
Brian Concannon 7/10
Like Whelan in the other corner, carried his share of the load. Looked dangerous every time he got on the ball and often dropped out to linked defence and attack. Finished with three from play as well. Tidy.
Subs
Adrian Tuohy 6/10: Held his own when replacing the injured Mannion and managed to get himself on the scoresheet. A different player doing a different job however, and Mannion's influence was sorely missed.
Fintan Burke 6/10: Came in a half-time having been named in the initial starting 15. Took over sideline cut duties after Canning's unfortunate injury and nailed the only one he took.
Jason Flynn 5/10: Took over from the frustrated Conor Cooney at full-forward and had just about as much luck as the man he replaced - which was not a lot.
Seán Linnane 5/10: Came in for Shane Cooney at the back late in the day.
Evan Niland 8/10: Despite only being on the pitch for the final 10 minutes of play, Niland's impact was immediate. Took over freetaking duties and drilled over two massive scores while, in between, setting up a fine score from play. Threatened to spoil the Treaty's well-laid All-Ireland final plans. Will see plenty of Croke Park in the coming years.