One of the standout aspects of Clare's route back towards All-Ireland contention after their opening round Munster loss to Limerick has been the inspired form of Tony Kelly.
The 2013 Hurler of the Year was the key man for the county, racking up a a tally of 1-15 to guide his team beyond his former manager Davy Fitzgerald's Wexford on Saturday to reach an All-Ireland quarter-final.
For team-mate Patrick O'Connor, it's what Kelly got up to during lockdown that is proving to be a major factor in his match-winning performances this winter. And O'Connor had an inkling of what was to come from training sessions.
"To be honest, I had because I knew the work he was putting in during lockdown," said the half-back at the launch of the GAA Hurling All-Ireland Series .
"He really, really, really put the shoulder to the wheel and I know he was onto strength and conditioning and onto skills coaches just to get pointers on where to get better and how to get better and the result of it is what you're seeing now, which is just a guy in total confidence, total conviction in everything that he's doing and you have to say he's bringing the team along with him and he's a super guy.
"I suppose for me of all people, I would be indebted to Tony because I don't know if anyone can recall back in 2016, I made two significant blunders for two goals in a league final and he pulled us out that day as well, so I'll always be indebted to him."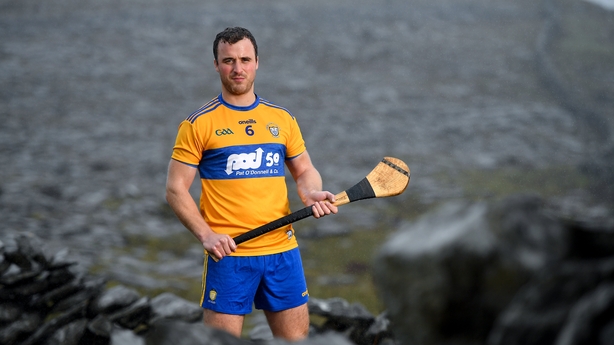 O'Connor added that the Banner game plan isn't necessarily centred around Kelly as a focal point and that he also brings himself into the game in unanticipated ways.
"He has such a good workrate that he'll go where the ball is," he said.
"For example, a lot of people are talking about the point he scored running the length of the field into the teeth of the wind on Saturday.
"He took that pass off me on the '45. When Donal Og [Cusack] came in and I was playing in defence, he said, 'If I was playing and I looked up and I saw Tony Kelly free, I'd give him the ball'. 
"If he's free, you get him the ball but you see another facet of his game is the goal. I think Cathal Malone and Shane O'Donnell were foraging and it broke to Shane and Tony made a really intelligent run off his shoulder and that's another facet of his game."
Next up for O'Connor, Kelly and Clare is an All-Ireland quarter-final against Waterford at Páirc Uí Chaoimh on Saturday after the two Munster sides were drawn together on RTÉ's Morning Ireland on Monday.
"I'm definitely looking forward to the weekend," said O'Connor.
"Obviously, we were bitterly disappointed after the Limerick game but I suppose, the one shining light was that we had something to refocus on.
"The Tuesday, we went back in and I've been involved in championship campaigns where you could have five or six weeks to wait for your next week, but it was back up straight away, took what we could from the Limerick game and into the Laois game."
And, of course, into the win over Wexford where Clare manager Brian Lohan had advised his team to focus on the task at hand rather than any comments exchanged between himself and Wexford boss Fitzgerald.
"In fairness, Brian addressed it at the start of the week and said there was a rhetoric there going on between himself and [Fitzgerald] and it was totally to do with them and it wasn't our place to get into the middle of it.
"I don't know what happened, I don't know what has happened but it's between the two of them and it had nothing to do with the result or the build up for us really."