David Kennedy remembers the very first senior hurling match he played for his club, Loughmore-Castleiney.
He was 15-years-old and they were taking on Roscrea in a challenge match. The mid-Tipp side were short a few players that evening and Kennedy, still in his school uniform, was plucked from the sidelines and placed in goals.
"It wouldn't happen now," he laughs. "But that was my introduction to senior hurling. We went across to Roscrea, we were short a few and into goals I went. Uniform and brown shoes."
He's 44 now and still between the posts.
Last Saturday, he donned a Loughmore senior shirt for the 28th season, playing in goal on the team that beat Moycarkey-Borris in the first round of the Tipperary SHC.
In between his debut as a greenhorn and last weekend's game, he has enjoyed a golden career with both club and county, winning Tipperary SH titles in 2007 and 2013, winning county senior football titles in 2004, '13, '14 and '16. He has won minor and under-21 medals too but says they were won too long back to remember exactly when.
He made his debut for the Tipperary senior footballers in 1998 and played one season for them before Nicky English called him into the hurling panel. As a steely, no-nonsense centre-back, he helped steer Tipp to the 2001 All-Ireland title and won two NHL titles along the way.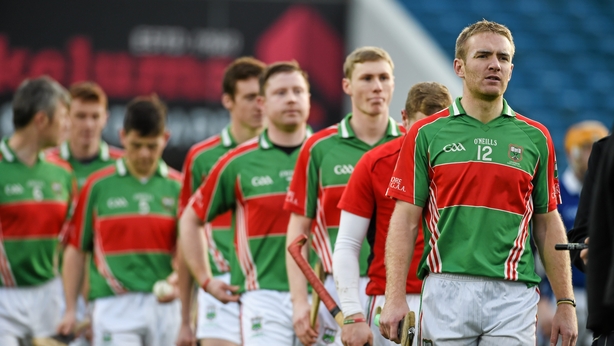 He's not alone in the longevity stakes either. Around the same time Kennedy was lining out for Loughmore, two other members of the Tipp 2001 team, Lar Corbett and Eoin Kelly were making their mark. Corbett featured as a substitute for Thurles Sars in their defeat of Kilruane MacDonaghs while Kelly scored 10 points for Mullinahone against Sean Treacys  - 18 years after they both featured in a county final for their clubs.
It's incredible service those two have given club and county. Kennedy's innings, meanwhile, is just as astonishing.
"I'm just very lucky to be playing adult hurling at this level at 44," he says.
"People often ask what keeps me going. I always loved to play hurling and football. Hurling has given me the best times of my life. All my best friends, I met through the GAA and playing with Loughmore-Castleiney there is always the feeling that you have a chance of winning something."
There is no sign of his energy levels sagging despite the incredible unbroken service to his club – much of it spent driving up and down the N7 and M8 from Kildare to home.
There were three years, 2015-2018, when he didn't make the Loughmore senior team.
"But I was always there on the panel if needed," he says, "And in 2019 I got back in when they looked for me to play in goal again. People make a deal of the fact that I'm still playing but I just don't see the big deal. The truth is I am still looking forward to playing this year and driving on again.
"Now, I can't control whether I will be picked or not, but I can control how well I prepare and how I look after myself. And if they want me, I will be ready. If they don't, I will be there anyway, training away in case I'm needed. That's what you do in a club.
"There are a lot of clubs this year that think they can win the Dan Breen Cup and we all look at what Borris-lleigh did last year and when Clonoulty won their county title a couple of years ago, they represented a lot of country clubs who are picking from a small pool.
"You would hope to be that team. I would hate to be leaving the Loughmore panel knowing that something could happen. If you were not involved, you will always regret that.
"I think back to 2007 and 2013 when we did county titles. I was there for them and it would be great to see a day like those again."
"I just love playing hurling. And I love my club. Outside of GAA, I wouldn't have any interest in other sports. I might watch a few highlights of a soccer match, but it has always been hurling that consumed me. I love Gaelic football too. The key thing is I've been lucky with injuries, why wouldn't I stay going? I'm not going to be at home on the couch in the evenings watching Netflix anytime soon."
In 2005, he was left off the Tipp hurling squad and though he expected to pick up where his county football career had left off, no-one contacted him. Yet, retirement was never an option.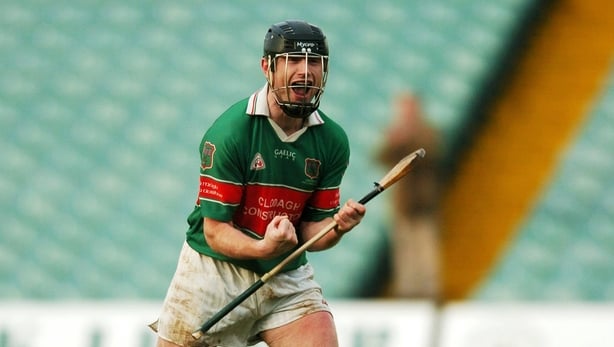 Instead, Kennedy, a Garda based in Naas, joined the Kildare hurlers in 2006. He had been in the county working three years at this stage. In total, he spent 15 years driving down the M7 and M8 motorways to continue to line out for his club. 
He had to balance family life – he and his wife, Karen, have two young boys, Daire and Killian – as well as shift work with An Garda Siochana.
"It was very tough," he admits. "Especially with the shift work and when the kids were so young. Often times I dragged myself through training sessions just to get to the end. I would go down home for training, somehow get through it, be back up in Naas for work at 10pm, to start a night shift.
"Along the way you would have to get food and it wasn't always the best food, but you had to keep yourself going. Still, despite the toil, I never questioned myself, although it was tough on the lads at home," he adds.
"It is just what I love. I love Loughmore, love being fit and healthy and I think that my two boys see me now still playing and coaching underage teams and hopefully I am setting a good example for them."
After finally moving home to Tipp two years ago, Kennedy found game-time hard to come by.
But last year he returned to the nets, managed to keep a clean sheet to help his side earn a draw against Nenagh Eire Og and played three more championship games, before lining out again last weekend in the 2019 opener.
It's a long time since he made his championship debut – as a 16 year-old corner back playing against Gortnahoe-Glengoole.
Former Offaly star Joachim Kelly was manager that year and Loughmore trailed three points at the break. When he gathered his troops, Kelly was annoyed.
"He gave a team talk, pointed to me and said: 'If ye don't win this game, this young lad will never forget it.'
"He was right - we lost the game and I never did forget it.
"I remember at the time being so disappointed.
"But I have had a long career because I have been very lucky with injuries. I have had plenty of knocks and bruises, a few broken fingers, but I have never had career-threatening injuries like a cruciate or back injury. Some lads would maintain I wasn't fast enough to pick up injuries like that."
Across the years there has been heartbreak. Sadly, within a short space of time three years ago, Kennedy lost his mam, dad and uncle. Friends and team-mates like the late, great Eddie Connolly have also passed away. Kennedy misses them all and says he will seize every moment he has left as a player.
We need your consent to load this rte-player contentWe use rte-player to manage extra content that can set cookies on your device and collect data about your activity. Please review their details and accept them to load the content.Manage Preferences
"I'll keep going as long as there's a place for me," he says.
"I saw a 45-year-old playing in goals in the Kilkenny club championship so what's to stop me from keeping on going? I never had much speed so there is little to lose. Our former Tipp kitman, John 'Hotpoint' Hayes, used to say that I had only two gears – forward and reverse.
"But it's a privilege to be playing at this level. The Dan Breen has never been as strong, I don't think. The 16 best clubs in the county are all competing, and a fair chunk feel they really can win.
"The structure is the real success. All players know who they play against and where and when the games are on. There is a lot of certainty. Many of us are family men, married with children, all working, and we are trying to plan life around club training. Over the years, we have really suffered from a lack of certainty and a lack of structure. Trying to plan without having any dates set in stone.
"A split season between club and inter-county is the way to go and it would be welcomed by the vast majority of players. It lends itself to having a balance with family, exams, work, whatever. I haven't heard any player complain yet about this year's format. We are all training together as a club team, we have all our county players, the sessions are better, and the quality of matches is better then."
It was a boy that stood in goals against Roscrea 28 years back and a man that held firm against Moycarkey last Saturday. If anything, in the years between, Kennedy's love for the game has only grown stronger.
Listen to the RTÉ GAA Podcast at Apple Podcasts, Soundcloud, Spotify, or wherever you get your podcasts.