Anthony Daly is relishing the prospect of a 2020 All-Ireland Hurling Championship that looked unlikely just a couple of months ago but admits his native Clare have their work cut out for them to win it.
The Banner were unbeaten in five Allianz Hurling League games before Covid-19 intervened but Friday's Championship draw set them the arduous task of beating Limerick and then Tipperary to reach a Munster final against Cork or Waterford. 
At least there's a second chance in the qualifiers, unlike in football, but Daly feels the disruption will play against first-campaign managers like Brian Lohan in Clare, Shane O'Neill in Galway and Liam Cahill in Waterford. 
"To have a roadmap and draws made again is just fantastic," the former Clare captain and boss told RTÉ Radio 1's Sunday Sport.
"We've got the draw from hell - having to play the last two All-Ireland champions if we're even going to make the Munster final.
"That's the not most pleasant draw but there are a couple of ways at least in the hurling of progressing.
"Clare have had a great season so far and there will be added interest in the Limerick match because it's doubling up as the League final as well.
"We beat them two years ago, they gave us a good whipping last year.
"It's tough enough with the new managers as well with the break, whereas the established managers like John Kiely, Davy (Fitzgerald), Brian Cody, Liam Sheedy will know their best 20 and fairly well so the advantage will be with those counties I'd imagine."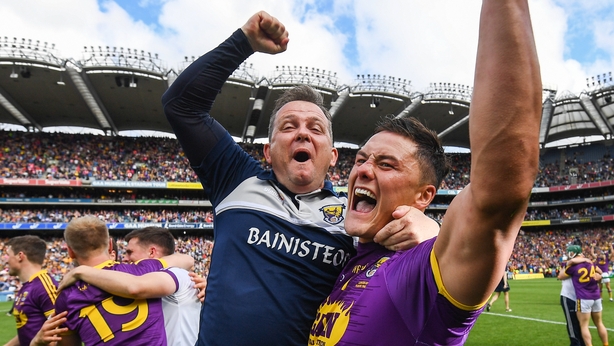 Reigning champions Wexford's clash against 2017 All-Ireland winners Galway is the standout clash in Leinster and former Tribes boss Micheál Donoghue thinks the sides will be evenly matched.
"We've met quite a lot over the last four years so both teams know each other well and it's another great game to look forward to," he said.
"Galway have a strong record in the Championship and Wexford had a few good results over Galway in the league so both teams are very familiar with each other and I've no doubt it will be a close contest again.
"Wexford are a really strong team, reigning Leinster champions, so they're going to be really looking forward to it."
The other semi-final will be contested by Kilkenny and the winners of Laois v Dublin. Like Galway, however, Laois are likely to have to forego home advantage as the GAA is expected to use its biggest stadiums to maximise attendances under social distancing rules.
"Laois and Dublin will be a cracker as well," said Donoghue.
"Laois had a fantastic year last year, Eddie (Brennan) doing a great job, winning the Joe McDonagh and having a great result against Dublin (in the All-Ireland preliminary quarter-final), which will give them huge confidence.
"Dublin will have been really disappointed after beating ourselves in Parnell Park and losing out to Laois so there's a grudge game there.
"I'd imagine most games for this Championship will be at neutral venues so it might eradicate the home advantage. It will be interesting to see how that pans out."