What a day to be a Wexican.
The final whistle at Croke Park heralded an explosion of emotion on the sideline and in the stands alike as Wexford celebrated their first Leinster final victory over Kilkenny since 1997.
Speaking shortly after joint captains Lee Chin and Matthew O'Hanlon had lifted the Bob O'Keeffe Cup, manager Davy Fitzgerald is overcome with the joy of it all.
"I f***ing loved when that final whistle went," he declares. "There is nothing that can't be achieved in life, or nothing that can't be done.
"People might say it is (only) a Leinster Championship. A Leinster Championship means so much to this bunch it is incredible, and so much to the Wexford people. The emotion feels the exact same for me, whether it is winning with Clare as a player or as a manager, winning with Waterford.
"I think the Leinster Championship has been incredible. I'm delighted to be the champions of it, and see what happens from here.
"Just happy to see those boys so happy. If I told you half the stuff them boys said to me when the final whistle went... it makes it so worthwhile. They have worked tirelessly to get here.
"I've seen what they've gone through. If I told you the train we did, you would not believe the stuff we did back in November, December, you would not believe it."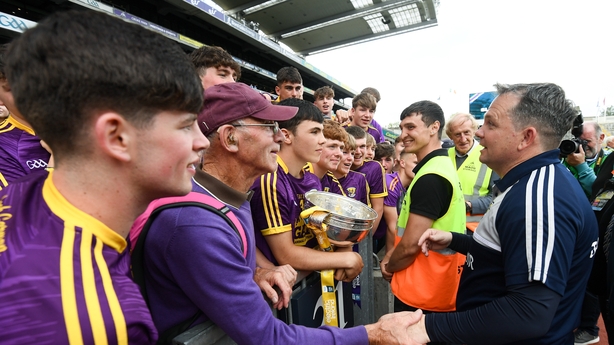 In his third season in charge, Wexford have completed the turnaround from also-rans to provincial champions.
When asked whether a similarly intense passion for hurling is what drew him to the county, Davy smiles.
"We were kind of a good fit. They're half-mad, I'm half-mad.
"I remember when I went to Wexford first a lot of people told me 'don't bother, they haven't a chance of doing nothing'.
"I know they (the players) doubted were they good enough to do stuff. But that belief kept growing.
"If you look back to 2015, I think Kilkenny beat Wexford by 20-something points, so I don't think anyone would have thought of delivering (a Leinster title) within four years. So I'm just delighted that they showed they can bridge a gap and come back into it."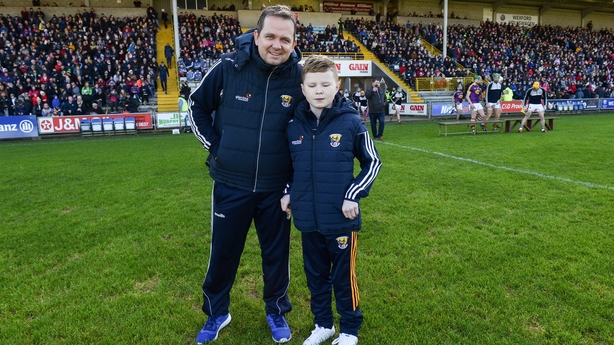 Fitzgerald references Michael O'Brien, the young Kerryman who stole the show when meeting his hero on last December's Late Late Toy Show, as an inspiration for the county atoning for the Leinster final loss to Galway in his first year at the helm.
"I'd like to think the lads are humble. We do bring a lot of people in around us that aren't as fortunate.  You take young Michael from Kerry that came into us this year - if you'd seen the speech he gave before the Tipp game.
"All the boys thought I put him up to it, I didn't say a word to him. He actually told them it's about time they start living their dream. This is a young guy that was blind and it registered big time with the lads."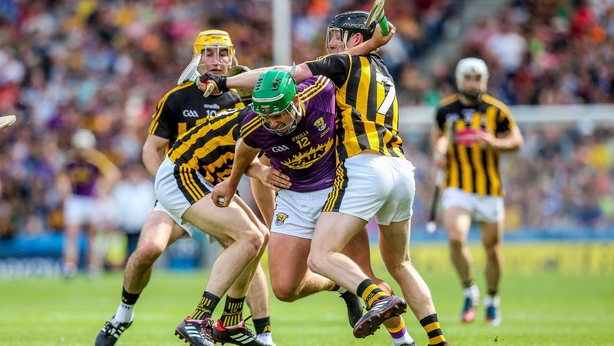 Fitzgerald was delighted with the grit shown by his players in an extremely close contest with the Cats. The teams were level 10 times and nobody was ahead by more than two points until Wexford pull three clear in the 65th minute.
"The thing I loved about the lads was that we didn't buckle," he says.
"We went a point or two down a few times but if you look at the end of that game we were getting stronger the longer that game was going on."
"We came here to play, we didn't come to freeze. Two years ago we played unreal against Kilkenny in the semi-final, I don't think we hit the same heights against Galway (in the 2017 Leinster final).
"I think tactically I was found out as well. There were a few things I had to learn and I did learn them.
"The battles with Kilkenny are incredible. I would have incredible respect for their manager and for their county. I'm not afraid of Kilkenny and never have been, but I'd respect them and want to train my teams to compete with them and beat them if they can.
"That's a mark of respect to them and what they've done for hurling over the last 15 years. They're still there and going no place. I wouldn't like to be the team that will meet them."
Fitzgerald commutes from his home in Clare and it has long been speculated that this could be his final year as Wexford manager.
That's something he's happy to postpone thinking about, along with their All-Ireland semi-final - the county's first since 2007 - in four weeks' time.
"I'm going to enjoy the next two or three days and then I'm going to start thinking about a semi-final," he said.
"We'll see what the story is after that. It's very hard to think to down the road or even down the road a few months.
"I enjoy going down to Wexford, making people smile, and it's just been a great journey; I kind of don't want it to stop. But we'll see what happens."