What Limerick are trying to do is unprecedented in modern GAA history.
First-time All-Ireland winners, in hurling and football, don't retain the crown 12 months later. That has become a fact of life.
Even the great Kilkenny teams of recent years and the current Dublin juggernaut had to do a one in-a-row before they were really able to start thinking about back-to-back.
The Cats won Liam MacCarthy in 2000 and were upended by Tipperary in '01. They took the lessons on board and only then started to dominate.
The Dubs' story was something the same - 2011's Sam Maguire win was followed by semi-final defeat 12 months later. Even Jim Gavin didn't go back-to-back early on - he had to win one and lose one before the current drive for five began.
Cork's hurlers backed up 2004 with another All-Ireland in '05, but the experienced core of their team were Liam MacCarthy winners in 1999. Ditto Kerry footballers in '06 and '07, having picked off singles in 2000 and 2004.
Limerick stormed to one of the most popular and emotional All-Irelands of modern times last August when they beat defending champions Galway - another team keeping with recent tradition of failing to hold onto the silverware after a first win.
This is a young team and they celebrated, as they were well entitled, until Christmas. They could easily have been forgiven had their motivation levels slipped and taken a down year before rising again in 2020.
That hasn't happened though. The way they stormed to the League title, a first in 22 years to follow on from a first All-Ireland in 45 years, was hugely impressive with their thirst for further success matched by their hunger for hard work.
This doesn't seem to be a team that are standing still.
Limerick don't do challenge games, avoiding the pitch-opening and tournament circuit that keeps many teams busy at this time of year
The key to success in Cody's eyes was always to ensure there was massive competition within the panel. As a manager, he has always been ruthless and never wanted anyone in his set-up to feel comfortable in their position, even his most trusted lieutenants.
"When 2006 came about there were a lot of successful lads with All-Ireland Under-21 medals coming into the panel and it gave me the fright of my life," said RTÉ hurling analyst Eddie Brennan, who won eight Celtic Cross medals with the Cats.
"Brian was playing them and I was thinking to myself that I'd be okay. But he kept picking them and that's when I realised I had to get to work. Only one person can change that mindset.
"Players have to be selfish. They can be best of friends in and around the panel, but you have to be ruthless."
The backbone of this Limerick hurling team are in their early twenties. Given the level of maturity he displays it might be to believe, but 2018 Hurler of the Year Cian Lynch only turned 23 years old in January.
And the competition within this panel is fierce.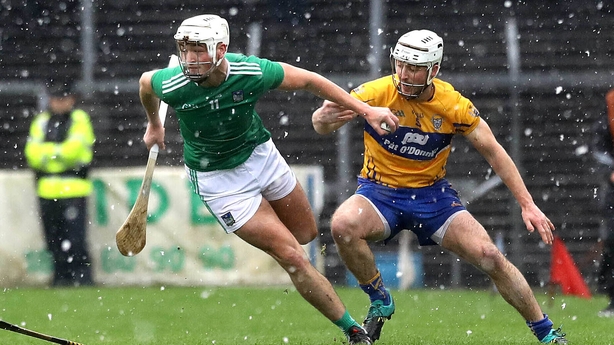 "It is ridiculous," confirmed Young Hurler of the Year, 20-year-old Kyle Hayes (above), speaking to RTÉ Sport.
"There is no first 15 or second 15 because the second 15 would beat the first 15 as much as the other way around. It's crazy.
"I think that's a really good sign of a team as well. Especially with the way the championship is this year and last year - you need a squad."
Limerick don't do challenge games, avoiding the pitch-opening and tournament circuit that keeps many teams busy at this time of year, and they stay sharp with intense A's versus B's matches.
"We mostly do in-house games," said Hayes. "They were as good as any challenge really because every game was so intense.
"We'd get in a referee as well. It wouldn't a member of management, we'd get a ref to come in and do it.
"If you're playing well in training you might get a start then and you're up onto the so-called 'A' team.
"It's obviously the other way around then if you're not going so well you might need a kick in the hole. You're going out then and trying to make it up."
The depth in manager John Kiely's squad is enormous. It's built on the All-Ireland Under-21 winning teams of 2015 and '17, the teams that made All-Ireland minor finals in 2014 and '16 and the Ardscoil Rís side that made the Croke Cup All-Ireland colleges final in '16.
Winning an All-Ireland hurling title now is tougher than ever. Four games are required to get to a provincial final alone - that's the same number that used to win Kilkenny the big prize not so long ago.
A deep squad, a hungry player pool and shrewd management are all required. Limerick appear to have all of them - only time will tell is that enough for the exceptional to do the unprecedented.
Follow all the hurling action this weekend via our live blogs on RTÉ.ie/sport and the News Now app, listen to live national commentary on RTÉ Radio 1 and watch live and exclusive TV coverage of the Munster SHC games on RTÉ2 and the RTÉ Player this Sunday.