When RTE showed the Dublin-Kilkenny match live in May, the panel were based in Castlebar because the Galway-Mayo game was shown immediately afterwards.
The football analysts watched the hurling match in the TV box and when Liam Blanchfield scored Kilkenny's late goal, Joe Brolly let out a roar of delight.
"For God's sake Joe, you're from Derry," Anthony Daly turned around and said to him. "Dublin are underdogs here. This isn't the Dublin footballers out there."
Brolly just shook his head. "Nah Dalo, I can't cope with teams with sweepers," he said. 'They're ruining the game."
Daly couldn't agree with that comment but he felt that Brolly had a point - to a point.
"I did think that the game was there for the taking for Dublin if they had gone for it more in the first half," wrote Daly in his Irish Examiner column the following morning. "Kilkenny were way off the pace in that period. Their full-back line was really struggling. And if Dublin had pushed another corner-forward up during that period, they could have racked Kilkenny."
Yet Daly also acknowledged the flipside of the debate. Dublin's system with Seán Moran as the sweeper had put them in the position to win the game. And Kilkenny's goal had largely come about from a slight malfunction in the system, which had as much to do with bad luck as the system breaking down.
Paddy Smyth had just won the ball and Moran had gone on the overlap for the hand-pass. But Smyth appeared to be fouled by Blanchfield and when he spilled the ball, Moran was completely gone out of the gap as the sweeper when Blanchfield took off towards goal.
That is the fine balance of the system; Moran was a stopper, and a creator. Nobody understands that whole sweeper mentality more than Daly because much of it began with him.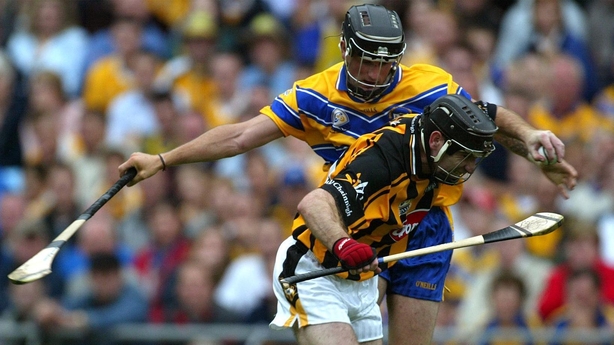 When he was Clare manager in 2004, Daly played Alan Markham as a sweeper in the drawn All-Ireland quarter-final against Kilkenny. Markham had played nearly all of his hurling with Clare up to that point as a forward and Daly wanted him to be a creator as much as a stopper trying to shore up the Clare defence against a Kilkenny attack which had destroyed Galway in their previous match.
Kilkenny had Tommy Walsh sent off in the second half but they struggled to cope with the tactic. Brian Cody consulted Willie O'Connor before the replay to try and come up with a strategy and Kilkenny did, mirroring Clare's tactic and moving Michael Kavanagh into a similar sweeper role.
Kilkenny won but Clare still restricted them to 1-11. When he was Dublin manager, Daly tried a similar tactic against Kilkenny in the 2009 Leinster final by playing Johnny McCaffrey as a sweeper behind Joey Boland.
That great Kilkenny team was at its peak at the time. Dublin were only finding their feet but they ran Kilkenny to six points. Dublin never played a defined sweeper again but they evolved the system and it became an ingrained part of their style under Daly; Dublin would withdraw a corner-forward, Danny Sutcliffe would push into midfield, while McCaffrey would drop back close to Liam Rushe's man, which would allow Rushe to sit even deeper.
Davy Fitzgerald had been evolving a similar style in Waterford and LIT and, in an increasing strength and conditioning culture, hurling was gradually moving in that direction at the outset of the decade.
"Structural set-ups and defensive alignments, along with the massive increase in pace, have been the key changes in hurling"
When Galway almost won the 2012 All-Ireland, they were set up to play counter-attacking hurling. Since the turn of the decade, structural set-ups and defensive alignments, along with the massive increase in pace, have been the key changes in hurling, as opposed to the stylistic alterations which defined the game's accelerated evolution during the previous decade.
Clare's style in 2013 was regarded as New Order again but there were still broad similarities to how Galway had played in 2012. Clare's tactical flexibility and fluidity though, set a new target for everyone else to match and surpass.
In 2012, Eamon O'Shea first spoke about the importance of "a structured randomness". Hurling is such an instinctive game that nobody can be tied to a set system but the game has still become so physical and tactically broad that detailed structural planning is often the most logical way to marry expression with results.
And in the modern game, expression often can't prosper without structure, especially for developing teams. Wexford's massive progress last year was largely built on their system, fitted out with a sweeper, sometimes two.
To get traction, Wexford needed to become harder to beat. They were but their style has evolved in the meantime, especially with the licence it gives defenders like Paudie Foley to push forward.
Paudie Foley with a mighty score opening the second half! pic.twitter.com/ZPoFza3PDS

— The GAA (@officialgaa) March 11, 2018
For Diarmuid O'Keeffe's point in the first half against Kilkenny last Saturday, there were only four Wexford defenders inside their own 65 when Mark Fanning pucked out the ball to O'Keeffe, who had drifted into a free pocket of space close to the Kilkenny 65-metre line. It was a superb puckout from Fanning but there was allowance for O'Keeffe's adventure with Shaun Murphy sitting back.
Kilkenny's massive work-rate and intensity around the middle turned the match on its head in the second half but Kilkenny were also far more efficient in how they used the ball, especially in how they played it around Murphy.
Three minutes into the half, Paul Murphy drove a long ball straight down Shaun Murphy's throat but Kilkenny never made that mistake again; Murphy was restricted to just four possessions for the remainder of the game, none of which came from direct Kilkenny possession.
Dealing with a sweeper is part of the continuing evolution of the game. Many teams set up now with a triangle formation in attack, with one forward directly behind the opposition centre-back and two corner-forwards playing deep, which negates the opposition's capacity to set up with a sweeper.
Having big men and ball winners is another means of trying to negate the sweeper but even if teams can't win clean possession in the air, going long on top of the sweeper can work if forwards can physically engage the sweeper on the dropping ball and then work off the breaks with runners.
Kilkenny have clearly adapted to the whole culture this year but they had to because they lost two championship games last summer to teams which played defined sweepers – Waterford and Wexford.
"In the modern game a sweeper is really an out-and-out seventh defender"
Kilkenny are still defined by their core principles of massive work-rate, relentless intensity and aggression but there has been a clear tactical shift to their thinking in how they move the ball up the field, and in how much of a role support runners are now playing in that style-change; Joey Holden's point on Saturday showcased as much.
For years, Kilkenny never played a sweeper but, in theory, they did. Brian Hogan mostly sat back as an auxiliary full-back but Kilkenny's midfielders and half forwards played so deep, and tackled so savagely, that there was nearly always someone on, or in, the centre-forward's air space. It was an ingrained part of their values, and operational system as a team, but not everyone is able to successfully replicate that structure, especially with so much movement and mobility now in the modern game.
That's why a sweeper is often necessary, especially against serious firepower. Another key point in this whole debate is how do you actually define a sweeper? In the modern game a sweeper is really an out-and-out seventh defender.
Because almost every other player can become a sweeper at some stage of the game. In Thurles on Sunday, Padraic Maher and David McInerney were often operating a floating sweeper role out of pure common sense rather than any defined strategy.
When David Reidy moved into centre-forward on Maher in the first half, Maher just stood his ground as Reidy drifted all over the field. In that scenario, Reidy was the responsibility of any Tipperary player in his orbit; Maher's job was to keep sentry at the back and block the middle channel.
At stages of the second half, Conor Cleary was operating a similar free-man role but when Noel McGrath drifted out to pick him up and engage Clare more in that sector, McInerney became the free man in front of the Tipperary full-forward line.
Defensive awareness is crucial because so many teams now pull more forwards into the middle attacking channel to create more space on the flanks for long deliveries before breaking at lightning pace.
Playing an out-and-out sweeper is largely designed to stop goals but creativity and intelligence are central to carrying out the role effectively.
The sweeper needs to be able to read what's happening around him or her; whether they need to be closer to protect the full-back line; to know when they need to be higher up the pitch to provide a greater launch pad to support the attack.
Although Wexford play a defined sweeper in Murphy, how they often use him in games underlines how tactically fluid Murphy is in the role.
When Wexford were trailing by two points in the 61st minute on Saturday, and were desperately craving something to halt Kilkenny's irresistible momentum, it was Murphy who won the free which reduced the deficit back to one.
Murphy was fouled coming on to a breaking ball 55 metres from the Kilkenny goal.
Waterford's system almost took them to an All-Ireland title last year but it broke down this summer when so many parts of that system were missing.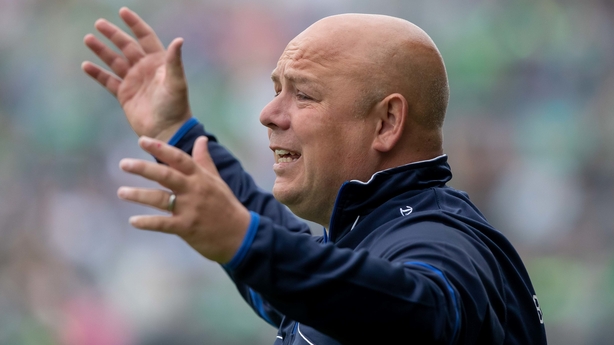 Waterford were praised for going more gung-ho against Tipperary but Waterford's culture under Derek McGrath had always been defined by certain principles.
Missing so many key personnel was a factor in their heavy defeat to Limerick on Sunday but the system broke down.
"In the analysis last week, we went man-for-man and it crept in to such an extent that we followed Limerick all over the pitch," said McGrath afterwards. "There was a little bit of naivety from us and the players, but we'll learn from that."
Learning is paramount in the modern game because hurling continues to undergo such radical introspection.
Like all sports, ideas and concepts filter down from the top and percolate at ground level. Nobody wants to see underage teams, especially below U-16s, fitted out with sweepers and systems.
Players should be coached to be comfortable on the ball, and in any number of positions, because that is how the game continues to evolve. On the other hand, coaches also need to coach young players about the defensive principles so paramount in the modern game.
That has nothing to do with sweepers and systems and everything to do with creating a greater awareness of space, how to create it, and especially how to defend against it.
That is bound up under any number of headings, ranging from huge energy, desire, workrate and responsibility. And especially the willingness to cover for, and help out your team-mates.
Read Christy O'Connor's skills and coaching column every Monday on RTÉ.ie/sport and the News Now App.