Tomás Mulcahy was unsparing in his analysis of Tipperary's performance in their six-point loss to Limerick in the Gaelic Grounds yesterday.
"It was the worst Tipp performance I've seen for a long, long time," Mulcahy said on The Sunday Game Live. "There seems to be a serious lack of drive and lack of appetite."
In doing so, he broke the etiquette of much sports punditry in Ireland, namely, that you can tear strips off a performance all you like, but for God's sake leave the hunger out of it.
You can call us stone useless if you want but don't question our effort levels.
Peter O'Mahony gave a spluttering Reggie Corrigan the cold stare live on TV for far less seven months ago.
That Mulcahy was prepared to risk a dressing room wall citation down the line and call them out for lack of appetite hints at the bafflement of the wider hurling world that Tipperary have not stepped into their historically allocated role as natural successors to Kilkenny's dominance.
Traditionalists expect more of them. They've oodles of talent. A grand tradition so there's no historical hang-ups to overcome. When their forward line takes wing, there's no greater sight in hurling.
The panel on Tipperary's loss: "It was the worst Tipp performance I've seen in a long, long time... there seems to be a serious lack of drive there" pic.twitter.com/8gX4VTholZ

— The Sunday Game (@TheSundayGame) May 20, 2018
.Tipperary's recent one-in-a-rows have become a stick to beat them with. At least Clare and Galway were allowed enjoy their All-Ireland victories for a little while - although Clare have been so abject since 2013 that they've probably squandered that hard-earned respect - but for Tipp, an All-Ireland win is regarded as a starter rather than the meal. It's supposed to tee up a decent period of ascendancy.
Tipp are like a student whose teachers expect them to deliver A1's in every subject but they keep tossing in a C3 or a D2 every now and again because they couldn't be bothered with homework.
Why haven't Tipp gone onto dominate like many suggested that they would? And are we expecting too much?
Let us consult ancient, unscientific prejudice on this. Always a fun thing to consult.
The view from Tipp's hated border rivals - which, in hurling, is everyone apart from Dublin and Wexford - is that the county lacks the natural humility of Kilkenny.
When Kilkenny win, they give humble thanks to the hurling gods, pay tribute to their battered opponents and say that none of it would have been possible without their trusty companions, 'honesty' and 'genuineness', both of which were displayed in simply 'savage' quantities throughout the 70.
Of course, their manager sets the tone in that regard, by disavowing the suggestion that any tactical nous on his part played any part whatsoever in the win and generally implying that anybody with an ounce of common sense could do his job.
When Tipperary win, their resentful neighbours assert that they enjoy it that bit too much. The crowing and the preening is that bit more unrestrained, the swagger more pronounced.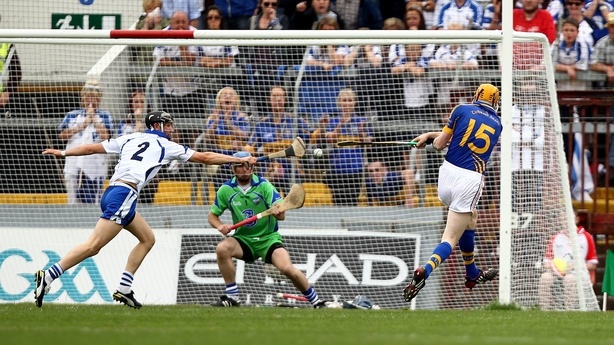 It might be unwise to listen to Tipperary's rivals on what ails them. That vitriolic brand of psychoanalysis probably belongs more to the bar-room and the terrace than the lecture hall.
After all, the resentment Tipperary inspire in the rest of the hurling fraternity is quite something.
Galway and Clare both detested Tipp during their respective glory days in the late-80s and the mid-90s, despite the fact that they kept beating them throughout most of the period, and they had actual bogey teams (in Galway's case it was Cork at the time) who might have been more obvious targets for dislike.
Kerry hurling stalwart Maurice Leahy told this writer once that Tipperary went beyond the other Munster counties in the sadistic glee they took in administering hammerings.
He told the story of how Cork were demolishing Kerry once and Ray Cummins came steaming through for a goal only to remember the scoreline at the final second and, in solidarity with the overworked opposition keeper, tap the ball over the bar.
Tipp had an entirely different mentality, Leahy insisted, remembering that he once stood crouched on the goal-line for a 21-metre free in the final minute of a one-sided thrashing, begging for them to show mercy and put it over the bar. They didn't and the sliotar was soon fizzing towards them.
Talk to anyone from Clare and they swear this phenomenon is real. Outsiders might presume it has more to do with the fact that Tipperary shares borders with almost every hurling county, combined with their historical status as one the game's chief 'overdogs'.
When Kilkenny win, they give humble thanks to the hurling gods, pay tribute to their battered opponents and say that none of it would have been possible without their trusty companions, 'honesty' and 'genuineness', both of which were displayed in simply 'savage' quantities throughout the 70.
In both years following Tipperary's recent All-Ireland wins, there featured a performance so swaggering and stylish that it suggested that the team had the potential to dominate for what we might dub a Cody-esque period of time.
The 2011 Munster final against Waterford, when they led 5-10 to 0-07 at half-time and finished up with seven goals, and the 2017 League semi-final against Wexford, when they casually lashed in three quick-fire goals to kill off a previously competitive game in the final quarter.
Each game seemed to represent Tipperary at the apex of their form curve, the absolute height of their powers, and on both occasions, their form tapered off dramatically afterwards.
In 2011, they stuttered by Dublin in the semi-final and lost comfortably to Kilkenny in the final. In 2017, they were wiped out in the League final by Galway and then failed in the Munster first round against one of the most unfancied Cork sides of the modern era.
It's as if, when all is going swimmingly and they see nothing but blue skies on the horizon, they decide to push the self-destruct button just for the craic.
On Sunday, they hit a low ebb again. There was bemusement from Friday onwards when Michael Ryan announced his team.
Five championship debutants were selected, including a novice pair at midfield. Neither Seamus Callanan or Brendan Maher were named to start. Michael Breen sat on the bench. Cathal Barrett is reportedly injured.
Mulcahy even wondered aloud as to whether Tipperary were pacing themselves and had their eyes fixed on bigger challenges but the form of Limerick in the league makes that hard to credit.
(We're reminded again of a tidbit from Denis Walsh's 'Hurling Revolution Years' when Tipp scheduled a training session in UL for after their first round clash with Clare in 1994. They duly lost. In fact, as manager, Babs was a bit prolific in the hostages to fortune department. Before the 1993 All-Ireland semi-final against Galway, he decided it was a good idea to tell the world that hurling needed another Tipp-Kilkenny final. They lost that one too.)
It seems impossible to believe that Tipperary would have taken Limerick that lightly and consciously gone for an experimental selection. But maybe...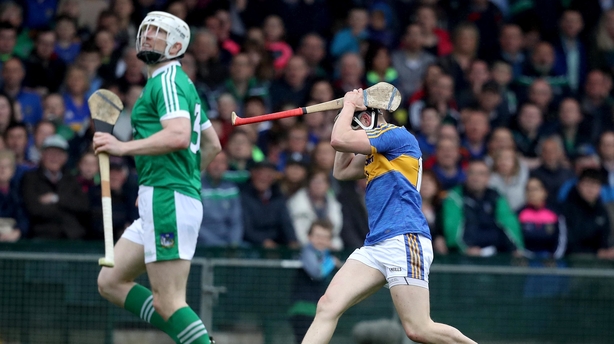 Last year's disastrous performance in the Gaelic Grounds - in the League final - came accompanied with rumours of dissension in the camp.
All-star corner back and former Young Hurler of the Year Barrett was abruptly dropped for 'disciplinary reasons', the nature of which those on the rumour mill are now well briefed on.
Official hints of trouble and strife aren't emerging this season but the combination of the team selection and the media blackout afterwards suggested that all isn't quite hunky dory.
The blessed round robin format gives them ample time to recover but Sunday's performance was monumentally discouraging.
Tipperary probably get too much grief in the modern era for failing to emulate Kilkenny. Cody's team are historically exceptional and it is no ordinary challenge to expect anyone to match them.
But Tipp have thrown in plenty of horror shows against teams other than Kilkenny. A striking statistic. Tipperary have been beaten by Limerick three times in the Munster championship this decade. And Limerick haven't exactly been pulling up trees for most of that time.
For a team once billed as the next Kilkenny, it's a damning record.