When Conor Whelan was handed his first Galway start it was a surprise to most hurling fans from outside of the county.
Who was this teenager who hadn't even been given a chance in the League and was not being thrown in at the deep end?
But while others might have been surprised when the team was announced, he was actually annoyed that he hadn't made the breakthrough sooner.
"I was pushing for a place for the Leinster final and was fairly disappointed not to feature at all," he recalled, speaking to RTÉ Sport.
"We went back training and I put the head down and went working. I was lucky enough to be picked against Cork and I was happy to contribute to the team to get overcome Cork in Thurles."
The Kinvara man was one of the stars as the Tribesmen beat the Rebels in an All-Ireland quarter-final on his first appearance, bagging 1-2 at Semple Stadium.
His promotion came on the back of his performances for the Galway intermediate team that made last year's All-Ireland final and were called up to the seniors by then-manager Anthony Cunningham.
"The intermediates is a mixture of Under-21s and senior. It's not quite senior, but it's not far off it," he said.
"It was a good platform for the Galway management to view the players who aren't really making the senior grade and see could they push for a place. I'm thankful that they gave me a serious chance."
The 19-year-old Mary Immaculate College student now has three senior Championship appearances under his belt, including last year's All-Ireland final defeat to Kilkenny.
He says he's been able to put that heartbreaking loss behind him and he's concentrating on this weekend's Leinster quarter-final clash with Westmeath - which will be his first provincial outing.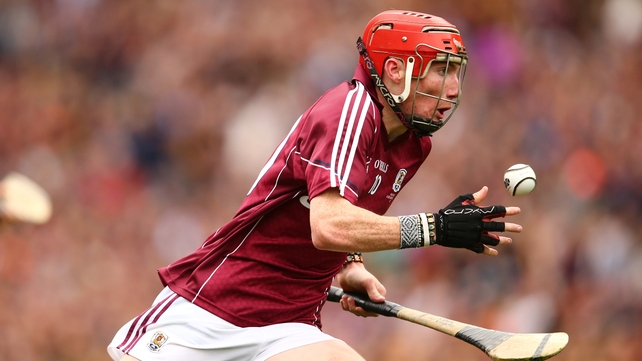 "It's hard to put your finger on where it went wrong," he said.
"Kilkenny's experience prevailed and we were just overwhelmed by the Kilkenny intensity in the second half.
"We are just focusing on Westmeath now and hopefully getting a result there and looking forward towards a Leinster final and hopefully getting revenge."
Galway have to travel to Cusack Park in Mullingar to take on the Lake County, who topped the Leinster preliminary round group, upsetting Offaly in the process.
The Tribesmen's underage teams aren't part of the Leinster Championship - just their seniors made the move - and they county doesn't get home games.
This is despite the fact that Kerry and Antrim, two other recent migrants to the province, are allowed to host games in their own backyard.
"That seems to be the debate alright at the moment," said Whelan. "I think Kerry have had a Championship game in Kerry, Antrim have got a Championship game in Antrim and we still haven't got anything in Galway yet.
"That's for the county board to look at; we're just focusing on Westmeath up in Mullingar and hopefully getting a performance there.
"It's basically that we just show up for the matches and we don't really have much of a contribution."