Bobby Duggan says the difference between Clare this year and the past two seasons is their ability to win tight matches.
The Banner County won the 2013 All-Ireland title, but the campaigns that followed were frustrating and marked by narrow losses. There was relegation in the League and early elimination from the Championship.
In 2016 though Clare have bounced back by winning Division 1 - beating Waterford after a pulsating replay - and now have their sights set on more success this summer.
"It is fine margins," said Under-21 star Duggan, who will be fighting for a place in manager Davy Fitzgerald's starting team ahead of Sunday's Munster semi-final rematch with the Deise in Thurles. 
Duggan says that win over Waterford was significant because it shows that Clare have turned a corner following two lost years.
"In the last few years we have lost games by a point here and there," said the Clarecastle man, who recently finished his commerce degree at NUI Galway.
"This year we keep hanging in there and hoping that results will come our way. That is a massive part of the game; you need to stay going until the bitter end.
"Domhnall O'Donovan scored that magic point in 2013 which helped us go on to win the All-Ireland, so you have seen things happen before.
"You can always expect it to happen if you are prepared for it. Grinding out wins is a massive part of the game.
"You mightn't be deserving of them some days, but if you get them they are hugely important and huge for confidence building.
"Winning the League was significant in terms of the camp because in the last few years we were unlucky in some results," he said.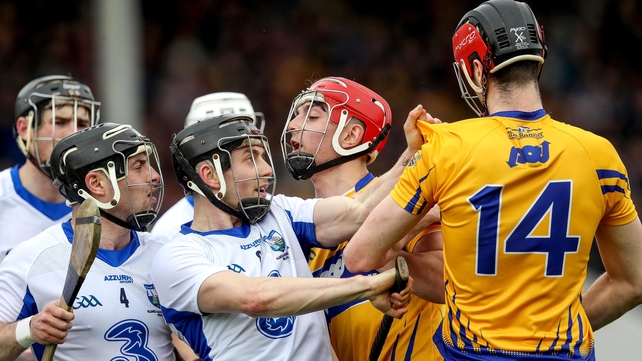 "Even last year against Kilkenny losing out by a point (in the relegation play-off) and then in the Championship the matches with Cork and Limerick there was only a few points in them.
"Nobody in our Clare panel had won a league title so we really wanted to do that." - Bobby Duggan
"It resulted in looking like us having a bad year. The last day we came out on top by a point. I think that has made a difference to us.
"We are on the right end of the results this year rather than just being off the mark last year. It has built confidence."
Clare are the only unbeaten team in hurling's top tier, having won the pre-season Munster League, and Allianz League.
Next up is Waterford and Duggan, who laid down a marker this season with his performances in the half-forwards, says the drawn (above) and replayed Division 1 finals weren't just shadowboxing for the two sides.
"No, a league title is a massive thing," he insisted. "Nobody in our Clare panel had won a league title so we really wanted to do that.
"Waterford obviously won it the year before and they wanted to show it wasn't a flash in the pan. They wanted to win it again so I think there was a big emphasis put on the League for us in terms of preparation for the Championship.
"We didn't hold back, I don't think either team did, that showed up in the two games."