Jackie Tyrrell jokes that the speech he gave to his Kilkenny team mates in the All-Ireland final against Galway has 'grown arms and legs'.
The Cats' Colin Fennelly revealed after the game that the veteran defender, who was out injured, delivered a stirring speech during the break.
At this stage his team were four points down, but they turned it around to win an incredible 11th All-Ireland under the watch of manager Brian Cody since he took over in 1999.
"It got a bit of arms and legs, the speech, it really did!," he said with a smile, speaking at the launch of the GAA's 2016 Liberty Insurance Games Development Conference.
"I hadn't, in any way, mentally prepared to say anything like that.
"That's the thing about it. If you plan things, they don't always work out. You talk off the cuff and in the moment, and it's an awful lot better."
The 33-year-old nine-time All-Ireland winner joked that his speech may end up being compared to actor Al Pacino's famous monologue in sporting film Any Given Sunday, when he talks about the battle for inches.
"The inches that are all around us, you know!" he laughed.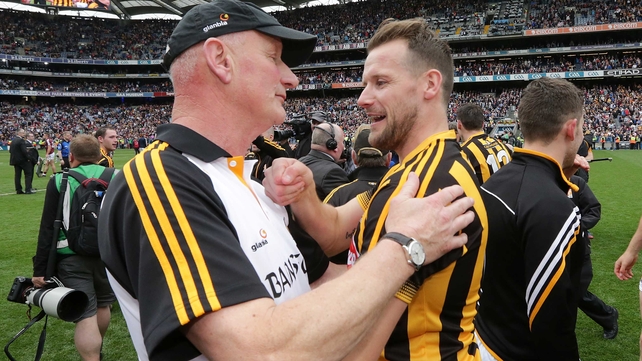 Tyrrell continued: "It was probably more that Colin spoke afterwards. I saw his interview and he was quite emotional. I think it just snowballed from that on.
"Obviously, it had a bit of an effect on the lads and that's what I wanted. I think it just snowballed from that on."
Part of the growing myth is that Cody, above with Tyrrell, didn't go into the dressing room straight away during the half-time interval and let the players sort it out themselves.
This is when Tyrrell got up and spoke, though he says it's normal procedure for the boss to allow the players time alone before he takes over.
"The inches that are all around us, you know!" he laughed.
"When we go into the dressing room, we just sit down and they go off and talk, and it's left to the players to chat around, and then they come back in and chat and off we go," he explained.
"It was at that point when they had left the room that I spoke. It wasn't like, 'I'm leaving the room, ye sort it out.' It's very much up to the guys. That's the way it unfolded."
Tyrrell's 2015 with the Cats was ruined by a stress fracture to his foot that left him watching most of the summer from the bench.
The operation to insert a screw into his heel has been deemed a success so he says he's raring to go next year.
If he does make the panel and Kilkenny win he'll win a record-equalling tenth All-Ireland medal, a record currently held by his now-retired team mate, the great Henry Shefflin.
"I think our first date is the 13 January, the Walsh Cup, and I don't know if I'll be playing but I'll definitely be putting my hand up that I'll be available to play," he said.
"I haven't played a hurling match since the week after the Leinster final so I'm mad for a game now."
Some feeling winning my 9th medal, and my first for the screw 🔩🔩 pic.twitter.com/WRN8e9k2Q2

— Jackie Tyrrell (@MrJackieTee) September 6, 2015