Kilkenny's Henry Shefflin insists he still hasn't made his mind up about inter-county retirement as he's enjoying his hurling after helping Ballyhale Shamrocks to the All-Ireland club final.
The 11-time All Star was man-of-the-match as his side beat Gort a fortnight ago to book their place in the decider against Limerick champions Kilmallock.
"I still don't know," he told RTÉ Sport about his future with the county side. "I have said it since September that I was going to focus on the club campaign.
"To be honest I didn't think I would still be here in February saying the same thing but it's brilliant that I am in this position. I said I would put my complete focus into the club and I think that's why I have enjoyed it so much.
"I've been going well and feeling good in the club campaign. I didn't go on the [Kilkenny] team holiday, we played a few challenge matches and I enjoyed it, I got a very good run in training, felt very fit and strong.
"If I was very much struggling with the club and not at the pace of the game, everyone would know then what the answer is going to be. It's different when you're enjoying it. I'm injury free. So I don't know.
"I've got a great buzz out of the club campaign. That might be because I didn't play much last year. It's a different environment being a sub. I don't think any of us like being a sub. If you get a feel for playing, you want to stay playing."
"If I was very much struggling with the club and not at the pace of the game, everyone would know then what the answer is going to be. It's different when you're enjoying it."
The 36-year-old says winning or losing the club final won't have an impact on his eventual decision.
"It's not as simple as playing one good match or going out on Paddy's Day and saying 'you played poorly, oh no you can't [retire]'.
"It's a whole decision: family, work, my own circumstances as well as Kilkenny's circumstances and the manager's circumstances – all of these things come in to play. You're not going to make a rash decision on one game.
"People might think if you win, it will be a nice way to go, but it won't. All my previous team-mates who left said the same thing, it was their own circumstances. So it will be the same thing."
Ballyhale veterans
St Patrick's Day will be Shefflin's third All-Ireland club final with Ballyhale (they beat Loughrea in 2007 and Portumna in 2010), and a core group that has been playing together since 1997.
"Bob [Aylward] will be 37 this year," said Shefflin. "When I started playing with Bob and Aidan [Cummins], we were intermediate.

"I would have grown up looking at the older team playing in Croke Park, my brothers playing in Croke Park. When I started we were after getting relegated.
"So there was kind of three different teams. We won a minor county final in 1997 so that was probably the start of it. Then we had Cha, Michael Fennelly and all them, they won four under 21s in a row.
"We had those two teams and now we have an extended panel where there's my nephew [the appropriately named Brian Cody] and Ronan Corcoran, who played minor for Kilkenny last year.
"They're the newer lads coming on, so we kind of have three teams built into one. It's very much a cycle."

"We all started around '95, '96, so it's that length of time. It's amazing. We've been very lucky, very successful.

"The outside probably think Ballyhale is a big place but it's a very small place. We've had two [successful] teams over the last 40 or 50 years."
"This is our third final, so it's a bit different. You probably know you don't have to go up to Croke Park beforehand, the first time we would have had to go up to let players have a feel for the dressing-room and the field itself. I imagine we wouldn't need to do that this time.
"For some of the older players I think it's more enjoyable because you are looking forward to it more. This could be your last day up there and that's the way I think a lot of us will be approaching it."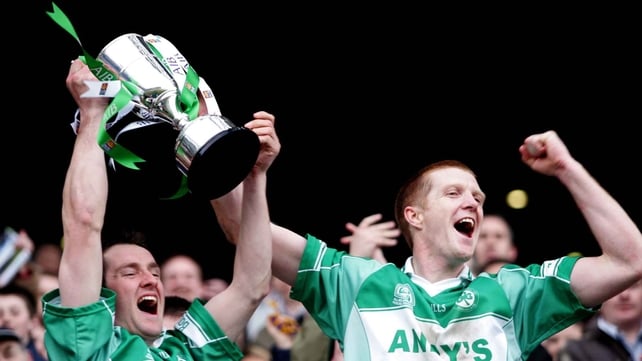 Asked how a club All-Ireland title compares to lifting Liam MacCarthy, Shefflin says it's impossible to choose but offers a surprise choice for his most memorable victory.
"I'm not going to come out and say one is better than the other because it just isn't. They are totally different," he said.
"For the moment the complete focus is on the club campaign, that's the best one to win. But then when that's finished and you go back to inter-county that's the best one to win then. And then you go back to club and the county title is the best one to win. We have been very fortunate to taste them all.
"People ask me the question a lot, 'which is your best victory?' I would actually say winning my first county final. When you grow up playing in a club, it is not about winning a club All-Ireland, it is winning a county championship."
Strong start for Kilkenny
Meanwhile, the Kilkenny juggernaut rolls on in Shefflin's absence. Following a raft of winter retirements and no pre-season games (they withdrew from the Walsh Cup due to the sudden death of Lester Ryan's father) the Cats were long odds to beat Cork in their Allianz Hurling League opener last Saturday.
That they did, despite a late scare, didn't surprise Shefflin however.
"I actually fancied them," he said. "It's like anything, the underdogs tag probably suits most teams and it especially suits Kilkenny going down there.
"You had some established lads and you had some lads trying to break into the team. But I think more than anything else the lads have been training probably four or five weeks and hadn't played any game so they were probably hungry for hurling.
"I think Brian would have let them just go and play and they performed very well. They were very hungry and that was the difference between the two teams."
"There's going to be a lot of players on the panel or on the team that people mightn't have heard of."
Despite the promising start, Shefflin accepts that Kilkenny are a side in transition after the loss of so many big names and warns that their record is no safeguard from relegation in a six-team division.
"It's definitely going to be different this year, there's no doubt about it," he said. "You're not going to have any Tommy [Walsh], JJ [Delaney], Brian Hogan, David Herity or Aidan Fogarty so there's going to be a lot of players on the panel or on the team that people mightn't have heard of.
"The competition, the league is very, very tough. There's only five games, if you lose two of them you're in a lot of bother.
"Kilkenny's start last weekend has put them in good stead but look at last year's league: Kilkenny lost the first two games and they won the league. I think that's the thing about having a small number of teams in it, it's going to be very competitive so anything can happen."
Henry Shefflin is an ambassador for Topaz's 'Cash for Clubs' community promotion.