By Joe Dooley
The first meeting Kilkenny and Tipperary on 7 September was the best game of hurling that I have ever witnessed.
In particular, the determination, commitment and heart shown by all players was just immense.
Both teams went behind at different stages and could easily have thrown in the towel, but managed to claw themselves back into it with hard graft and drive.
That was not an easy thing to do in the cauldron of an All-Ireland final atmosphere in front of over 82,000 spectators.
No player was overawed by the occasion and with the game so tight throughout, both managers were very reluctant to make any changes.
I thought Kilkenny could have introduced Padraig Walsh and Henry Shefflin earlier. Tommy Walsh would have been an addition in the tight finish as well.
But the standard of score-taking and crisp accurate striking by both teams, but particularly Tipperary, was unreal.
There were brilliant individual displays and great goals scored.
The Premier were a little too intent on seeking goals when points were there for the taking and it will be interesting to see if they take something from three weeks ago in that area.
Prior to the drawn game, I expected Tipp to single out Richie Hogan and TJ Reid for special attention, which they did, but yet both players still managed to perform brilliantly.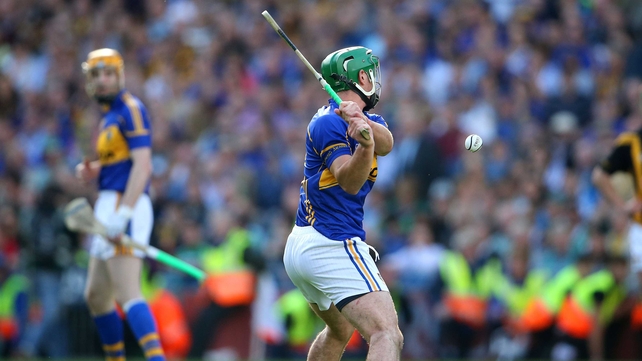 Equally I expected the Cats to have plans to curtail John O'Dwyer and Lar Corbett and both had great games. 
Seamus Callanan and Noel McGrath also played superbly, chipping in with nine points from play between them.
Both sides went home happy to live to fight another day with Kilkenny probably slightly more relieved, given how accurate O'Dwyer had been all day. 
The revised interpretation of the penalty-taking rules also worked in the Cats' favour, but it could be the other way round on Saturday night. The rules will no doubt be changed for next year.
This replay is a whole new ball game. It will be played under lights in evening conditions and will be, consequently, a less-hyped occasion than a prime-time Sunday afternoon slot. 
It will be all about which team will learn the more from the drawn game and make the tactical changes to improve their chances of winning.
The ability to remain fresh and hungry for the extended three weeks in an already long season will also be a big factor.
Eamon O'Shea will be looking for a repeat performance from his team with room to tighten up even more in defence and stop the Cats scoring goals. 
"By my reckoning Tipp won at least eight of the 14 outfield battles and broke even in two more positions"
He will find it hard not to start Michael Cahill (O'Shea's selection last night named Cahill among the substitutes - more will be known Saturday).
But if he does come in, the big question is where, given how well his defenders played.
I thought Paddy Stapleton showed massive character to win some vital balls near the finish and came up field to score a crucial point.
By my reckoning Tipp won at least eight of the 14 outfield battles and broke even in two more positions with the Cats winning four duels. 
This has to be a worry deep down for O'Shea, to have such a dominance in key individual battles, and still not win.
However he will take the positives from it and say to his players, if you can do it once, why not do it again?
The Tipp players will have got great encouragement and confidence from their display.
Kilkenny did manage to close down Darren Gleeson's short puck-outs and their forwards performed better that they did all year. But they are still not hurling with fluency.
Tipperary got their scores more easily and it's an area Brian Cody's players must be better again. 
The Cats will be seeking a big improvement in defence where Tipperary managed to pull them all over the place, creating big spaces in which they used their speed to exploit a lack of pace in the Kilkenny backline.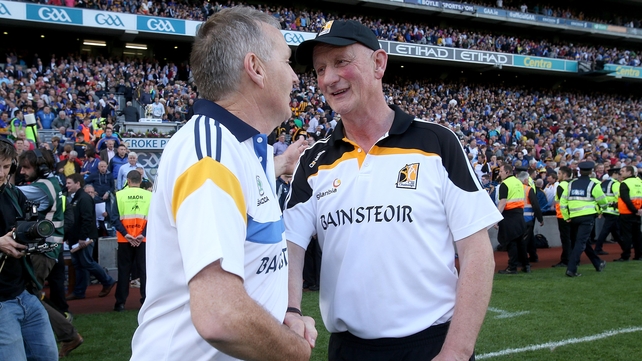 Brian Cody will want to see his defenders much closer to their markers on Saturday evening. 
He can thank Eoin Murphy for keeping them in the championship after he pulled off a number of key saves.
I expected a number of changes in the Cats starting line-up for Saturday and not just in defence, with John Power coming in for Walter Walsh not surprising me.
Midfield is an area that I think both managers will target to dominate in the replay.  Neither team got any advantage in this area in the drawn game.
Ultimately it is very difficult to predict a winner. 
Tipperary have been the form team all year and all their top players are back playing well, while the Cats have been doing consistently well without reaching any brilliant heights. 
There is no doubt that, as a team, many of Kilkenny's players are nearing the end.
But as I said before the drawn game, they have a stubborn streak to their play this year and a never-say-die, attitude which might be enough to get them over the line one more time against their great rivals. 
Roll on Saturday. It should be another cracker - and as they say, let the best horse jump the fence.