Carlow were eliminated from the Leinster Hurling Championship this afternoon when they succumbed to a 1-22 to 0-14 defeat to Laois in a turgid encounter at O'Moore Park.
Sloppy handling and poor shooting from the Carlow men was the only difference between the sides in the first half, that and the fine shooting of Stephen Maher, who contributed eight points before the break, 12 in total.
Laois led 0-14 to 0-8 at the interval and when Tommy Fitzgerald crashed the sliothar to the Carlow net after 48 minutes, any lingering Carlow hopes were visibly crushed.   
In a break from their normal alignment, Laois lined out in a standard formation with six forwards, though they still struggled to get any inside penetration and remained dependent on their half forward line to bear the bulk of the scoring workload. 
Willie Hyland and Stephen Maher were both in fine form early on while Carlow's poor shooting allowed the hosts to build up a lead.
Two shots were dropped into Eoin Reilly's hands and three were sent wide before Denis Murphy opened their account in the 13th minute, while they fell further behind as excellent scores from Maher and Dwayne Palmer made it 0-07 to 0-02 with 20 minutes on the clock.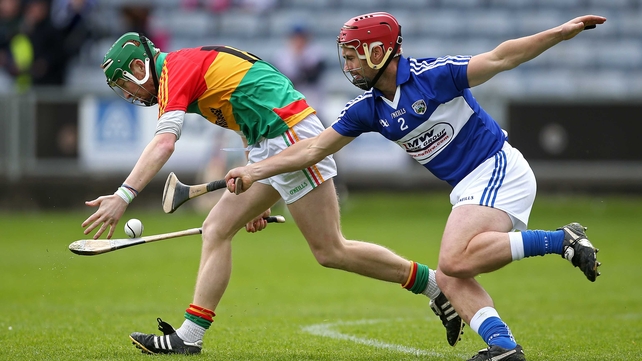 At this point Carlow finally found some momentum and they shot four of the next five scores, though they continued to miss crucial chances from good positions.
A free from Murphy was sent badly wide in the 26th minute when they could have got back to within a point of their neighbours and the contrast in the sharpness levels of the two sides was clear when Neil Foyle and Maher (twice) picked off points in response to make it 0-11 to 0-06.
Cheap turnovers out the field from Carlow were also regularly punished and Maher's point in the 31st minute was the perfect example of that as Paul Doyle took too long over a clearance and was well blocked down by Charlie Dwyer.
Neither was luck on Carlow's side, as illustrated in a 60-second spell before half time when Craig Wall and Dwyer each hit the post, but the Laois man's effort bounced inwards and over while Wall's strike deflected wide.
At 0-14 to 0-08 in arrears at the break and with a slight wind to come, Carlow still had some cause for optimism and they opened the half with slightly more intensity, taking the first score from a Murphy free.
However, two more shocking and costly wides preserved the home lead and when Laois got their chances, they were far more clinical, pointing through Maher and Ross King.
Any vestiges of competitiveness were obliterated in the 49th minute when an excellent long delivery from Dwayne Palmer was won by Willie Hyland and despite being fouled by Hugh Patrick O'Byrne, the big centre forward broke a tackle and played a fine handpass into Timmy Fitzgerald.
The Portlaoise player took one sidestep and rattled the twine from eight yards out, crushing Carlow's hopes and rendering the rest of the game academic.
Diarmuid Byrne and David English continued to battle hard around the middle third but Laois swept up most forward deliveries with great ease from now on while up front, the O'Moore County found it much easier to get space and get shots away.
Some poor shooting will give manager Seamus Plunkett some cause for concern as Laois posted up eight second-half wides, but in a game where the result was never in doubt, that never looked like helping Carlow get back into contention.
Their misery was compounded late on as Hugh Patrick O'Byrne was sent off for a chop, referee Christy Browne showing no hesitation before he brandished the red card. 
Laois: E Reilly; JA Delaney, B Campion, B Stapleton; J Fitzpatrick, M Whelan, T Delaney; D Palmer (0-01), P Whelan (0-01); S Maher (0-12, 0-08 frees), C Dwyer (0-02), W Hyland (0-02); T Fitzgerald (1-00), R King (0-02), N Foyle (0-01).  
Subs: J Campion for Delaney (HT), J Brophy (0-01) for Dwyer (54), B Reddin for Fitzgerald (61), C Dunne for King (66), D Maher for JA Delaney (69)
Carlow: B Treacy; G Kelly, P Doyle, A Corcoran; HP O'Byrne, D English, R Coady; J Kavanagh, C Wall (0-01); J Doyle, S Kavanagh, P Coady; M Kavanagh (0-01), A Gaule (0-01), D Murphy (0-10, 0-09 frees).
Subs: D Byrne (0-01) for P Doyle (33), S Murphy for J Doyle (HT), P Kehoe for J Kavanagh (40), D Roberts for Wall (57), C Lawlor for P Coady (61)
Referee: Christy Browne (Galway)